Thinking of installing new flooring in your home? If you've done a little research, you've probably noticed that hardwood tops everyone's wish lists.
Top designers will show you dozens of ways to bring hardwood to every room in your home.
Realtors will tell you it's what homebuyers prefer. It's one of the best investments you can make if you're planning on selling your home anytime soon.
But what if you aren't sure about hardwood? You prefer tile. It's more durable. You love its classic good looks. And you want easy clean-up and maintenance for the life of your flooring.
The good news now is you can have both: install the tile you love with the classic good looks of hardwood. Thanks to today's technology, porcelain planks look so much like the real thing, they can fool even trained decorators' eyes.
Wood-look Porcelain Tile
Before you get into the advantages porcelain tile can offer your home, let's talk about why more homeowners are considering it. Thanks to technology, wood-look porcelain tile gives you the classic looks of wood with the dependability of tile. Yet porcelain tile is often considered better because tile can be:
Waterproof
Stain-proof
Dent-resistant
Scratch-resistant
Fire-resistant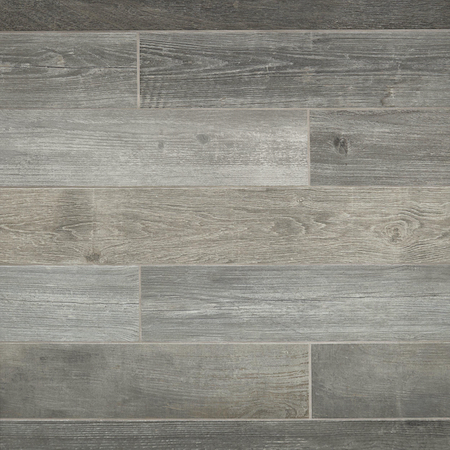 That's a lot of benefits, especially if you're building your dream home here along the Front Range.
Our lifestyle demands that our flooring plays well in all kinds of conditions. You can just as easily track in ice and snow as you can dirt and mud. The weather changes quickly, sometimes in one day. Can your flooring handle all your kids and pets drag in?
And if you've built your dream home in a wooded area where wildfires can happen, it can increase your peace of mind knowing wood-look porcelain tiles add fire-resistance to your structure.
Still have unanswered questions? Here are some of the most popular we get when homeowners are considering installing wood-look porcelain tile planks.
Is wood-look tile durable? 
This is one of the biggest reasons people decide to install wood-look porcelain planks. It creates a flooring surface that's one of the longest lasting within a home environment.
Porcelain tiles have been used for centuries – that's why they're still popular today. If you have a high traffic room or higher moisture levels, it can be a perfect choice.
While designers would be leery of recommending traditional hardwood in places like bathrooms and laundry rooms, they'll quickly tell you why this is the technology you should consider. You won't panic when accidents send liquids flowing across your floors.
Do wood-look planks require grout?
This is often a holdback for homeowners that don't want grout lines to show, and instead want the close look placing wood planks together. Tile is tile – it will require grout to install the planks to your floors.
However, wood-look porcelain tile planks have what's known in the industry as rectified edges. This means all edges are trimmed, straight, and consistent. They are designed to closely resemble the look of hardwood planks, which means it will put more emphasis on the planks, and less on the grout. One of our sales associates would be happy to show you how the final results will look on your floors.
Are wood-look porcelain tile planks truly waterproof?
The reason many homeowners prefer porcelain tile is because it's one of the least porous flooring materials used in today's homes. It is suitable for rooms you might traditionally be leery of installing hardwood, such as kitchens, mudrooms, laundry rooms, even basements. And depending on your outdoor living environments, some products can even extend outdoors.
Some tiles may be water-resistant; others may be waterproof. It depends on a variety of things, such as materials used, manufacturer, grout, subflooring in place, and more. If you want the benefits of a waterproof floor, speak with one of our representatives before you make a final decision.
What about longevity – will wood-look porcelain planks fade, dent, or scratch over time?
When you install a new floor, you want it to look good for as long as possible. Porcelain tile is very durable and will retain its good looks for years. It resists fading, and does well under pressure. It resists scratching under normal use.
With proper care, you can easily expect your flooring to last for decades. What's more, because your floors will be built with planks, it's easier to replace individual pieces or small sections in the event of a problem. Be sure to order more tiles than you need to have extra on hand.
What about cold – tile is cold, especially here in Colorado where temperatures can fall below zero?
We hear you; that's one reason hardwood is ever more popular than tile in residential homes across the Front Range.
Still, there's another reason to move wood-look tile to the top of your list. Tile is the perfect flooring to install over radiant heating. Tile may be cold to the touch, but it's made from clay harvested from the earth. That makes it a natural conductor of heat, able to hold warmth for long periods of time. When you add that to a radiant heating system underneath, it can ensure your floors are warm no matter what the temperature is like outside. And because heat rises, you'll feel warmer as your heat source starts from the lowest point.
What about slip-resistance? Will porcelain tiles be slippery when wet?
If you want to have your flooring flow throughout your home, installing wood-look planks is a great way to add cohesiveness throughout your rooms. Some tiles are known for their slippery surfaces, not so with porcelain tile. Of course, it depends on the manufacturer. Some tile companies add additional materials during production to cut back on potential falls.
This is where it pays to speak with a professional who knows their product line. Don't trust a sales clerk making minimum wage at a big box store.
When you work with a flooring company, all we do is think about flooring. We know the various product lines. We get to know the manufacturers well. We stay in touch with our client base, and learn how families live with the various products.
If you have a question, we have an answer.
Just ask!