Remember when we wished for more time at home? Thanks to staying in place, our wish has been granted.
If you've been using this time to plan out a bathroom remodel, we want to give you a few reasons to consider tile.
Why tile?
Chances are you have tile somewhere in your home. Tile is one of the most popular materials used in construction, and has been for centuries.
If you head back in time, you would find glazed tiles used in all kinds of settings. Because many were handcrafted, they were used for decoration and to add style and pizzazz in aristocratic real estate.
Today, we use tile everywhere. You'll find it inside and outside. You'll find it on floors, walls, backsplashes, and countertops. It comes in small mosaics or as large as several feet wide.
But no matter how it's used, it's one of the most durable and beautiful materials you can use in almost any setting.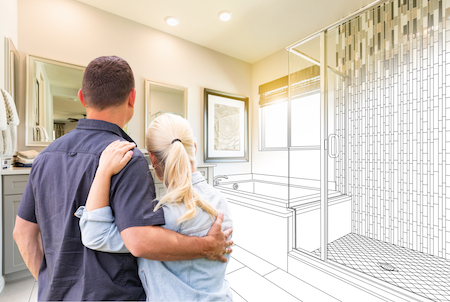 People choose tile for a variety of reasons. If you want something unique, you can create it with tile. If you want a material that will stand up to all your family can dish out, tile is a great choice. Looking for a DIY material? Once again, all arrows point to tile. It truly is one of the most versatile materials you can work with.
How do you get started?
With any remodeling project, the best place to start is with an idea. So you want to remodel your bathroom – what picture comes to mind even before you start looking?
For most homeowners, when they decide to take on a project, they have certain things in mind. Maybe your bathroom is straight out of the 90s – an upgrade is desperately needed.
That's your starting point. Now it's time to come up with your ideas.
We always recommend watching home improvement shows, or visiting Pinterest and creating a pinboard with your favorite ideas. Keep in mind that you can't create a luxurious spa retreat if you only have the space of a tiny bathroom. Be reasonable with your ideas. If you plan on knocking down walls, by all means, dream. But if you have certain specifications that impact your final selection, keep those in mind while you dream.
Where do you want tile?
Very quickly, you'll discover that tile can be placed anywhere. On the floor. On the wall. On the vanity. Backsplashes. Shower stalls. On the ceiling.
We're seeing tile used in many different ways today. You can use it as an accent, or as the main attraction. Why not mix them both – interweave small glass tiles with larger stones to create an opulent spa shower.
If you're doing this yourself, measuring will be the key to your success. Consider the logistics of how your bathroom is laid out, and where you'll be installing the tile in the end. Will you lift up the toilet and tile underneath? Will you be replacing the vanity and require tile to extend from corner to corner? Will you have to piece a design together around a window?
You'll also want to keep in mind you'll probably need extras. If you have to cut pieces to fit into corners, or with a hole to fit your plumbing, you might have breakage. Having extra on hand will ensure the color remains true throughout the project. And if you have even more, you can set some aside in case you stain or break one in the future.
Bring samples into your space
One of the biggest mistakes people make is basing their final selections off of what they see in the store. What looks good in a large open space with harsh lighting will never show you how it will appear when you tuck it into your bathroom.
Narrow your choices down to a few selections. Then bring them home and live with them for a bit. See them in the morning, in natural sunlight, and late at night. One will naturally move forward on your "yes" list, while the others migrate back into the pile.
Trust your instincts. If you don't like it as a sample, you probably won't enjoy it for the long term. If your gut says "this is it", you're probably right.
Go for the extras
Spa showers are the rage right now. People are remodeling to create space for a walk-in, spa-like shower experience. And we get it – they're beautiful and functional at the same time.
Yet it's easy to focus on the price tag and ignore some of the extras that can make your shower even better. That's where customization comes into play.
If you work with a contractor, chances are they'll talk with you about storage. Have bottles on the floor always bothered you with your current shower stall? Then why not consider a shower niche?
This is an indention in the wall designed for storage. It provides you with space to keep bottles, soap, brushes, and razors all within easy reach.
It's worth the effort.
Rely on others
While we'll always tell you to trust your gut, it's also important to seek help along the way.
Whether you rely on one of our flooring experts to walk you through your DIY project, or you're hiring a contractor to do the entire project for you, it's a good idea to ask questions along the way.
Each of the people you come in contact with has experience in tiling projects. They know what works, what looks good, and what their clients like for years to come.
If they make a recommendation, it's for a reason. Listen. Then take action.
A contractor's job is to ensure you're happy with the result. They won't push you into specific colors, shapes, or sizes, without reason. They make suggestions because they know what looks good and works well together. Their job is to make you happy – and they do that by making the best suggestions they can with your situation and constraints.
Are you considering a remodeling project? Why not consider tile.