When people think of natural stone, they tend to think of flooring. And we'll admit that it's one of our favorite materials to install as flooring. Nothing is as beautiful as the one of a kind look natural stone provides.
But natural stone is so much more. It can be used in any room in your home, on virtually any surface, for a multitude of uses.
It's easier than ever to create a dramatic statement by including it just about anywhere. A backsplash. A shower wall. A fireplace. A bathroom.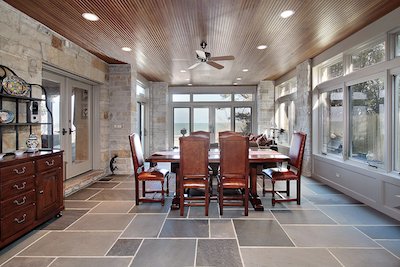 And while many people associate natural stone with kitchens and bathrooms, we've seen them installed in every room in the home with dynamic results.
That's the benefit of working with stone. It's versatile no matter where you choose to install it.
How about a living room wall behind your television?
Or incorporate it into your home gym and create the luxurious look of a day spa?
We also love the look when you incorporate into unexpected places in your kitchen. Move it out from the backsplash and cover an entire wall. When you mix it with different materials for the countertop and cabinets, you can create a look that is uniquely your own.
And while you can find a wide range of inspiration from searching online, an easier way is to stop by our showroom. As your partner in home design, we can show you what works for different rooms in your home. Our design consultants are knowledgeable and can guide you through a wide selection of products. We can offer our expert installation team to ensure a professional experience from beginning to end.
We know your home is an expression of your style. Let us help you create rooms you're not only excited to come home to each day, but ones that you'll love showing off to your family and friends too.