Floating floor – it sounds fascinating, doesn't it? The concept of being able to move a floor in quickly and "float" it into place has a certain appeal. Yet from talking with a lot of homeowners who are contemplating which new floor to install, we've also discovered there's a lot of misinformation around it too.
What is meant by a floating floor?
In today's modern homes, there are two parts to the flooring inside your home: the floor covering and the subfloor. Subfloors can be made from a variety of materials, including concrete and wood. Depending on what your subfloor is made from determines how your new floor covering will be installed.
A floating floor is designed to "float" on the subfloor without having to be secured to the floor. The installer won't use nails or glue to ensure it stays in place. Instead, it is secured by the edges of the room as it is installed under base moldings and transitions. This requires a knowledgeable installer to ensure your flooring of choice is put into place properly to prevent movement through wear and aging.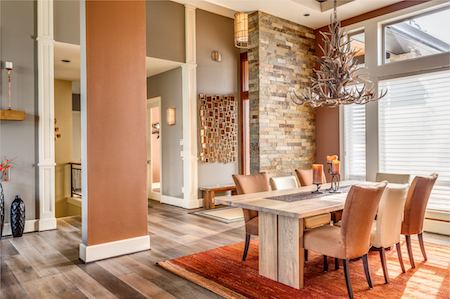 Because floating floors have their place in modern home design, today's homeowners have a wide variety of materials to select from, most of which have a "click" technology that helps lock planks together, and hold them tighter for a better fit. The three most popular choices include:
Engineered Wood – if you love the look of hardwood, yet want something that is more durable and that fits better into your lifestyle, engineered wood is often the best choice. Engineered wood is constructed from multiple layers of thinner wood and plywood, with a finished layer of solid wood. Engineered wood is created to be a lightweight alternative flooring choice that's easy to care for and fits a wide variety of lifestyles. The bottom layer is often created from sustainable materials, making it a more eco-friendly option too. Because of its popularity, you'll find engineered wood available in both floating options and glue down.
Laminate – while engineered wood is made up of different layers of wood designed to look like real hardwood, laminate takes a different approach to give you the classic look of hardwood. Laminate is a multilayer product where the hardwood look is created with a lifelike photograph. It has a protective top layer that gives it its durability. When you choose laminate planks, they'll float into place through click technology. People often choose laminate flooring because it's less expensive than other flooring choices, and it's easy to use. You can often lay it into place over existing flooring, meaning you have fewer labor costs for removal.
Luxury Vinyl – while most vinyl isn't floating and requires glue to hold it in place, the exception is luxury vinyl planks (LVP) and luxury vinyl tile (LVT). These two products are designed to imitate hardwood and ceramic tile, and come with click installation process. They interlock to make it easy to install, and have a multilayer backing that makes it a softer choice than hardwood. It can be easier on the budget too. It's a great alternative if you're worried about moisture, as these products stand up well in areas that typically are associated with water problems, like bathrooms and basements.
Cork – one of the newest floating floor options is cork. They come in planks, and click together in similar fashion to laminate flooring. Cork is a sustainable product, as it is harvested from tree bark, meaning the trees don't have to be cut down for production. It's also a hypoallergenic product, making it a good choice for homeowners that are conscious of the materials they bring into their homes.
Why would you want to bring a floating floor into your home? 
There are a lot of reasons why a floating floor makes sense for your remodeling needs.
You want fast installation – depending on the flooring you already have in place, you can often lay and of the floating floor options right over the top. This saves you time as you won't have to rip out old flooring, and fix the subfloor for any problems that occur during the process. It means you can have your flooring installed in hours, and be ready to use your home again in no time.
You want an economical option – homeowners often select floating floors because they want the look of a more expensive flooring choice with a more budget-friendly price tag. And because it can usually be installed over existing flooring, it can save money on labor if you choose to have a contractor install it.
You have an uneven subfloor – sometimes, no matter how hard you try to create a smooth, even surface for your new flooring, your home's flooring structure won't cooperate. A floating floor is a forgiving floor. Because it doesn't directly connect with the subfloor, it's easier to lay it in place over small problem areas without causing more maintenance work down the road.
You are dealing with asbestos issues – asbestos is a dangerous product that can cause a lot of problems in your home. Unfortunately, in some older flooring products, asbestos was used in production. It's not only dangerous to remove it from your home, but it also can be a very time consuming and costly process. In some cases, unless you're properly certified, it can be illegal too. Being able to float a floor over this existing product is the wisest move.
You want radiant heating underneath – a floating floor is a great option when installing it over radiant heating. Because it doesn't require nails or glue to hold it in place, it keeps the space between the perfect place to install a radiant heating system. It's also easier for repair work because you can lift up the sections you need, and put them quickly back into place.
What's your decision?
If this article caught your eye, it may mean that floating floors might be the perfect choice for your home. Floating floors are perfect for do-it-yourselfers, or if you're wanting to make a quick change with less than perfect conditions. When you're ready to talk about your remodel in more detail, we're here. Stop by today and see the many floating floor options available to you.