Stepping into a room that's worn or out of date can be frustrating. Everywhere you look is a reminder that your room is in desperate need of a remodel. But where do you begin?
Sure, you can change the color with a can of paint. New decor is always fun to shop for. You've been dreaming of a new couch; you even have it picked out from a local store.
But in truth, you know where the real problem lies. Yes, the paint and new decor will do wonders for improving your mood. Yet it's the flooring that's the real problem. And replacing the entire floor is a much bigger – and more expensive – job than you ever hoped to take on.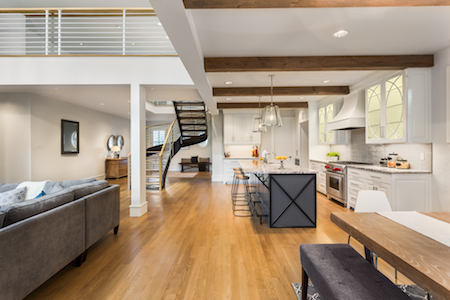 Where can you cut corners? Should you try and live with your ratty old carpet another year? Should you attempt a do-it-yourself flooring project you can take on yourself? We get when you're shopping for best flooring options on a budget, you look at it from all angles. And luckily, you have a lot of choices.
However, if you focus on the "budget" part of the equation, you could end up with cheap flooring. And if it's too cheap, you could regret your decision almost from the moment you have it installed.
Before you get started on your flooring project, it pays to do a little research first. Spend some time learning all you can about the most affordable flooring options on the market today. Then consider your lifestyle carefully. Do you see where the two marry up?
The perfect choice for one homeowner might not be the best choice for another.
But when you finally select the right flooring for your needs, and you spend your money wisely getting the highest quality product you can, you'll love your floors for many years into the future.
That also means you consider costs carefully, weighing the costs and benefits to determine the right flooring choice for your budget. It might mean putting off the project for a bit until you can afford what makes the most sense for your home and lifestyle. It might mean taking out a home equity line of credit. Only you can decide what's right for you.
Flooring To Consider
If you have your heart set on one specific type of flooring, shop with that flooring choice in mind. Keep an open mind, however, as you talk to one of our flooring consultants about choosing the best product for your situation. Some flooring choices hold up better than others, especially in high traffic areas. And if you focus on price alone, you might wind up with a product that can't handle under pressure. No matter what your budget holds, here are some of our favorite flooring choices for your home.
Hardwood
Rather than putting it at the bottom of the list, we're listing it right at the top. We know homeowners all across the Front Range have hardwood at the top of their wish lists. It's a great flooring choice because it's beautiful, durable, and timeless – you simply can't go wrong when you install hardwood.
The biggest disadvantage of hardwood is they don't stand up well in certain circumstances. They warp if they're exposed to moisture. They dent and scratch when not properly maintained. They can shrink and swell if they are subjected to varying temperatures.
That means they aren't the best choice in your bathrooms or basement. If you have an active kitchen, another product may be a better choice. But in the living room and dining room, spending a little extra might be the perfect thing to do.
Engineered Wood
Engineered wood looks like solid wood, but is made with layers to stand up better under pressure. It has layers of plywood, a thin veneer of natural wood on top, and a laminated top coat that makes it wear better than hardwood. It gives you the look of real hardwood at a more affordable cost.
Engineered wood can work well in the same spaces as solid wood. In addition, consider installing it in other rooms such as basements. For your main living areas, it's regarded as the second-best choice.
Laminate
Laminate flooring is created in much the same way as engineered wood. Instead of a thin veneer layer, however, it uses a photograph under a clear plastic coating to create the final look of the product. That means laminate can take on just about any look, including stone, tile, or hardwood. And with today's technology, the photograph is extremely real looking, often requiring even the best experts to kneel to see the difference.
Laminate comes in both tiles and planks, and you can install them without nails or glue. They float into place. Because they are easy to install, it makes a perfect do-it-yourself project – another great way to save money.
Laminate is a good flooring choice for high traffic areas. It's also a good choice for basements. But avoid laminate where standing water might be a problem, such as in laundry rooms or bathrooms, as they can warp and crack.
Vinyl
Vinyl has come a long way from the flooring choices your parents installed. It's considered resilient flooring, made from a flexible material that feels softer underfoot. It comes in several forms, including sheet, tile, and click-style planks that replicate the look of hardwood.
Vinyl is a tough material that stands up well to both traffic and moisture. If you're looking for the perfect choice to stand up well in all conditions, comes in a wide range of colors and patterns, and simulates any look your desire, vinyl may be your choice.
How To Save On Flooring
Once you make a choice, it's important to focus on quality rather than price. However, there are still ways you can buy the best flooring options for your home, and stick with your budget too.
Be flexible
Don't go in with your heart set on specifics. Instead, be willing to look at alternatives. A flooring consultant can show you ways to get the look you desire and still stick with your budget.
Ask for samples
Don't make a decision on the showroom floor. Instead, take a sample home and live with it for a few days. Do you like the color in all lighting conditions? Does it work well with the rest of your decor?
Install it yourself
Depending on the material you choose, there are flooring choices that are perfect for the do-it-yourselfer. You can save installation costs when you do the work yourself. That means you can get a higher quality product that will give you a greater lifespan. Plus, you'll feel good every time you walk into the room, knowing you installed the best flooring choice for you.
If you're thinking of taking on a home improvement project this year, it's easy to find the  best flooring options on a budget. Stop by today, and we'll help you find the perfect choice for your home.