Linoleum flooring has become a popular choice for many homeowners. It's an alternative to vinyl when you're looking for something sturdy, durable, and a little more eco-friendly. When cleaned and maintained regularly, it can give you long-lasting results. It isn't out of the ordinary to find linoleum 40 years old or more.
But is linoleum the right choice for you?
What is linoleum
Many homeowners turn to linoleum for an eco-friendly flooring material to bring into their homes.
Linoleum is made from natural ingredients mixed together, heated, and pressed onto a backing material. It's crafted from linseed oil, wood flour, pine rosin, and jute. Pigments are added to the mixture to create the desired color. These pigments can be natural or synthetic, so reading the fine print is important, especially if you're looking for a natural product.
This mixture is then heated to a high temperature, typically around 300-350 degrees Fahrenheit, causing a chemical reaction known as oxidation, which turns the liquid mixture into a solid material. When cooled, it's rolled into sheets or tiles of various thicknesses.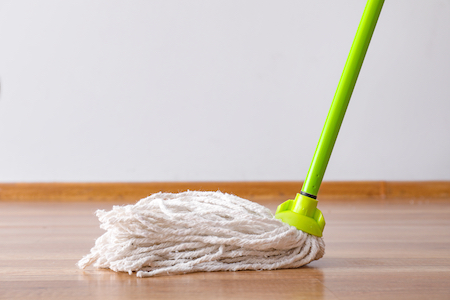 A backing material, usually made of jute or another natural fiber, is applied to the bottom of the linoleum sheets or tiles to provide added stability and durability. It's finished with a protective coating to help resist wear and tear, as well as stains and moisture.
Linoleum or Vinyl – which should you choose? 
People confuse linoleum and vinyl frequently. Yet there are distinct differences.
Linoleum is made from natural materials such as linseed oil, wood flour, and jute, while vinyl is made from synthetic materials such as polyvinyl chloride (PVC) and plasticizers. Linoleum is the better choice if you're looking for environmentally friendly flooring.
Linoleum is a highly durable flooring material that can last decades if properly maintained. You might remember linoleum from your grandparent's house – it might still be there. Linoleum is also more resistant to scratches and dents.
Where linoleum really stands above vinyl is in its eco-friendly qualities. It's biodegradable and can be recycled. Linoleum has a much lower impact on the environment. If natural products top your list, linoleum is the way to go.
Keep in mind that linoleum is typically installed using a glue-down method, while vinyl can be installed using either a glue-down method or a floating installation method. Glue-down installation is more secure, but can be more challenging to remove if the flooring needs to be replaced.
Is linoleum the right choice for you?
If linoleum is sounding better to you, there are a few more things to keep in mind.
Linoleum is a highly durable flooring material that can last decades if properly maintained. It can withstand heavy foot traffic, making it a good choice for busy households with children and pets. Additionally, linoleum is resistant to scratches, dents, and fading, which means it will look great for years to come.
We'll mention it again because it's a top reason why homeowners select linoleum. Linoleum is made from natural and renewable materials, which makes it an eco-friendly flooring option. It is made from linseed oil, derived from the flax plant, as well as wood flour, pine rosin, and jute. These materials are biodegradable and can be recycled, which means linoleum has a lower impact on the environment than many other types of flooring.
Linoleum comes in a wide range of colors and patterns, which means it can be used to create a unique and customized look in any room of the home. From classic checkerboard patterns to modern geometric designs, there is a linoleum option to suit any style or taste.
And if you're looking for a flooring option that won't break the bank, linoleum is a cost-effective option that is typically less expensive than other types of flooring, such as hardwood or ceramic tile.
What about cleaning and maintaining linoleum? 
A quick search online may bring up pages stating linoleum is more finicky to care for. Not true.
Linoleum is easy to clean and maintain, which makes it a practical choice for busy households. You don't have to get sophisticated with your cleaning routine; a simple mixture of soap and water will do the trick. Linoleum is naturally antimicrobial, which means it resists the growth of bacteria and other microorganisms. (Care about what you're bringing into your home? Just one more reason linoleum may fit the bill.)
Your regular cleaning routine with linoleum flooring may look like this:
Sweep or vacuum your linoleum flooring regularly to remove dirt and debris that can scratch the surface.
Use a damp mop and a mild cleaning solution made from safe ingredients such as vinegar or baking soda. Mix one cup of vinegar or one tablespoon of baking soda with one gallon of warm water. Use the mop to clean the flooring, being sure to wring out the mop well to avoid excess water on the floor.
Avoid using harsh or abrasive cleaners on your linoleum flooring, as they can scratch the surface. Instead, use mild cleaning solutions made from safe ingredients.
After cleaning your linoleum flooring, be sure to dry it thoroughly with a clean towel or mop to prevent water damage.
If you spill something on your linoleum flooring, clean it up promptly to prevent stains from setting in. Use a mild cleaning solution and a clean cloth to wipe up the spill.
You may read online that some linoleum flooring choices require periodic waxing and refinishing. That's true for some products. But many manufacturers are now also offering pre-finished linoleum. This eliminates the stripping and polishing required of linoleum products from long ago. The finish can be restored with regular cleaning and occasional buffing when it starts to lose its shine.
Is linoleum right for you?
We could brag about linoleum for a very long time. Linoleum may fit the bill if you're looking for an affordable, versatile, durable, and sustainable flooring option.
We think it's an excellent choice for kitchens, laundry rooms, bathrooms, and basements. It has a variety of stylish designs available; you'll easily find one that works with your aesthetics.
If you're still reading this, linoleum may be the right solution for you. Want more information? Stop by today and see our complete line of linoleum flooring. We'll help you select a suitable flooring choice to suit your needs.