Thinking of adding new flooring to a room in your home? Homeowners do it for a variety of reasons:
They want to refresh worn-out flooring
They want to redecorate a room
They want to install "dream" flooring
They are upgrading a room in their home
They want to create a more valuable home and get it ready for sale
What's your reason?
In many cases, adding resale value is a second thought. You want hardwood, knowing it will increase your resale value. You upgrade your tile, making a spa-like retreat, knowing it will increase your resale value too.
Buyers today want to move into a turnkey place. They look for curb appeal when they drive up. They don't want a place they'll have maintenance projects from the moment they move in.
Instead, they tick off boxes as they walk around, knowing your remodeling and aesthetic choices suit them too.
Upgrading your flooring requires all that and more.
So what's your dream? Are you interested in installing tiles in your home?
Installing tile – what does it mean?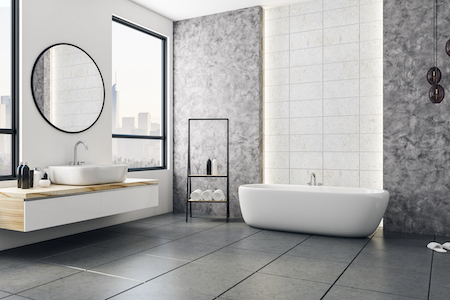 Ask a hundred people what "tile" means in flooring, and you'll likely get 100 different answers. That's because tile has changed significantly over the years.
Ceramic – These are the most traditional tiles, the ones most people consider. Ceramic tiles are made from clay and crafted through heating and cooling. They are one of the most economical tiles, and come in a wide variety of colors, sizes, textures, and shapes.
Porcelain – When you're ready to upgrade, many homeowners move from ceramic tiles to porcelain. Porcelain tiles are denser and less porous, making them harder and more waterproof. This makes them durable enough for any room in your home, inside or out.
Slate – Slate tiles are taken directly from the earth and can be used indoors or out. They are slip-resistant even when they get wet or greasy. They have a more natural appearance, which attracts many homeowners to this choice. While they come in many colors, they typically stick with more natural hues. They are a great choice in high-traffic areas, and add warmth and a touch of sophistication no matter where you install them.
Marble/granite/onyx/quartz – While slate is an ever-popular stone for flooring, you have a wide array of choices, such as marble, granite, onyx, or quartz. These make beautiful additions to any home, and often crossover between residential and commercial because of durability and longevity.
Terrazzo – A composite of several materials, including marble, quartz, glass, granite, and stone. These materials are cured, ground, and polished to create a surface people have loved for generations.
Faux Wood – Want the looks of hardwood with the durability and functionality of tile? Thanks to today's technology, you can get it with faux wood tiles. These continue to rise in popularity because of their beauty and aesthetics. If you choose radiant heating, this may be a perfect choice.
Luxury Vinyl – Did you do a double take at luxury vinyl? Most people do. Yet all you have to do is look at a few samples, and you'll discover how functional they are. Manufacturers have created one of the most durable products on the market. And because they shape them as planks or tiles, the resemblance to more natural products is astounding. But they add even more waterproof features that often can't compare with the "real" thing.
See a tile for you? Let's get to installing tiles in these two rooms
If you head south, it's not unusual to find tile in almost every room in the home. Here in Colorado, we tend to be more specific about where we choose to install tile.
But you'll never go wrong if you install tile in:
Kitchen
What's the first thing most people gravitate to when they enter a home? The kitchen. Considered the hub of the home, it's a place that receives high-traffic and high use every single day of the year.
Which is why durability is critical when selecting flooring. Many homeowners want hardwood, yet know in their hearts that it might not be the best choice.
Installing tile in this situation often makes the most sense.
Using ceramic or porcelain tiles adds beauty and functionality. Because of the vast array of colors and patterns, you can customize it to your heart's desire. They work well with radiant heating. And if you want inside-outside options, porcelain might work for you.
Stone will never go out of style and adds rich aesthetics that's hard to beat. You won't have to worry about scratches or dents, though chipping may be an issue depending on which stone you select.
If hardness is a factor, take a look at luxury vinyl. People love these because of their unique features:
Mold, mildew, and bacteria resistant
Stain and scratch resistant
Flame resistant
Waterproof
In a kitchen, consumers usually want two things: aesthetics and functionality. Spend a few minutes defining that for yourself. You'll quickly gravitate to one product. That's when you know you've found your solution.
Bathrooms
Along with the kitchen, bathrooms are best served when you select and install tile for the floors. With bathroom design, you may even choose to add more tile than just the flooring. How about the walls? Shower stalls? Tub design? Countertops?
If you scroll through a design magazine or flip through pinboards on Pinterest, you'll quickly find tile adds depth and beauty in a way no other flooring choice can.
It's perfect for Colorado homes!
Porcelain tile often comes out on top when finalizing your decision because it's denser, less porous, which means it's better suited for moisture. Just be sure it's built for bathrooms and moisture and won't become slippery when wet.
Porcelain comes in two types: glazed and unglazed. Glazed has a hard finish which acts as a glossy finish. They typically come in more color combinations and have added strength because of the finish. Unglazed or through-bodied adds more texture and is often preferred for flooring, walls, and countertops.
But this is your choice. Your rooms. Your home.
What do you prefer?
Two rooms – your choice – install tile today
If you've found yourself saying "yes" to one of the above, you know tile is in your future. It's a great choice wherever you install it.
When it comes to home improvement projects, there are many choices to be made. But we know you'll never go wrong if you select tile for your kitchen and bathroom.
How can we help you finalize your decision?