You've finally settled into a remodeling project. Maybe it's updating the guest bathroom that still looks like it's out of 1985. Or you're creating a "wow" factor in your master suite. Now comes the tricky part of design and laying it all out.
When you start looking at tiles, it's easy to feel overwhelmed. It may feel as if there's a never-ending supply, with tiles in every size, shape, and color you can imagine.
Yet all tiles are not the same. Some are durable enough to act as flooring. Others are more fragile, and are better left in other positions like backsplashes or walls. How do you know the difference?
How to choose the right tile flooring
Choosing tile for a room in your home is based on many things.
How much foot traffic is there?
How large is your family?
Do you have pets?
How much time do you have for regular cleaning and maintenance?
What is your budget?
What are your personal tastes?
Tile is available at every price range, in an almost unlimited supply of colors, patterns, and styles. It can be the perfect flooring choice for entryways, kitchens, laundry rooms, and bathrooms. Thanks to radiant heating, tiling may also be the perfect choice for other rooms in your home, providing a warm flooring on the coldest of winter mornings.
Still, some tiles are better suited for flooring. How do you know?
What makes some tiles work better as flooring than others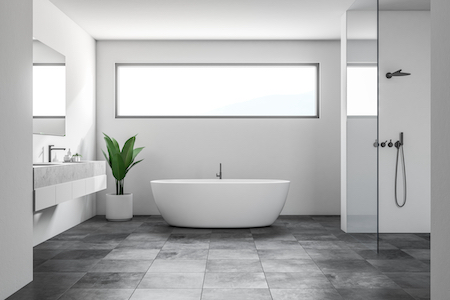 Tiles can be made from many different materials: ceramic, porcelain, glass, marble, stone, and granite, to name but a few. Some materials are harder, more durable, and will provide a better surface area for flooring than others.
Typically, entryways and kitchens have the highest amount of traffic. They need flooring surfaces that can stand up to all kinds of activity. Durability is key.
Bathrooms may be lower in traffic, but they deal with other problematic activities. High in moisture and humidity, it's important to choose a tile based on durability as well as safety. Slipping and falling occur frequently in bathroom settings.
With all this in mind, what tile makes the best choice for flooring?
Durable tile choices perfect for flooring
No matter where you're placing tile in your home, if it's on the floor, durability is essential. Pick wisely and tile can last for decades. Use something weaker, and it can crack and crumble in a very short time period.
You may fall in love with some tile choices, but there may be better uses for it if it isn't explicitly designed for the floor.
The best choices for tile flooring include:
Natural stone tiles – these materials are quarried right from the earth. Natural stone tiles include things like granite, marble, and limestone. They are extremely durable and come in natural colors that complement any decor. They work well in a bathroom setting, but are equally as functional and stylish in your main living quarters.
Porcelain tiles – porcelain tiles are heavier and less porous than other types of tiles. That makes them the perfect addition to rooms where heavy foot traffic is an issue. They make perfect additions to entryways and hallways, and look just as beautiful in kitchens and living spaces. However, they can crack under extreme pressure – be mindful of the furniture you place on porcelain tile.
 Ceramic tiles– one of the most popular on the market, chances are your home uses ceramic tiles somewhere inside. They are known for their durability, as well as the almost unlimited supply of styles. They provide excellent durability and will continue to look great for years to come. There's a reason they've been popular for decades – they'll continue to be popular for years to come.
Concrete tiles – if you are looking for non-stop durability, it might be time to look at concrete tiles. Concrete has long since been one of the most durable materials for flooring. Concrete tiles give you the option of bringing them easily into your home. They work especially well in high traffic situations.
Not all tile choices work as flooring
What's not to love about tiling? It's easy to fall in love with the styles, patterns, and colors.
Yet not all tile materials make good materials for flooring. The flooring industry regularly uses the Moh's Hardness Scale to help consumers understand just how hard different flooring choices are, and how well they'll handle as flooring over time.
The Moh's Hardness Scale ranks hardness on a scale of 1 to 10, with 10 being the hardest.
At level 1 is resilient flooring. Vinyl tiles would fall under this category, being at the lowest level of durability.
Glazed ceramic tile sits at levels 5 and 6, depending on how it's made. It works well in a variety of places throughout the home, which is why it continues to be so popular.
Quarry tile and glazed porcelain tile rank at number 7. With its classic good looks, it makes a great addition to your main floor living spaces.
At level 8 comes unglazed porcelain tile. This provides durability that will last in your home for years to come. This also tops the list for tile hardness.
Finding the best tile flooring to suit your needs
If you're looking for durability, easy maintenance, and classic good looks, look no further than tile. Tile flooring has been in residential homes for centuries, and it will continue to do well into the future. Tiling provides:
Design versatility – very few products allow you to place it just as easily on the floors as you can on the walls. Yet you'll find many designs that transfer easily from location to location. How about ceramic tiles as a backsplash or shower walls? Or glass tiles above your kitchen counter space? With customizable pieces, the look can be as unique as you desire.
Easy maintenance – cleaning has never been easier. While some tiles require sealants to be in place, once they are, it's as easy as wiping dirt and grime away. And because tiles are laid individually in place, if one cracks or becomes damaged, simply pull it up and replace it. This gives you longevity you'll never have with other flooring options.
Durability – we've mentioned this continually throughout this piece. That's because you'll never find a more durable flooring choice – it's the perfect choice for longevity. Depending on the tile you choose, it'll stand up to all your family can dish out. High heels, soccer cleats, and countless traffic from pets and kids. You'll never worry about how well the floor will handle in all sorts of situations.
Think tiles are your answer to better flooring? All tiles may not be perfect for flooring, but if you select the right tiles, you'll fall in love with your flooring. How can we help you choose suitable tiles for your home?