Vinyl flooring is one of the most popular types of resilient flooring because it's easy to install, low maintenance, water-resistant, and is one of the most economical flooring choices you can make.
It's also very popular among homeowners looking for a softer flooring that makes standing easier. It's a great addition to hallways and entryways where high traffic is a given. It's also a great choice in kitchens and bathrooms where comfort is needed as you stand in one place throughout the day.
What's more, you can find vinyl sheets and tiles in a variety of colors, patterns, and styles, one that will perfectly suit your needs.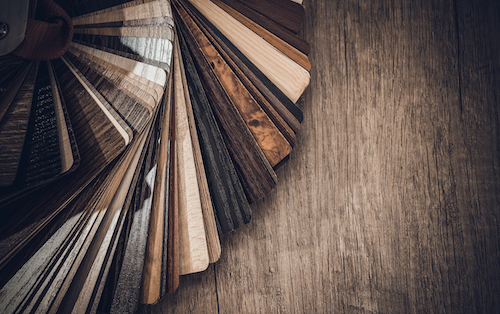 But with all the positives of this flooring choice, vinyl flooring also has a few drawbacks. Like any flooring, vinyl isn't perfect for every situation. If you know the pros and cons before you start the selection process, you'll have a better understanding of what will make the perfect flooring choice for your home.
Pro: Vinyl flooring is one of the easiest flooring choices to install
Today's vinyl is easier to work with than ever before. Technological advances mean you're not limited to working with vinyl in large, difficult to work with sheets. Though sheet vinyl is still an excellent way to add flooring to a room without the use of multiple seams, there are other options too. How about vinyl planks? Or vinyl tiles? No matter what you choose, do it yourself or leave it to the professionals, you can have new vinyl installed in a short period of time.
The best brands in the industry offer easy installation methods. With self-adhesive methods, you can simply remove the backing and press the vinyl into place. Of course, you will need to ensure the subfloor is ready for installation. That will be the key to your vinyl flooring's success. That means your subfloor should be level and smooth, clean, and ready to adhere to your vinyl flooring choice.
Con: Vinyl flooring can be difficult to remove
The good news is once vinyl flooring is laid into place, the adhesive sets and hardens to ensure your flooring stays put. The bad news is the adhesive hardens to the subfloor and is going to take power to remove it.
Fortunately, it's not impossible. It's just going to take a little elbow grease to bring your flooring back down to the original subfloor, ready for the next flooring choice you make.
If you do it yourself, you can do it with a utility knife and a scraper. Use a utility knife to cut the vinyl into manageable pieces, then follow with a scraper tool to loosen the hardened glue.
Pro: Vinyl flooring is affordable
It won't take you long to realize that vinyl flooring is one of the most economical flooring choices you can install in your home. Even luxury vinyl can be installed at a fraction of the price of traditional hardwood.
That savings can also continue to grow as you consider maintenance factors as well. With vinyl, it's as easy as sweeping and mopping to keep floors looking their best. Hardwoods need a lot more care to maintain their good looks. Even carpet needs frequent vacuuming and occasional cleanings to be the best it can be.
Con: Vinyl flooring isn't the most in-demand flooring
Despite its advancement, thanks to technology, vinyl flooring is still vinyl flooring. It will always be and act like vinyl flooring. And for some homeowners, that falls to the bottom of the wishlist.
Still, studies show that homeowners like consistency more than they prefer certain types of flooring. And because high-quality vinyl flooring has made a lot of advances in the past decade, it's good looks can be a welcome sight.
https://www.homelight.com/blog/what-flooring-increases-home-value/
The important thing is to focus on quality. Vinyl comes in a variety of thicknesses; the thicker the vinyl, the more cushiony, stable, and durable it becomes. Because homeowners typically install vinyl in places like kitchens, bathrooms, and entryways – places where more accidents are likely to occur – high quality means spills won't penetrate through to the subfloor, and moving items or dropping things won't dent or tear the material.
Pro: Vinyl flooring can add beauty to any room
You can select vinyl flooring in sheet, tile or plank format. It comes in a variety of colors, patterns, styles, and looks. Vinyl planks are designed to mimic hardwood flooring, and they do a pretty good job. Vinyl tile can give the appearance of natural stone tile – all at an affordable price. It's a great way to add a little personality to any room, and move it up to give it a more modern appeal.
Con: Age impacts your vinyl flooring
With proper care, vinyl flooring can last 15, 20 years or more. But as it begins to age, the color and material can fade away with it.
Do you have vinyl installed in your older home now? If vinyl was produced in the 1980s or before, you might be at risk for having asbestos in your home. Once vinyl starts wearing it can release asbestos into the air. If you suspect it, get it evaluated right away. You can buy an at-home testing kit and run the test yourself. And if it tests positive, a professional must remove it to ensure the toxic material is removed in the proper way.
But today's vinyl flooring is no longer as risky as they once were. Vinyl is created from polyvinyl chloride (PVC). In the past, they were often associated with volatile organic compounds (VOCs), but manufacturers today often use little to no PVC in their flooring. Just ask and we can point you to the best manufacturers.
What's Your Choice?
Like other types of flooring, vinyl can be the perfect addition to some rooms in your home. There will always be a need for vinyl flooring, and luckily today, that means you have a wide range of choices.
The low cost and durability can be a deciding factor. Add in good looks and resilience against water damage, and it can be a winner in certain areas of your home.
Think vinyl flooring is the perfect choice for your home? Stop by today and see what we have in stock for you.