Adding new flooring to your home is one of the biggest home improvement projects you can take on. Without ripping apart a room, or gutting your entire house, you can instantly change the decor and add beauty at the same time. It takes time, energy, and money, especially if you're thinking of changing out the flooring in more than one room.
With so many different flooring options available, where do you begin? How do you know your choice will be something you'll love for years to come?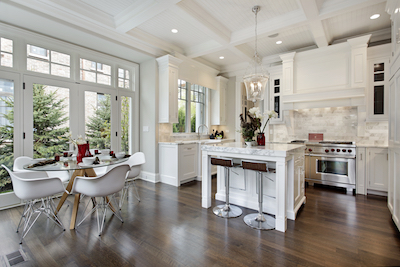 Before you start the selection process, ask yourself a few questions first.
• Do you have kids?
• How many pets do you have?
• Are you the "relax and chill" kind of family, or are dinner parties more your style?
Your answers should help influence your final decision. Some flooring choices are more durable than others. Some flooring options look good while being easy to care for at the same time. When in doubt, talk to a flooring consultant about your wants and desires, and listen closely – you might change your mind and go with a solution even better suited for your needs.
Hallways, walkways, and entryways
These rooms are the highest traffic rooms in your home. They are usually small and have one clear pathway. They are more susceptible to dirt, and can show wear and tear more than other areas in your home.
Because of these problems, your best choices are resilient flooring or tiling. The good news is that even if you love hardwood and desire to have it run throughout your home, resilient flooring is designed to mimic the look and feel. It's a stylish and durable option for the highest traffic areas in your home.
Kitchens
Kitchens are also high traffic areas, and tend to be some of the messiest rooms in your home. Resilient flooring or tile is always a great choice because its durable and can take all you can dish out. Depending on your family and your needs, you can also install hardwood. It's a beautiful and timeless look for any kitchen throughout the Rocky Mountain region.
Bathrooms
Bathrooms are also high traffic areas, but must sustain more humid and damp conditions than other rooms in your home. Tile and resilient flooring choices are also some of your best choices. They take damp situations well, and are easy to clean. If you want to add radiant heating underneath, tiles are the perfect choice to enjoy a warm floor on the coldest days of the year.
Living and Family Rooms
These are the gathering places of your home. They are often the largest, and also must sustain wear marks from large furniture and pathways. These are the gathering places of your home, and should look as good as they wear. If you love hardwood, this is the perfect place to add it and create a beautiful touch. Resilient flooring is also a great choice, especially if you have kids and pets. Consider adding area rugs to break up patterns and to add warmth and ambiance to your room design.
Bedrooms
These are the lowest traffic areas of your home. They are also the rooms where you want warmth and comfortable living. If you like carpeting, these rooms are the perfect place to select with style. Carpet also has noise-reducing qualities that can help keep your home quiet all throughout the day.
What's your style? What flooring choice is right for you? Let one of our design consultants help you make the perfect choice for you.