Thinking of expanding your family? Adding a new baby to the family?
There are a lot of things you need to get ready for a child. After you buy the crib and invest in a shelf of diapers, you might start looking at the safety factors throughout your home.
Are your cabinets locked and safe?
Do you have padding on the corners of your table to prevent injury in case of a fall?
Do you have flooring that is toddler friendly?
Not sure what toddler friendly flooring means?
Why some floors are better for families
As babies grow, a lot changes in their worlds. They roll. They crawl. They fall down as they learn to walk. They bump into things with their unsteady wobbles.
Their entire world remains on the floor for the first few years of their lives.
Do you really want them in close contact with old carpet, or hard floors that can bruise their tiny knees?
At the same time, you don't have to give up beauty and style for the sake of having a soft flooring perfect for your child. It is possible to have both.
Carpet – One of the most popular flooring materials for bedrooms, playrooms, and even living spaces is carpet. While plush fibers are soft and warm, and feel good on the knees and toes, you can also consider Berber. A low pile works well in playrooms as tiny toys won't get lost in the fibers. It's also soft on tender knees, and pads falls as they learn to walk.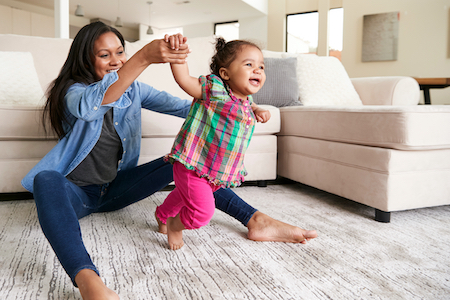 LVT – If you haven't considered vinyl, it may be time to give it a second look. Luxury vinyl tiles are one of the most popular flooring choices because it's waterproof. Yes, waterproof. And that can be a big deal for active families. Luxury vinyl tile isn't the vinyl you grew up with. Instead, LVT and LVP – luxury vinyl planks – look like the most popular flooring on the market, yet offer additional benefits that work well for homeowners.
LVT and LVP take on the appearance of hardwood, stone, and tile, yet add the benefit of being waterproof. LVT products are built in layers that give them their good looks while at the same time being durable and waterproof. The layers also build in padding that makes it softer to the touch than flooring choices like hardwood and tile. That softens the blow as kids are learning to crawl and walk. It also prevents accidents as they drop things.
Plus LVT looks so realistic, it fools even the experts. It's growing in popularity because of its durability. You can install it anywhere in your home and have it be durable as well as good looking.
Hardwood – Homeowners still love their hardwood. If this is you, never fear, hardwood is always a good choice. Hardwood is softer than tile, and its classic good looks will last for decades. If you do have issues, you can sand it down and refinish it. That makes it a great choice for growing families that want to have hardwood for life in their forever homes.
Don't forget about stairs
While many families consider flooring for their living spaces, bedrooms, and play areas, they often forget about stairs. Staircases are one of the biggest danger zones for children.
If you select the wrong flooring, the stairs may be too slippery.
If you choose incorrectly, it might not cushion a fall.
If you do choose hardwood, there are ways to make it safe.
Above all, ensure you place child-proof gates at the top and bottom of the stairs. This prevents your curious toddler from climbing up and falling down.
If you still prefer your hardwood for looks and wear, there are many ways to make them safer. Consider adding a carpet runner to soften the blow as you take each step. You can also install non-skid step pads to make your stairs safer. If you aren't sure of how to install any of these for safety, it's best to leave it to a professional that will ensure your stairs are as safe as possible.
Add an area rug for increased safety
Many people prefer hardwood, they install it as they move into their homes. Yet with a new addition to your growing family, you want to add softness and safety to your home too.
Area rugs are a great solution. You can get area rugs in every size, color, pattern, and thickness you desire. Want softness throughout your room? You can choose a size that covers the entire living space. Want to accent your decor? You can customize sizes to create your desired look.
The key is in ensuring they stay secure on the floor, won't slip and slide as you walk on them, and won't be a hazard for anyone that walks over them. Ensure you buy a non-skid rug pad that will hold your rug securely to the floor. Also pay attention to its impact on your flooring. You don't want a ruined floor when you decide to pick up your rug and change it out.
Choosing flooring for health benefits too
Today's families are also more conscious of how building materials impact health as well.
Many websites will talk about the impact flooring can have on health.
Carpeting can off-gas and add chemicals into the air supply.
Vinyl may have volatile organic compounds that can impact respiratory conditions.
Glues and epoxies can add to your health concerns.
It's enough to make any new parent worried and overwhelmed.
Keep in mind that as many things as you read online, manufacturers are also listening to the rhetoric and doing something about it.
Pay attention to manufacturers' guidelines, and you'll find many products that will not add chemical compounds into your home. Vinyl floors now emit relatively low levels of VOCs, and if you pay attention, you can get that as low as possible.
Want safe carpeting? Why not move to an all-natural fiber such as wool?
If you're worried about glues and epoxies, there are many different options. How about installing click-and-lock technology that allows you to install a floating floor without using dangerous chemicals.
As a new family, if you have concerns about the products you bring into your home, stop by and let us show you your options. One of the benefits of working with a flooring expert is we understand your concerns, as well as what's on the market. We won't sell you our preferred product, we want you to buy what's right for you. We want you to be happy with your choice. We can walk you through the benefits of several different types of flooring, and ensure you get the perfect floor for your growing family.
What questions can we answer for you?