If you're looking to remodel your bathroom, you've probably looked at porcelain tile. It's among the most popular products used in bathroom remodels today.
Porcelain tile is durable and versatile; you can find it in many different colors, styles, sizes, and patterns. It gives a homeowner a wide variety of choices when configuring their final design. What's not to love about porcelain tile.
But lately, homeowners haven't been stopping with the floors. If porcelain tile looks as good as it does on the floor, why not move it up onto the walls? If it makes a great flooring choice because of its water resistance, surely it would make a great choice on shower walls too?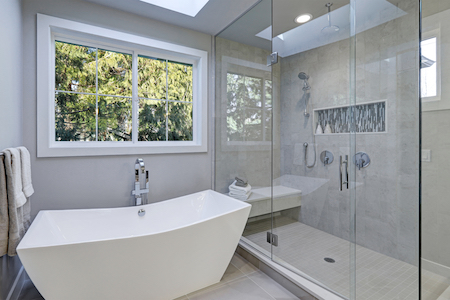 Is porcelain tile great for shower walls? It's actually one of the best choices. Here's why.
Moisture and water-resistant
Let's start with the most obvious. Anything on your shower walls is going to get a lot of exposure to water. It will also deal with a lot of steam. That means you'll need a covering that can handle all of that and stay looking great too.
Porcelain tile is made from clay with specific properties that add to its moisture resistance. Because of this, they have a water absorption rate of 0.5 percent or less. That makes them highly effective in areas that regularly get wet. It means standing water won't penetrate the tile, and steam won't affect the quality over time. It can also improve air quality, as it won't absorb unwanted air particles back into the space.
Durability
Not only can porcelain tile withstand the daily abuse of water and moisture, but it is also one of the strongest tiles to stand up to everyday wear and tear.
With ceramic tile, the color and pattern are surface only. When they chip or crack, the color chips away and you're left with an eyesore that stands out from the tile.
WIth porcelain, the color or pattern is created all the way through. The color penetrates from front to back, so a chip will only reveal the same color underneath. While you'll still want to keep extra tiles on hand for replacement of severe wear, it's nice to know that one small chip won't destroy the aesthetics of your design.
Maintenance
Because porcelain tile is water-resistant, it won't attract build-up, mold, mildew, and other particles over time in the same way as other tiles. It's easy to maintain.
With floors, sweep or vacuum loose dirt and dust. Dry mop as needed. Use a mild cleaning solution to keep it looking its best.
With shower walls, use a soft cloth to wipe down the tiles regularly. Use a mild cleaning solution to keep them clean and looking their best.
You can also check with one of our sales associates for the best products to use. And be sure to read manufacturer's guidelines as they make suggestions to keep your porcelain tiles under warranty.
Appearance
You can't ignore the look of porcelain tiles when they are installed on shower walls. They look amazing! That's why designers are turning to porcelain tiles more and more. They come in many colors and patterns, a wide variety of sizes and shapes. You'll find them glazed or unglazed, with the ability to create and look you desire.
With today's technology, you can also find them taking on the appearance of many other product lines. Love the look of real wood? Porcelain tile mimics the look. Want marble or granite without the work of having it installed? You can find porcelain tiles that mimic that too.
Although porcelain tile can cost more than other tile options, it can be a great investment in your remodel, and give you years of enjoyment. That makes it a wise purchase to make when considering your options for a remodel project.
What about the installation process of porcelain tile?
Porcelain tile isn't mined, or created from stone or wood. Instead, porcelain tiles are made from compressed ceramic dust.
During the manufacturing process of porcelain tile, it is compressed in such a way as to remove microscopic air pockets within the material, making it heavier than it's ceramic cousin. If you were to pick up a porcelain tile the same size as a ceramic tile, you'll feel the difference in weight. That's because porcelain tiles are denser because of this process.
This weight is what gives it its strength. It also makes it heavier to hang on shower walls, and to drop as you're placing it into its final position. That means it can be trickier to place porcelain tiles on the wall if you're planning on making this a DIY project. You'll need an aggressive adhesive to prevent tile slippage as you put your design into place. You'll also need different tools. While ceramic tile can be cut with standard tile tools, you'll need a wet diamond saw for cutting porcelain tile without breaking.
For DIYers, it's important to note that when you do make cuts, these edges should be placed along wall corners or ceilings, not by tub or sink edges. This makes it more susceptible to water damage.
Of course, the grout you choose plays an equally important in how durable your shower wall remains over time. There are several different options; our sales associates are happy to speak with you about the differences.
Cement has been a popular choice because it is the least costly of all methods. But cement is porous, meaning it will have to be sealed regularly to prevent water damage. That's why for shower installs, most designers turn to an epoxy grout. It's durable and doesn't need to be sealed, providing better protection on the shower. It's also both stain and chemical resistant, meaning it can stand up to all the products you use as a part of your daily routine.
If you're trying to keep your house green and create an eco-friendly living space, there are options for you too. Many of the newest grout products offer the durability of epoxy grout, yet do so in a non-toxic manner. They come in a wide variety of colors, making it the perfect product to match any decor.
What's your choice for porcelain tile for your shower walls?
Are you sold on creating a new bathroom space that uses porcelain tiles on the shower walls? You've made a good choice.
Now comes the fun part; finalizing your selection. Stop by today and see the selection we have for you. You're going to find the perfect look for your home, and love the look for years to come.