When you're replacing your flooring, you dream of something aesthetically pleasing. It has to compliment your decor. It has to be beautiful in its own right.
Maybe you've dreamed of hardwood, but deep inside you know hardwood won't work with your lifestyle. You need something else, something more resilient.
Luxury vinyl flooring has become a popular choice for homeowners looking for an attractive and durable flooring solution. With its wide range of styles and colors, luxury vinyl can mimic the look of natural materials like hardwood and stone, all while offering exceptional durability and easy maintenance.
Is it right for you?
If you've done any research, you know it looks good. But what about longevity?
What good is new flooring if its lifespan is short?
How Luxury Vinyl Flooring is Made
Luxury vinyl flooring is a synthetic flooring material that consists of several layers:
Base Layer (Backing Layer)
The manufacturing process starts with a base layer, also known as the backing layer. This layer provides structural stability and moisture resistance to the luxury vinyl plank or tile.
The base layer is typically made from materials like PVC (polyvinyl chloride) or a combination of PVC and other additives, depending on the specific product and manufacturer.
Core Layer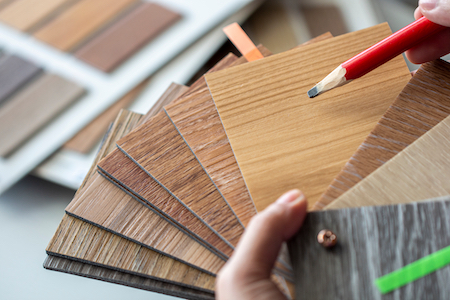 Above the base layer lies the core layer, which is responsible for the flooring's dimensional stability. It ensures that the planks or tiles maintain their shape and structure even under heavy use.
The core layer is usually made from a high-density fiberboard (HDF) or a rigid core material that is waterproof and impact-resistant. This waterproof core is one of the reasons luxury vinyl is suitable for wet areas.
Print Layer (Design Layer)
The next layer is the print layer, also referred to as the design layer. This layer is where the magic happens to achieve the realistic appearance of wood, stone, or other natural materials.
Advanced printing technology creates high-definition images and textures that mimic the look and feel of natural wood grains, stone patterns, or tile designs.
Wear Layer
Perhaps the most critical layer for the durability of luxury vinyl flooring is the wear layer, which sits on top of the print layer.
The wear layer is a transparent, protective coating made from various materials, including urethane or enhanced urethane. It serves several essential functions:
Protection – The wear layer shields the print layer from scratches, scuffs, and stains, making the flooring highly resistant to everyday wear and tear.
UV Resistance – It also protects the flooring from the harmful effects of UV rays, preventing fading and discoloration.
Easy Maintenance – The wear layer's smooth surface makes the flooring easy to clean and maintain.
Surface Finish
The wear layer is often finished with a surface treatment that enhances its performance and appearance. Different types of finishes include:
No-Wax Finish – A basic finish that may require occasional buffing to maintain its shine.
Urethane Finish – Provides durability and low maintenance, making it suitable for high-traffic areas.
Enhanced Urethane Finish – Offers the highest level of durability and scratch resistance, making it ideal for homes with heavy use or pets.
Texturing and Embossing
In addition to the print layer, luxury vinyl manufacturers often add texturing and embossing to replicate the tactile feel of natural materials. This creates a more authentic and convincing look, adding depth and dimension to the flooring.
Plank or Tile Formation
After the various layers are assembled, the luxury vinyl material is cut into planks or tiles of various sizes and thicknesses. These can resemble traditional hardwood planks or stone tiles, depending on the desired aesthetic.
Installation Methods
Luxury vinyl flooring is available in various installation methods, including glue-down, click-lock, and floating. The choice of installation method can impact both the longevity and ease of maintenance of the flooring.
All Luxury Vinyl Flooring Aren't Created Equal
Not all products are created equal. The quality of materials and manufacturing processes can vary significantly between brands and product lines. It's crucial to choose a reputable manufacturer known for producing high-quality luxury vinyl flooring. Going with a less expensive no-name brand may save money initially, but it can significantly shorten its lifespan over time.
Regular Maintenance Makes Flooring Last Longer
Customers frequently ask for tips to maintain new flooring for as long as possible. How do you protect your investment?
The answer lies in proper maintenance.
Regular Cleaning – Sweep or vacuum your luxury vinyl floor to remove dust and debris. Use a damp mop with a manufacturer-recommended cleaner for deeper cleaning.
Avoid Harsh Chemicals – Harsh chemicals and abrasive cleaners can damage the wear layer. Stick to products recommended by the manufacturer.
When in doubt, follow manufacturer guidelines. We can't stress this enough. The manufacturer designed your luxury vinyl product; they understand the best way to care for it. If you have any questions, we're happy to discuss.
Professional Installation Ensures Long-Lasting Wear
We realize that a lot of homeowners are looking for DIY options as a way of saving money. While DIY installation is an option, professional installation can ensure that your luxury vinyl flooring is installed correctly, minimizing the risk of issues that could shorten its lifespan.
Flooring lasts longer when it's properly laid into place.
A professional installer will also help ensure the subfloor is prepared correctly. If it sits perfectly on the subfloor, there is less chance of it moving, tearing, or wearing down before its time.
Cost Can Be an Indicator of Quality
While it's essential to stick to your budget, keep in mind that cheaper luxury vinyl flooring may not offer the same level of durability and longevity as higher-end options. Investing in a higher-quality product can pay off in the long run by reducing the need for early replacement.
When in doubt, go with a trusted manufacturer. We can guide you to the best names – and products – in the business.
Don't Ignore Repairs
If you notice any damage or issues with your luxury vinyl flooring, don't ignore them. Addressing problems promptly can prevent them from worsening and extend the lifespan of your flooring. Consult the manufacturer's guidelines for repair instructions or consider professional assistance.
Is Luxury Vinyl Flooring Right for You?
Ultimately, choosing the right luxury vinyl flooring for you depends on your specific needs, budget, and style preferences. Consider factors like finish type, wear layer thickness, and manufacturer reputation when deciding. Researching and selecting the right product can result in a beautiful and long-lasting flooring solution for your home.
Remember that quality matters, and investing in a higher-end product may save you money in the long run. With the proper care and choice of flooring, you can enjoy the beauty and functionality of luxury vinyl for many years to come.
How can we help you find the right luxury vinyl flooring to suit your needs?