Luxury vinyl is one of the hottest trends in flooring right now. Yet when you hear the term, it might bring back flashbacks of what your parents or grandparents had in their homes. What could possibly be luxurious about vinyl?
Well, today's luxury vinyl is nothing like you remember from a few decades ago.
Where vinyl flooring started
While vinyl itself wasn't used as a flooring until the 1930s, the substance was developed in the late 1800s. Chemist Eugen Baumann developed Polyvinyl Chloride (PVC) in Germany in 1872. In 1913, Friedrich Klatte found a way of getting the substance to polymerize, and received a patent on the process.
In 1926, vinyl was developed by accident. Scientist Waldo Lonsbury Semon was trying to create an adhesive to bond to rubber, when he transformed the once rigid vinyl into a more gelatinous substance. Semon received patents as well, and the product was quickly used in many different products, from golf balls to heels of shoes.
It wasn't until 1933 when the first vinyl tile was presented at a Century of Progress Exposition in Chicago. And the rest, as they say, is history. Shortages of materials during WWII made experimentation with the product even greater. With a lack of rubber, vinyl became one of the leading materials to create a wide array of products.
Vinyl continued advancement into the 1980s, when asbestos was added for strength. It was removed from production after years of research when it was discovered asbestos was cancer-causing.
Today's luxury vinyl flooring may have roots from the original vinyl developed years ago, but it is distinctly a different product.
Today's luxury vinyl flooring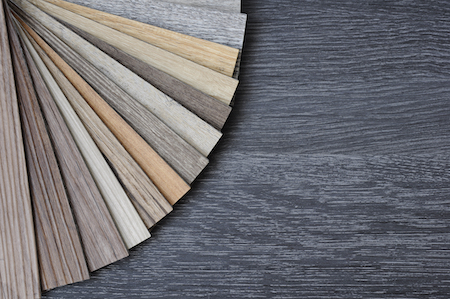 Today you'll find both luxury vinyl tile and luxury vinyl planks, commonly referred to as LVT and LVP. These products are waterproof, easy to maintain, and easy to install. They can take on a variety of looks, mimicking some of the most loved flooring options in the world, including hardwood and tile.
Both LVT and LVP are made with synthetic materials formed by melting polyvinyl chloride resins with white pigments, calcium carbonate, plasticizers, fungicides, and UV stabilizers. They are combined using heat and pressure, before adding a backing layer to bring it all together. Luxury vinyl typically has four main layers:
Wear layer – a transparent top coating that protects the floor
Decorative image – this gives it its realistic appearance
Vinyl core – the PVC material that gives it its flexibility and makes it 100 percent waterproof
Backing layer – the finishing layer that helps prevent mold and mildew
Why luxury vinyl flooring makes a great addition to your home
Today's luxury vinyl is being added to homes across the Front Range.
LVP was developed to give your floors the appearance of authentic hardwood floors. It's realistic enough to make experts take a second glance. It improves on hardwood by being more durable, 100 percent waterproof, stain-resistant, and durable enough to handle all your family can dish out.
LVT consists of individual squares of various sizes that give you the look of stone tile. Using LVT is easier than handling real stone tiles, and it provides the durability of using vinyl rather than stone.
What's making both LVP and LVT so popular?
Luxury vinyl flooring looks incredibly realistic
Both LVP and LVT are synthetic and completely fabricated, they look real enough to make anyone who enters your home take a second glance. As you're installing the planks or tiles, you can see the various levels of construction. But once it's laid into place, it produces a flooring that handles as well as it looks.
Using modern technology, the design layer consists of photographic images taken of different hardwood products. Want hickory flooring with its distinctive dark wood look? LVP handles it well. Prefer a light oak wood or a whitewash as light as possible? You'll find that too. In fact, LVP makes it possible to get colors and shades more difficult with actual hardwood. The unique plastic coating over the top seals the look, and adds depth through embossing and other finishes.
Luxury vinyl flooring is water resistant or waterproof
This is one of the leading attractors to the product. If you've ever been nervous about installing hardwood in places where moisture might be a problem, you're going to love luxury vinyl flooring.
Since LVP and LVT are made of vinyl layers, it's extremely water resistant. Some products on the market today go the extra mile, with certain luxury vinyl products being 100 percent waterproof – talk with a sales associate about the difference. If you've ever worried about the flooring you select in a bathroom, laundry room, or basement, you're going to love luxury vinyl.
But LVP and LVT aren't just for rooms prone to moisture. You'll love the look enough to use luxury vinyl throughout your home. And if you have an active household, it'll make cleanup and maintenance a breeze.
Luxury vinyl flooring is low maintenance
What makes luxury vinyl waterproof also makes it low maintenance. The protective layer makes it easy to keep clean, with just an occasional swipe of a mop with water and a mild detergent. No more worrying about cleanup if the kids (or you) spill more of dinner than they actually consume.
The durable wear layer also makes it slip resistant, quiet when you walk on it, and warm to the touch. If you want a flooring with a little more give, LVP and LVT is the choice for you. It can be the perfect choice for homes with small kids, or with adults with mobility issues where falling is at increased risk.
Luxury vinyl flooring is easy to install
Looking for a DIY project? Both LVP and LVT are an ideal flooring option for people wanting a hand in home renovation. LVP and LVT come either in glue-down or click-together product lines. The click-together is easy to install, and the flexibility of the product makes it easy to cut to fit along edges or in corners.
But don't worry about installation if it's not your thing. It can be easily installed by one of our professional installers, and you won't have to wait days while the hardwood settles in your home's environment. Installers can be in and out in a day, depending on the size of your project.
Yes, I want luxury vinyl flooring
What's not to love about luxury vinyl flooring?
If you think it's the perfect choice for your product, why not visit us today to find the ideal product for your needs. With different sizes, styles, colors, and patterns, there's a lot for you to choose from. We'll help you find the right product for your home.