September is a wonderful time of year here across the Front Range. The kids are back in school. The afternoons are still warm enough to enjoy being outside, while the evenings cool down to a comfortable level. You might enjoy being outside, but it's also a great time to start looking around and planning your indoor projects for the colder winter months.
Fall is also the perfect time to replace your flooring.
Flooring takes a beating all year long. As you start to move back inside, take a look around. Do carpets look stained and worn? Is hardwood dull and scratched? Are tiles chipped and broken? Now maybe the perfect time for an upgrade.
What fall weather brings out in your flooring
While fall may be one of the most beautiful times of the year here in Colorado, it can also be one of the most destructive for your floors. Days may stay warm, but the nights cool down. It's not uncommon to run the air conditioner during the day, and have the furnace turn on in the wee hours of the morning. This can drastically change the air within your home,
Hardwood contracts and expands depending on the amount of humidity in the room. With both the air and heat working, you may see more gaping between each individual board. While your home should remain consistent somewhere around 70 degrees, the increased heat and moisture can cause potential warping and buckling problems if you're not careful. As rain turns to snow, you're also more likely to track in water, which can impact hardwood. Be sure to pull out rugs to help combat this problem, or consider making your home a shoe-free zone.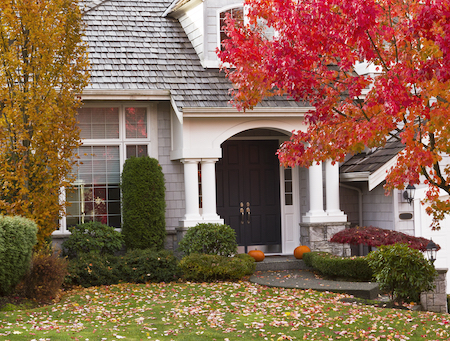 Summer is a great time to run barefoot through the grass. If your kids and pets took full advantage of it, you may notice muddy trails ground into your carpet. These stubborn stains are hard to get out in the best of conditions. Now that it's ground in dirt, it may be impossible. While this is a perfect time for cleaning your carpet, it may be a time when you realize even carpet cleaning isn't enough. What you really need is new flooring.
Tile can also become a problem over time. Light tile might be easily stained if it's a porous material. Light grout may also be stained. Dropping heavy pans can crack tile if it's not properly installed. And because tile comes in an almost unlimited supply of colors and patterns, you might be distracted from something you installed even just a few years before. After the year we've had, if you're trying to create an entirely new look and feel in your home, your current tile might not be the right solution for your floors.
Replace your flooring this fall and enjoy the look you create as we start spending more time indoors.
Fall flooring trends – choosing what's right for your home
Whether you shop at a local big box store, or head into a specialized store, you're likely to see current trends impact the products you buy.
Every year, Pantone chooses a color of the year. This guides everything from fashion to home furnishings. Here in 2021, the colors are Ultimate Gray and Illuminating, a bright and cheery yellow. The executive director of the Pantone Color Institute states that "this is a color combination that gives us resilience and hope." Maybe that's why we're seeing the impact of these colors throughout our favorite stores as we shop for new things.
You'll also find the impact of these colors when you look at flooring.
Lighter colors
While dark flooring has been popular for years, you'll notice now that a lot of options are leaning towards lighter colors. In hardwood and luxury vinyl, you'll see more options in blonde and whitewash. Natural finishes are definitely all the rage.
With an increase in working and staying at home, people are once again opting for open floor plans. Hard surfaces give a more airy and light-hearted appearance when they are lighter, more natural in color.
Lighter floors also bring timelessness to the table. If you select a light color, they open up decor options in many ways. From rustic, contemporary, country, or traditional, you'll achieve any look you desire by making a lighter, more natural flooring as your base.
Patterns
Patterns don't have to be wild and busy. Instead, it can create a natural flow no matter what material you select for your floors.
A patterned carpet works well in a busy household. Ceramic tile in distinct shapes can be laid into place in many ways. Or how about combining two different products – wood and tile to create intricate patterns that set your room apart from traditional.
While your personality can run wild with today's choices, there are a few guidelines to consider. Bold patterns work well in smaller spaces like bathrooms, more subtle patterns are often better for large or open spaces. With hardwood, you can create exciting looks through installation techniques – how about herringbone, chevron, checkerboard, or whatever you find as you're planning out your new design.
Rustic
Rustic no longer means a log cabin in the middle of nowhere. You only have to head up into the Rocky Mountains to discover rustic has taken a  turn towards mountain modern.
But you can still install that mountain feel into your overall design. Hardwood is still a beloved material of choice in many home designs.
Rustic combines the new with the old. It creates a timeless look in new ways. How about distressed wood? Or using barn wood materials in certain spaces?
Rustic doesn't have to be synonymous with hardwood. In fact, you might just find what you're looking for in ceramic tile of luxury vinyl. It's a great way to bring out a mountain modern look in every room of your home. And you won't have to worry about the impact of hardwood in places like bathrooms or the basement.
What's your look?
What are you trying to create?
Whatever your design preferences are, replace your flooring this fall, and you'll love what you've created for years to come.
We're here to help. Stop by today.