You want new flooring. You want it to be bold and beautiful. You want it to be durable and easy to maintain. You want it to increase energy efficiency …
What!?
That's not something homeowners often consider when renovating their floors. Yet it sounds good, doesn't it? A report on Ecowatch states:
Energy efficient rated homes sell for 2.7 percent more than unrated homes
Green features increased the odds of selling or buying a home by 51 percent
Homes and commercial buildings consume 40 percent of the energy used in the US
So it only makes sense that homeowners are looking for flooring that is more energy efficient too. But what does that mean?
What is energy efficient flooring?
Did you know that your flooring choices can significantly impact your home's energy efficiency? From reducing your energy bills to improving air quality, investing in energy-efficient flooring is a smart move for any homeowner. But which flooring options are the most efficient?
When we talk about energy-efficient flooring, we're referring to flooring materials that help to minimize the loss of heat or cool air in your home. This means they are better at insulating your home and keeping it at a comfortable temperature year-round.
Energy-efficient flooring can help reduce your heating and cooling costs, while making your home more comfortable and eco-friendly. What should you look for?
What flooring materials are naturally energy efficient?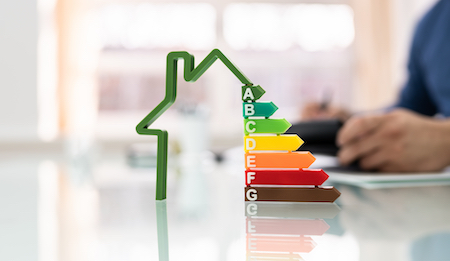 While different types of flooring offer varying degrees of energy efficiency, some materials are inherently more efficient than others.
Carpeting is an excellent insulator that can help keep your home warm in the winter. Wood has natural insulating properties and is also eco-friendly. Even laminate flooring is considered energy-efficient, as they are good to pair with radiant heating, which regulates temperature and can help to reduce your energy bills.
How insulation and underlayment play into energy efficiency
Think it's just the flooring that matters? Think again.
In addition to choosing an energy-efficient flooring material, it's equally important to consider the insulation and underlayment you use. Adding an insulated underlayment can further improve the energy efficiency of your floors. This underlayment acts as a barrier, preventing heat or cool air from escaping through the floor. It also helps to reduce noise and improve indoor air quality by blocking out allergens and pollutants.
Each flooring can be paired with an underlayment perfect for insulating your room against energy loss. It'll be warmer in the winter, cooler in the summer, and retain its temperature no matter what time of year.
Reasons to invest in energy efficient flooring
When homeowners remodel and add new flooring, the decision is based on a variety of factors. If you're weighing in on energy efficiency, know that the right flooring can help in many ways.
It can save money
Investing in energy-efficient flooring can reduce your heating and cooling costs year-round. This can help you save money over time and improve the overall comfort of your home.
It's better for the environment
Using energy-efficient flooring can also help to reduce your carbon footprint. By using less energy to heat or cool your home, you'll be doing your part to reduce greenhouse gas emissions and slow the effects of climate change.
It provides more comfort
Energy-efficient flooring can also make your home more comfortable. Regulating temperature and reducing drafts can create a more pleasant and consistent indoor environment.
It provides better air quality
Many types of energy-efficient flooring are also better for indoor air quality. They are naturally resistant to mold and mildew, and don't emit harmful VOCs (volatile organic compounds) that can negatively impact your health.
They improve resale value
Investing in energy-efficient flooring can also boost the resale value of your home. Many buyers are interested in eco-friendly and energy-efficient features, which can make your property more attractive in the real estate market.
The most energy efficient flooring options
Are you sold on energy efficient flooring? Wondering which is the right choice for you? Luckily, some of the most popular flooring materials also offer energy efficient features.
Carpet
Carpeting is one of the most popular flooring choices. It's also one of the top choices for energy-efficient flooring. It provides excellent insulation and can help keep your home warm in the winter. Look for carpets made from natural, eco-friendly materials like wool or recycled polyester.
Laminate
Laminate flooring is also a good choice for energy efficiency, as it is made from multiple layers that provide an extra barrier to heat loss. It's also very durable and easy to maintain.
Linoleum
Linoleum flooring is eco-friendly, affordable, and naturally antimicrobial, making it a great choice for those with allergies or sensitivities. It's also straightforward to install and comes in a variety of colors and patterns.
Luxury vinyl
Luxury vinyl is gaining popularity. It's made from PVC, which is an excellent insulator, and can be installed over existing flooring. It's also water-resistant and durable.
Engineered wood
Engineered wood flooring is a cost-effective and eco-friendly alternative to solid hardwood. It's made from multiple layers of wood that provide insulation, and are easy to install and maintain.
Ceramic or porcelain tile
Ceramic or porcelain tile can also be a good option for energy efficiency. These materials are excellent insulators and can help keep your home at a consistent temperature year-round. When paired with radiant heating, they are warm to the touch on the coldest days of the year. They also add a unique and timeless look to any room.
Adding in radiant heating – how it helps with efficiency
In this article, we've talked about radiant heating several times because it's a great way to keep your home comfortable year-round.
Radiant heating is more efficient than baseboard heating, and gas-forced air, as it prevents duct loss. It warms up the room by heating the floor rather than air, which quickly rises and is absorbed by other objects in the room.
If you choose to use radiant heating, bring it up with our flooring consultants, and we'll help you select the right flooring to suit your needs.
Are you ready to make your house greener?
A great place to start is by adding energy efficient flooring. It's a smart move for any homeowner.
It can help you save money, improve your home's comfort and air quality, and even boost resale value. What's not to love?
Have additional questions? Just ask. We're here to help you select the right flooring to suit your needs.