If you own commercial property, the materials you use have to be a little stronger, more durable than anything you'd put into your own home. They have to withstand higher traffic, more abuse, more cleanings, and look good throughout its lifespan. It can be difficult finding the right products for the job.
Yet more and more, people are turning to laminate because of its durability and versatility. Not just any laminate, commercial grade laminate flooring. Laminate is made from several layers:
A backing layer that is designed to provide a moisture barrier as well as give the flooring its structural integrity.
A dense inner layer, sometimes called a core layer, made from compressed wood fiber.
A decorative layer that gives the floor its decorative look and feel. This is achieved through high quality photography, giving the laminate the appearance of natural hardwood, stone, or ceramic tile.
A wear layer that creates a tough, beautiful finish that is resistant to stain, fade, and wear.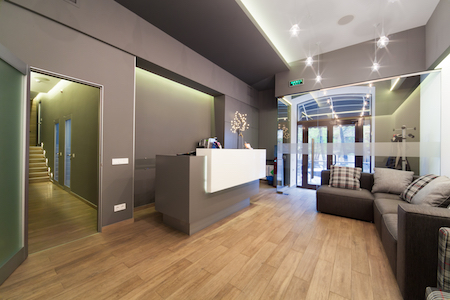 What makes laminate a popular choice for homes is also why property managers turn to commercial grade laminate flooring. It's a popular choice because it looks great and performs well too. High end retail locations and client-oriented business offices often want to put their best foot forward when attracting clientele. Laminate can be the perfect way to do that.
But don't be fooled. There is a difference in laminate quality. You can't put laminate created for residential environments in commercial locations. They won't hold up to the abuse. Instead, high quality or commercial grade laminate flooring is your best choice, as it is created especially for higher traffic businesses that care about looks and making a good first impression.
How laminate flooring is structured
All laminate flooring is created using the four layers mentioned above. The majority of the layer is the high-density fiberboard, which is as much as 85 percent of the laminate board. If you pay attention to the product materials, you can find some laminate made almost entirely of recycled materials. That's good for the environment as well as helping your business stay as green as possible.
Why laminate has increased in popularity in recent years is because of better technology. With today's printing technology, laminate can take on any look you desire. Have an exotic hardwood in mind, but want it without the exotic price or increased maintenance? Laminate can be your answer. Want stone or even a random pattern you can't find with other products? It's easier than ever to create the look using laminate.
The heat-fused top layer allows you to see the beauty of the print layer, while protecting it from things like dirt and liquids, things that can be damaging to other flooring choices.
What separates residential laminate from commercial grade laminate flooring is the thickness and quality of these layers. Commercial grade will be thicker, offering more protection from things that can damage it most.
What is a laminate wear rating?
One of the biggest factors you should focus on when making your final selection is the wear rating. For laminate flooring, a wear rating indicates how well the floor will stand up to daily wear and tear. All laminate flooring will have an AC rating – abrasion class rating – and will be followed by a number. Laminate flooring has five rating levels, AC1 is for low traffic areas while AC5 is for commercial use.
AC1 is for low traffic use in residential situations only. This product is best kept in places like bedrooms or guest spaces, a place where it won't have a lot of use.
AC2 is better suited for higher traffic residential uses. You can place AC2 laminate in areas like the living room and family room. It's still not suggested for commercial use.
AC3 is a good choice for all residential needs. If you want to have flow-through and have unified flooring throughout your home, AC3 is the choice for you. It can also be used in light-traffic commercial applications.
AC4 is manufactured specifically for commercial use. For offices that don't get a lot of traffic, it can be the perfect choice for you. An AC4 rated laminate has a more abrasive wear layer making it stand up well in commercial applications, but isn't comfortable for residential use.
AC5 is designed to handle high-traffic situations. It's what is usually installed in department stores, offices, and shopping centers. It also has an abrasive texture to stand up well under pressure, but isn't a good choice for residential applications.
How do you maintain commercial grade laminate flooring?
What makes homeowners love laminate flooring is also the same reasons property managers flock to commercial grade laminate flooring. The two products share many of the same qualities. But commercial grade laminate flooring also has a few unique qualities that are increasing its popularity.
The high quality wear layer found on commercial grade laminate flooring is quite prone to resisting scratches and penetration. Because dirt, debris, spills, and stains generally sit on the surface at least for a short while, it makes allows a quick cleanup for damage to be avoided.
The tough wear layer will prevent damage from harmful UV light exposure. This means laminate can be used in public areas where natural light spills in and settles for hours throughout the day.
Laminate has a wear layer to protect the look and feel. Once this wear layer has been penetrated or worn through, the flooring itself will have to be replaced. Laminate isn't hardwood; it can't be refinished to bring it back to its natural beauty. Focus on buying high quality laminate that will ensure you the thickest, strongest wear layer possible.
Also, pay attention to warranties. They are often a sure indicator of the quality of the product. Most commercial grade laminate flooring warranties will come with guidelines outlining maintenance, environments, and potential problem areas to stay within the guarantee. By asking about them upfront, and reviewing them before you select your final product, you can ensure you get the right product for your situation.
What do you want your flooring to look like? 
That really is the beauty of installing commercial grade laminate flooring in your retail location of office. Laminate flooring can take on any look you desire.
Want the look of hardwood without the fuss? Want better performance yet crave the look of natural stone? With laminate, anything is possible.
And the best place to start planning your aesthetics and final look is by talking with one of our flooring experts. We can help you design a space you'll be proud of for years to come.
How can we help you?