For some building projects, the desire to use sustainable materials is a personal choice. If you're vying for a LEED-certified building, it's required.
That means when selecting building materials, you'll have to pay attention to your final selection.
Choosing the right materials for LEED certification can be difficult … if you aren't careful about which materials you choose. But with this as a guide, you'll find the perfect sustainable flooring choices you're sure to love.
What is LEED certification and how does it work?
In today's world, sustainability is a key consideration for many construction projects. When it comes to building design, LEED (Leadership in Energy and Environmental Design) certification is recognized as a standard for sustainable building practices. A LEED-certified building promotes energy efficiency, reduces waste, and minimizes the impact on the environment.
LEED isn't about selecting individual products and materials. Instead, it's about creating a building and environment that meets the highest standards.
If you're planning to construct a LEED-certified building, sustainability comes from the ground up – literally!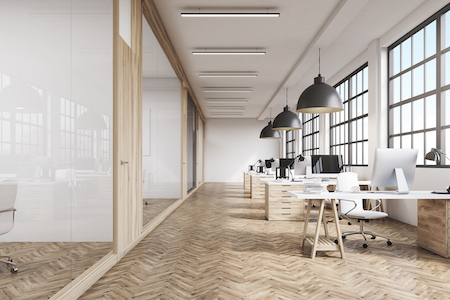 LEED certification is a globally recognized rating system developed by the United States Green Building Council (USGBC) to evaluate the sustainability of buildings. It provides a framework for designing, constructing, operating, and maintaining green buildings. It is a game-changing certification that indicates that your building is energy-efficient and environmentally friendly.
The certification process involves meeting specific criteria across various categories, including energy efficiency, water efficiency, indoor environmental quality, and materials selection. Each class has a different weighting, and the total points achieved determine the LEED certification level, ranging from Certified to Platinum.
How does sustainable flooring fit in?
What is LEED certification and how does it work?
LEED certification is a system for rating the sustainability of a building. It was created by the US Green Building Council in 2000 to evaluate the environmental performance of buildings and encourage sustainable development practices.
There are four levels of LEED certification: Certified, Silver, Gold, and Platinum. The certification system considers specific criteria, such as energy efficiency, water conservation, and material selection. Points are allocated for each standard, and the more points a building earns, the higher its LEED certification rating will be.
To achieve LEED certification, buildings must meet prerequisites, such as energy and water use, and then earn points by implementing specific environmentally friendly design choices.
It is important to note that only buildings can receive LEED certification, not individual items or companies. It's not about installing LEED-approved products or materials. Instead, it's about how it contributes to the overall status of the building. For example, hardwood flooring won't give you points unless all wood used in construction meets LEED standards. All wood used in the structure must be certified as sustainably harvested by FSC standards, with only formaldehyde-free adhesives for installation.
LEED-approved flooring isn't a choice – here's how to get points
LEED certification has specific requirements for flooring materials to earn points. To obtain points in the Materials and Resources category, which focuses on reducing the environmental impact of building materials, you'll choose flooring options that meet LEED-approved standards.
In general, flooring should be durable and last for a long time, use low-toxicity materials, and contribute to cleaner indoor air quality. Select materials that use rapidly renewable materials, recycled content, and low-emitting materials. There are lots of ways to add points – work with a LEED expert or seek the help of a flooring expert.
We've found flooring materials that top the list include:
Sustainable Carpet
Carpet is a popular flooring choice in many buildings, and fortunately, sustainable options are available. It's comfortable and can look great, but some carpets can be a real strain on the environment. However, there are sustainable carpet options that will earn your building LEED points.
Look for carpets certified by independent organizations such as the Carpet and Rug Institute's Green Label Plus or Cradle to Cradle certification. These certifications ensure the carpet meets stringent criteria for low VOC (volatile organic compound) emissions, recycled content, and sustainable manufacturing processes.
Look for sustainable materials like wool, jute, or recycled content options. Wool, for example, is a naturally flame-retardant and insulating material with excellent abrasion resistance. You can also find carpets with recycled content. Be sure to choose carpets that contain at least 10-20 percent post-consumer recycled content to earn LEED points.
Sustainable Hardwood
Hardwood flooring adds a touch of elegance to any space, but it is essential to select sustainable options. For hardwood flooring to qualify for LEEDS points, it must be certified by the Forest Stewardship Council (FSC), which ensures responsible forestry practices. FSC-certified wood is sourced from sustainably managed forests, promoting biodiversity and reducing the impact on local communities.
You can also consider reclaimed wood, which comes from recycled or salvaged sources and gives a second life to wood from old buildings or other sources. Engineered hardwood flooring is another option. It uses a thin layer of hardwood on top of a substrate made from fast-growing, sustainable materials.
Sustainable Tile
Tile flooring offers durability and a wide range of design possibilities. To choose sustainable tiles, consider recycled materials such as post-consumer glass or porcelain. Choose materials that are locally sourced to reduce the impact of transportation.
Natural stone, such as marble, limestone, and granite, is a popular choice, but it's important to ensure it's from responsibly managed quarries.
Porcelain tiles, in particular, are a good option as they are long-lasting and low-maintenance.
Another option is terrazzo flooring, made from recycled materials, including glass chips and marble remnants. Consider tiles with high solar reflectance values, as they can help reduce the heat island effect in urban areas and improve energy efficiency.
LEED-certification – Begin with Sustainable Flooring
Choosing sustainable flooring options is a crucial step toward achieving LEED certification for a building. Choose flooring options that will earn your building LEED points while still being functional and aesthetically pleasing.
By incorporating sustainable flooring into the design and construction process, we can create buildings that are not only environmentally friendly but also promote the well-being of the people who use them.
How can we help you select sustainable flooring for your building project?