Staying in place for most of 2020 has turned many homeowners into DIYers. They've watched more home improvement shows, and started more projects than they ever imagined taking on.
Are you one of them? Do you walk throughout your home and see the possibilities?
If you've tackled any project these past few months, you probably realize that some projects are easier than others. Even if they look simple – painting, for example – it can turn into a nightmare quickly if you don't know what you're doing. To paint a room properly, you need more than a can of paint and a brush. Rollers, dropcloth, masking tape – and it's not just the resources that are important. If they aren't high quality, it can be almost as difficult as attempting the project without the tool.
So what about floating tile?
On the one hand, it seems like an easy task. If you've always loved the look of tile flooring, but are a little intimidated by gluing them into place as you work, this seems like the perfect solution. This gives you a chance to ensure things are in place before you add the grout.
But is floating tile really that easy to install? Is it something you should consider as you're upgrading your home in the coming year?
What does the term floating mean?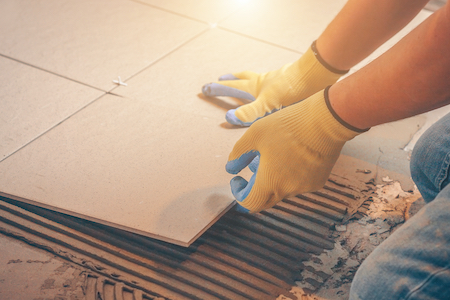 Before we get into what floating tile really means, let's start with the concept of what a floating floor is. Floating floors make the installation process easier. A floating floor can be made from any material – wood, laminate, ceramic, porcelain – and instead of being attached to the subfloor, the pieces are interconnected and support themselves.
This doesn't mean that floating floors are any less stable than other types of flooring. Their support comes from within. They lie in such a way as to use each piece of the flooring, fitted together within the dimensions of the room, to provide a stable base.
While laminate and wood are created with grids to click-and-lock into place, ceramic and porcelain tiles don't have the same ease of use.
How floating tile works
Tile has been used in homes for thousands of years. If you've ever been to a home improvement store, you know there are endless varieties of tile, in all sizes, colors, and patterns. If you can dream it, you can find a way to install it with tile.
But tile itself isn't a DIY friendly option. A thin layer of mortar has to be laid into place, followed by a concrete backer board, and an additional layer of mortar connecting to the subfloor. This is time-consuming work. And because it dries quickly, which means it isn't easy to move tile around after its set, it's an art form that can take years to perfect.
That's not something easy for a DIYer. Which is why another option was created.
It's called floating tile because it's not attached to the subfloor. Floor tiles are connected to a rubber base that interlocks with one another. This simplifies the installation and means there is no need to use a mortar base. It makes it easy to lay the entire floor through click technology, and only then do you come back and create a grout line in between.
Are you intrigued? Let's weigh the options carefully before you decide to tackle tile installation in your home.
Advantages and disadvantages of using floating tile flooring
Like any potential flooring you choose for your home, tile has distinct advantages and disadvantages to using it. How you install it will also matter in how it wears over time.
Start by carefully considering your room and what you expect for the lifespan of the product. An outside living space has different requirements than a small bathroom in your master suite.
Advantages include:
One of the most challenging parts of traditional tile is mixing mortar and troweling it onto the subfloor. If this process doesn't create an even base, your tile won't be stable when laid on top. Floating tile eliminates this process and makes installation easier.
No more uneven grout lines. Have you ever walked on a floor where the lines vary greatly? That's caused by a tile installer with lower skill levels, attempting to avoid cutting tile for perfectly uniform spacing. That's never a problem with floating tiles.
Floating tile can easily be installed over another existing flooring already in place. Have a hardwood or linoleum you're dreading taking out? As long as it's even, with floating tile, you can simply lay it into place.
Floating tiles lock at the edges, meaning you'll always have a smooth surface area. If the subfloor isn't perfect with traditional tile, it can create catch areas on the edges where a tile may be a fraction higher than the one next to it. Floating tile can ensure your entire surface area is smooth and one level.
Disadvantages include:
Cracks are more common with floating tile because of how they are installed. They don't have the support of mortar and a concrete backer, which means more likelihood of air pockets underneath. Without this support, the weight of heavy furniture, or even a heavy person walking over it, may crack the tile.
Floating tiles offer fewer options. If you truly want unlimited possibilities, and the ability to create and look and design you desire, your best bet is to go with traditional tile.
Floating tiles cost more than traditional tiles. Because of the ease of use, you won't be required to buy the same installation materials. But because of the construction of the DIY tile, they will run you more money than a more traditional tile.
You'll still need tile-cutting skills to create a uniform layout.
Floating tiles are not as water-resistant as traditional tile. Grout is porous, and because there isn't a concrete back holding the tiles in place, it gives more room for water to penetrate the grout and seep into the subfloor.
Is floating tile for you?
It all depends on your project.
Traditional tile is still the best way to gain the full results of a tile flooring. If you want water-resistance and a smooth floor that will last for years, hiring a contractor is still your best option.
But if you have a room where you want the look of tile in a DIY manner, floating tile can be a fun project for you to tackle.
What questions do you have about installing a new floor in your home?