We love our pets and are willing to do anything for them. Seventy percent of US households have at least one pet.
If you're one of the 90.5 million families that have a fur friend at home, you might cringe every time you glance at your floors. The scratches. The stains. Isn't there anything you can do?
Pet-resistant flooring is an option. Are you ready to explore what's available to you?
The good, the bad, and the ugly of pet ownership
Before you consider replacing your flooring with pet-resistant floors, you'll need to consider which material will be the best fit for you and your pets. What do you live with?
Nails tearing into the flooring
Shedding
Accidents
Digging
Tracking in dirt and debris from outside
The good news is there isn't a right or wrong answer when finalizing your selection. You can make any flooring work if you're willing to invest the time.
It starts by taking a long look at your lifestyle. Are your pets well-behaved? Do they love rolling in mud puddles … and racing through your home shortly after? Behavior rarely changes after you install new flooring. It's better to select the kind of flooring that makes the most sense for your situation.
Pet-resistant flooring choices for your home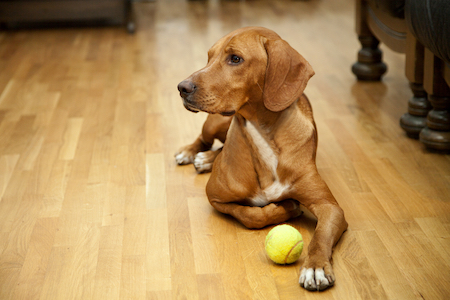 Are you tired of finding scratches and scuffs all over your beautiful flooring? Do you love your furry friends but wish you could find a flooring option that can withstand their playful antics? Look no further! We have a lot of ideas for you.
Sheet vinyl
Let's start with sheet vinyl, a durable and affordable flooring option that can handle the demands of a busy household with pets. It's resistant to scratches and stains, making it an excellent choice for pet owners. Sheet vinyl is also easy to clean, which is a plus because you know accidents will happen.
With advancements in technology, you can find sheet vinyl in a wide range of styles and designs that mimic the look of natural materials like wood and stone. It's easy to install, easy to maintain, and looks great too.
Luxury vinyl planks
Luxury vinyl planks (LVP) are another fantastic option for pet owners. LVP has become increasingly popular in recent years due to its durability and realistic appearance. It's designed to withstand heavy foot traffic and resist scratches from pet claws.
LVP is water-resistant, which makes it well received in homes with pets. When accidents happen, clean them without worrying about the results.
With its many styles and textures, you can find LVP that complements your home's décor while standing up to your pets' playful adventures.
Linoleum
Don't let linoleum's old-fashioned reputation fool you. It has made a comeback in recent years and is now considered an eco-friendly and pet-resistant flooring option.
Linoleum is made from natural materials like linseed oil, cork dust, and wood flour, making it a sustainable choice. It's highly durable, resists scratches, and can handle the wear and tear caused by pets.
With its wide range of colors and patterns, linoleum can add a unique touch to any room in your home.
Tile
If you're looking for a flooring option that can handle anything your pets throw at it, consider tile. Ceramic or porcelain tiles are incredibly durable and scratch-resistant. They are also moisture-resistant, making them perfect for areas prone to spills and accidents.
Tiles are also one of the easiest materials to clean. Pet hair or unwanted messes be gone! Simply wipe them away.
With endless design possibilities, you can create a stylish and pet-friendly space with tile flooring.
Stone
For a luxurious and pet-resistant flooring option, look no further than natural stone. Materials like granite, slate, and travertine are not only beautiful but also incredibly durable. They can withstand scratches and provide a cool surface for your pets to lie on during hot summer days.
Keep in mind that certain stones may require periodic sealing to maintain their beauty and prevent stains, but with proper care, stone flooring can last a lifetime.
Laminate
Laminate flooring is popular for pet owners due to its scratch-resistant properties. It's composed of multiple layers, including a top wear layer that protects against scratches and scuffs.
Laminate can mimic the appearance of hardwood or stone at a fraction of the cost. It's also easy to clean and maintain, making it a practical option for households with pets.
Hardwood
While hardwood may seem like an unusual choice for pet owners, certain hardwood species can be a viable option.
Hardwoods like oak, hickory, and bamboo are more resistant to scratches than softer woods. You can also find hardwood floors with a durable finish, such as aluminum oxide. When you visit our retail location, ask how you can combine hardwood floors with pet-resistance – we have many ideas.
Of course, regular maintenance can go a long way too. Trim your pet's nails and promptly wipe up spills to help preserve the beauty of your hardwood floors.
Carpet
While carpet may not be the most obvious choice for pet owners concerned about scratches, pet-resistant options are available. Look for carpets with tight weaves and low pile heights that are less likely to snag or show wear.
Stain-resistant carpets treated with protective coatings can also help prevent damage from pet accidents. Regular vacuuming and professional cleaning can keep your carpet looking fresh and odor-free.
What stands out to you? 
There you have it – a list of the most pet-resistant flooring options you can install in your home.
Finding the right flooring for your pet-friendly home doesn't have to be a challenge. With a variety of pet-resistant options available, you can say goodbye to scratches and hello to a beautiful, durable, and pet-friendly floor.
Consider your options, then stop by to see our wide selection. You'll find the perfect flooring material for your next remodel. We're here to help!