Choosing the right type of flooring for your home is an important decision. Not only do you want to ensure that it will look great and suit your style, but you should also consider its environmental impact. The flooring in your home is a key contributor to indoor air quality and can affect the environment both during and after installation. We have some advice and a few top eco-friendly flooring options if you're searching for environmentally responsible flooring.
What to ask as you start your search for environmentally responsible flooring
When selecting flooring for your home, there are several factors to consider. One of the most important considerations today is the environmental impact of the materials and the overall sustainability of the flooring options available. To help you make an informed decision, we have compiled a list of questions to ask as you search for environmentally responsible flooring.
What materials are considered environmentally responsible?
Some flooring materials are more environmentally friendly than others. Materials like hardwood, laminate, linoleum, and tile are often considered eco-friendly due to their sustainable sourcing, low environmental impact, being recyclable, and being biodegradable.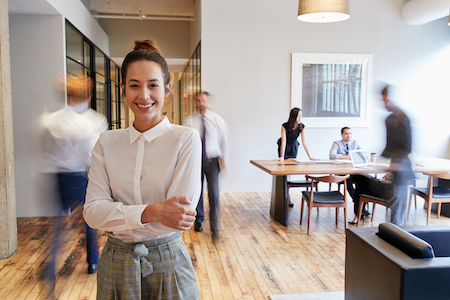 What certification programs should you research?
Certification programs provide valuable information about the environmental performance and sustainability of flooring products. Here are a few notable certification programs to consider:
FloorScore -This program certifies that flooring products meet strict indoor air quality standards, ensuring they emit low levels of volatile organic compounds (VOCs) and other potentially harmful chemicals.
Forest Stewardship Council (FSC) – The FSC certification ensures that wood used in flooring comes from responsibly managed forests, promoting sustainable forestry practices and biodiversity conservation.
GREENGUARD – GREENGUARD certification focuses on the indoor air quality of products, including flooring. It guarantees that flooring meets stringent chemical emissions standards and contributes to a healthier indoor environment.
Formaldehyde-Free Verified – This certification indicates that flooring products are free from formaldehyde, a harmful chemical commonly found in certain adhesives and finishes.
Sustainable Forestry Initiative (SFI) – SFI certification promotes responsible forest management, emphasizing environmental, social, and economic aspects.
These certifications indicate that the product has been tested and verified to meet or exceed certain standards for indoor air quality, sustainability, and responsible manufacturing practices.
What about business ethics?
In addition to environmental considerations, it's important to evaluate the business ethics of flooring manufacturers. You'll find certifications that make sure the company producing the product is environmentally and socially responsible.
1% For The Planet – Companies that are part of this initiative commit to donating at least 1% of their annual sales to environmental causes, showcasing their dedication to sustainability.
b – This certification demonstrates that a company has measured and offset its carbon emissions, positively mitigating climate change.
Fair Labor Association (FLA) – The FLA promotes fair labor practices and ensures that workers producing flooring materials are treated ethically and provided safe working conditions.
Fair Trade Certified – Fair Trade Certified products guarantee that the farmers and workers in the supply chain receive fair wages and operate under fair trade principles.
What about longevity?
Longevity is an important aspect of environmentally responsible flooring. Durable materials like tile or hardwood floors will last longer and are less likely to require replacement or excessive maintenance, reducing the need for additional resource usage and waste. Also, consider buying from manufacturers that offer extended warranties.
What about VOCs?
Volatile Organic Compounds (VOCs) are chemicals that can be released into the air from certain flooring materials, paints, and adhesives, contributing to indoor air pollution. Opting for flooring with low VOC emissions, such as linoleum, hardwood, or products with certifications like FloorScore or GREENGUARD, can help maintain better indoor air quality. VOCs can have adverse health effects like headaches, eye irritation, and respiratory problems.
What about end-of-life solutions?
What happens to flooring at the end of its useful life? Will it end up in a landfill, or can it be recycled or repurposed? Materials like linoleum are biodegradable, while certain types of carpet can be recycled into new products.
What about installation methods?
The installation process of flooring can also have an environmental impact. Consider choosing flooring options that promote sustainable installation methods. For example, opting for floating floors or click-lock systems can minimize the use of adhesives, reducing the emission of harmful chemicals during installation. Additionally, selecting flooring materials that are locally sourced can help reduce transportation-related carbon emissions.
These are our favorite environmentally responsible flooring options
Now that you have a better understanding of the key considerations when choosing environmentally responsible flooring, let's explore some of our favorite options:
Linoleum
Linoleum is made from natural materials, including linseed oil, pine resin, and cork dust, making it a great eco-friendly flooring option. It is biodegradable, recyclable, and has low VOC levels. It is also durable and comes in a variety of colors and patterns.
Tile
Ceramic or stone tile is another excellent environmentally responsible option. Tile is made from natural resources and is long-lasting, durable, and easy to maintain. It is recyclable and can often be repurposed if removed.
Hardwood
Opting for hardwood flooring from responsibly managed forests with FSC certification ensures that the wood is sourced sustainably. Hardwood floors are long-lasting and can be refinished, extending their lifespan. Choose finishes and adhesives with low VOC content to maintain good indoor air quality.
Engineered hardwood
Engineered hardwood uses fewer resources than traditional hardwood, offering a durable and attractive flooring option. This construction technique reduces the amount of hardwood needed while maintaining hardwood floors' natural beauty and warmth. Look for engineered hardwood products with formaldehyde-free adhesives and certifications like FloorScore.
Vinyl luxury plank
Vinyl luxury plank flooring offers a sustainable alternative to traditional vinyl flooring. Look for products that are made with recycled content and have low VOC emissions. Some vinyl luxury planks are made with bio-based materials, reducing their environmental impact. However, it's important to note that vinyl flooring has a higher environmental impact during production than other options.
Carpet
Choose carpet options made using eco-friendly materials like wool, sisal, or recycled PET fibers. Choose a low-pile carpet and padding that is low or VOC-free. Carefully consider the end-of-life solution for carpets, as many end up in landfills.
By asking the right questions and considering the environmental impact of different flooring options, you can consciously choose flooring that aligns with your sustainability goals.
Making an eco-friendly choice for your flooring benefits the environment and contributes to creating a healthier and more sustainable living space. Our favorite environmentally responsible flooring options include linoleum, tile, hardwood, engineered hardwood, vinyl luxury plank, and eco-friendly carpet.
Can we help you select the right one for you?