Imagine a home here in Colorado without hardwood. Hard to do, isn't it? That's because hardwood flooring's classic good looks blend in with a Rocky Mountain lifestyle.
Statistics show that sales of hardwood continues to remain steady. Especially for main living spaces, hardwood is the flooring of choice. As you move into bedrooms and other more personal living spaces, homeowners split between hardwood and carpet. Carpet adds softness and warmth that is critical in a bedroom, especially on a frosty, winter morning.
Yet no matter where you've installed hardwood flooring, there is still a demand for softness, durability, and even a way to add a pop of color to a room. Because of that, carpet runners and area rugs continue to be popular choices.
What are carpet runners and area rugs? What's the perfect size? What should you look for before you settle on a choice? Read on for more.
What are carpet runners?
A carpet runner is designed to sit on top of your hardwood, covering your steps. Unlike wall to wall carpet, which covers the entire area from corner to corner, carpet runners cover most of the area while leaving hardwood on either side. They are bound on the sides to create a finished look.
Carpet runners are popular in homes with hardwood stairs for two reasons.
1. They make stairs safer. Hardwood flooring has the ability to be slippery, especially when you're wearing socks. Imagine your kids flying down the stairs for breakfast, hitting a step wrong, and falling down the stairs. That's not a good situation for anyone, but especially so if you have small kids or elderly that might be seriously injured in a fall. Carpet runners give your stairs the needed traction to keep them safe.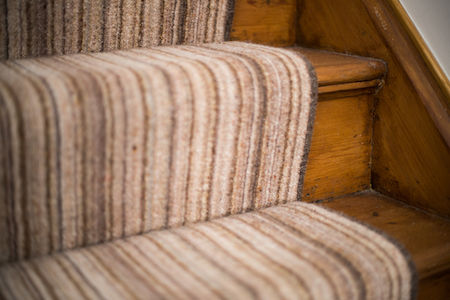 2. They add a decorative element to your home. While hardwood stairs can be a beautiful addition to any home, there's just something special about adding a splash of color to a room. Luckily, you can find carpet runners in any style, color, or pattern you desire.
What to consider when selecting a carpet runner
While color and pattern are two obvious things you'll look at as you shop, there are several other things to consider before making your final selection.
You'll find runners available in different widths. Which is right for your needs? Start by considering the width of your stairs. For narrower, 3-feet wide staircases, we suggest choosing a carpet runner 27 inches in width. This will provide ample coverage to the stairs, look good and provide pleasing aesthetics, without going too narrow or overpowering the space. For wider staircases, you can move to a wider runner. For stairs 4 to 5 feet in width, consider a runner up to three feet in width. It will provide full coverage for safety, while leaving enough hardwood on the sides to create natural beauty. Of course, the final selection should be based on your tastes and needs. Have something in mind? Pin it on your Pinterest board, and bring it in. We can customize your carpet runner and create any look you desire.
We'll also mention patterns for your consideration. Depending on your decor, you may want to add a pop of color to your home and select a carpet runner with a pattern. Be aware that patterns can be a challenge to match up as they wind up your stairs. With a straight staircase, it can be easier. But if you have a winding staircase, it will stand out if the patterns don't match up as it progresses from one landing to the next. It's best to go small on carpet runners, and stick with shapes that will easily blend no matter how they are positioned.
Decorative rods are also an optional accessory that can add magic to the overall look. A metal rod is placed at the back of the stair where the riser meets the tread. The rod isn't an integral part of installation, rather it's for decorative reasons to help you create the look you are going for.
What are area rugs?
An area rug is a carpet that is smaller than the dimensions of the room. While wall to wall carpet stretches across the entire room, area rugs are designed in different sizes to accent the surrounding area and the decor. Are rugs are used to tie a room together, provide softness and warmth to a room with hardwood or tile flooring.
What to consider when selecting an area rug
If you have hardwood flooring and love the look, there are many reasons to bring an area rug into your home to tie everything together. Area rugs:
Make any space quieter – carpet has a sound-dampening effect, which cuts back on the room's noise levels. That makes it easier for you to relax and recharge, especially if you have rambunctious kids and pets circling your rooms every day.
Offer protection against damage – furniture scraping, pets nails digging in, kids playing and dropping toys – these are just a few things that can impact the condition of your hardwood floors. Area rugs offer a simple way to protect the main living space. They are easy to lift and move, meaning you can change up your decorating style whenever you choose.
Add warmth – in the heart of the winter, as the temperatures dip below zero, you'll be glad you have an area rug to add warmth to a room. An area rug helps hold heat down at floor level longer.
Should runners match area rugs?
This is one of the most frequent questions we are asked, and for good reason. Homes all across the Front Range have open concept design, meaning the living space is visible from the dining space, which can be seen from the entryway as you walk through the door.
The general rule of thumb is if you can see an area rug or a carpet runner from one room to the next, they should complement one another. That doesn't necessarily mean they have to match, or be made from the same material. But they should stick with the same color hue, pattern, and texture.
Where you can have some fun is with sizes. Maybe smaller rugs as accents in entryways, while moving to a larger rug that is more functional under your sofas and chairs.
If you need additional help picking out the right carpet runners and area rugs, we're here to help.