You have your hardwood floors installed. Now it's time to add an area rug.
Where do you start?
If you're like most homeowners, it starts with size and color. You measure your space, determine the size you need, and start to shop. You'll find area rugs in every color – blue, green, red – and every pattern you can imagine. Whether you have something plain in mind, or want wild with a pop of color, you can find what you're looking for with a thorough search.
But what you may not look for can actually affect longevity of your area rug. If you don't pay attention to the backing, edging, and padding of your area rug, it can make you have buyer's remorse sooner rather than later.
Edging options for area rugs
Most area rugs need a finish around the edges to prevent them from fraying or unraveling. This isn't a one size fits all process. You'll find many different options.
A standard edging is most common, and is often used on a variety of broadloom carpets. It's also the least expensive, which is why you'll see this most frequently on area rugs. It's designed to blend in rather than call attention to it.
A serging binding edge is created with yarn stitches over the binding itself. It's also designed to blend in with the rug, and not call attention to the finishing work.
3 to 5 inch binding is often used to add a decorative touch to the rug itself. Depending on color, it can blend in or coordinate and stand out. You'll find three-inch binding used on lower pile, with the five-inch on low to medium carpet options.
Backing options for area rugs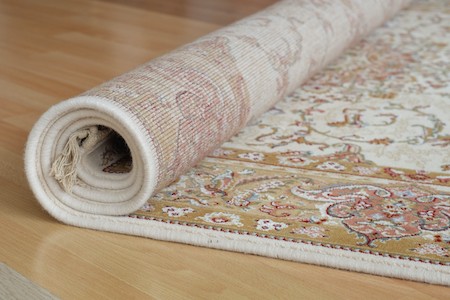 Flip your area rug over and you'll find the backing is created in different ways. Depending on performance requirements, backing is created from a variety of different fiber options.
Many area rugs use an attached non-slip rubber backing for safety. This non-slip backing is glued into place and installed so that the rug cannot move once it's laid into place over a hard surface. This option doesn't add cushion to the rug, but it does add protection for the hard floor surface area, as well as ensure that the rug won't move once you set it into place.
Other area rugs add an attached felt pad that ensures the fibers from the rug material won't harm the flooring underneath in any way. This is an inexpensive way for manufacturers to bind the fibers together, as well as ensure they won't damage flooring. If you will be laying an area rug over carpet, this is the best way to go.
Of course, what type of backing is used is determined by the manufacturer. You'll often find different fibers in place to offer you more benefits and options. Felt backing can be hypoallergenic and be made from sustainably sourced materials. This can be a good option if you're looking for ways to decrease your carbon footprint. Latex backings can increase wearability, and offer non-slip qualities you need for your home. This makes accessing your needs carefully a requirement before you start shopping for your area rug.
Rug padding or underlayment options
While the edging and backing are a part of the area rug selection, the rug padding or underlayment you choose are optional and dependent on your needs. A rug pad is the material that rests between the surface of your floor and the backing of the area rug. It's an extra layer of material that helps you increase safety and prevents tripping or falling if the rug shifts and moves. It's a cushion for your feet as well as protection for your area rug, so it's important to spend some time selecting the right one.
Do you need a rug pad? 
If you place an area rug in your home, it's beneficial to have a rug pad in place. Why?
Rug pads increase your safety, ensuring the rug stays in place
Rug pads add comfort, giving your area rug more wearability
Rug pads protect the flooring from scratches from furniture legs and movement
Rug pads add protection to the rug itself, helping it last longer and maintain its shape better
Rug pads help you clean, preventing movement every time you vacuum your rug
Rug pads reduce friction and movement between the fibers of the rug and your floor
Are you sold on an area rug pad? Now the question is: Which one?
Choosing a rug pad
You'll find rug pads or underlayments in several styles.
Grip only pads are the thinnest on the market. They are great for outdoor space because they won't be impacted by moisture. They also work well in high-traffic areas because they add a lower profile to the finish. That means your doors will swing without a problem, and you'll reduce the possibility of tripping.
Cushioned pads add softness to the area rug. That makes this the perfect choice in rooms where your family will hang out. Use them in bedrooms or playrooms where your kids are often lying on the floor. These are also good in family rooms and other main floor areas where you want to mute the sound and bring down the noise factor.
Grip and cushion pads combine the benefits of both into one rug pad. You'll receive just the right amount of grip to keep the area rug in place, while also adding warmth and comfort at the same time. Keep in mind that with many pads, you can customize them and cut them to fit into place.
What other options do you need?
We realize homeowners have designed their homes to be unique, adding just the right personality to please. What are you looking for in an area rug? What questions can we answer for you?
Whether you're just starting the looking process, or are ready to narrow down your selections and buy, we can help you find the perfect area rug for your home. One you'll love for years to come.