You walk into your room. The contractors have been there all day. You're excited about the color. You can't wait to start decorating. Yet there's still one question left to think about. 
How well did the carpet installation process go?
Because it's important to choose your carpet's color wisely. It's equally important to buy based on your room's use. But if the carpet installation process isn't everything it should be, you could face many years of disappointment. Here's why.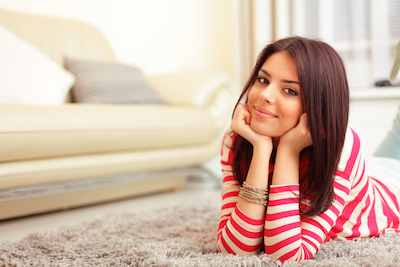 It's all in the details
It seems easy enough. You want new carpet in a room in your home. You select the right carpet for you. A contractor comes in and installs it. Everything's perfect. 
Well…
It might not be the carpet that's the problem. The floor the carpet will reside on must be properly prepared. 
Will it sit on a cement slab? Was the previous flooring glued down, leaving residue? What kind of padding was in place – will it be removed? Is the subflooring still in great shape? 
Carpet is a good flooring choice to hide a variety of problems. Yet carpet still depends on having a good base. It's not the carpet quality that determines how long it will last; what's underneath plays an equally important role. 
After you select the perfect color and style, turn your attention to the padding. Also, ask about the installation process. While a small bedroom may not have a lot of issues during the carpet installation process, if you're putting in new carpet throughout a large commercial property, it can be a little trickier. 
Every manufacturer has their own set of guidelines that must be followed in order for the warranty to remain valid. Ask about these guidelines even before the carpet enters your space. Then ensure that the policies are followed, so you don't void the warranty even before the contractor leaves. 
Ask about experience
Have you ever walked into a room with new carpet and noticed visible mistakes? Chances are there was an amateur at work. 
Like any career, it takes time to learn the little details that make the job easy. When you've installed new carpet a handful of times, you might overlook simple issues. When you've installed new carpet thousands of times, nothing gets by you. 
Small rooms aren't a problem. But when a room is larger than the roll of carpet, there will be a seam somewhere in the room. How noticeable that seam is depends on the contractor. 
If you work with your installer beforehand, you can talk about the way you use your room. Seams can be minimized if they're placed underneath furniture, or if they flow with the direction of the light. 
Don't assume because a business has been around a long time that the installers associated with that business are top-notch. Ask questions. Those big box stores may seem to be a bargain, with low prices on carpeting that looks good on swatches in the store. But it's the installer that's equally important. 
Where'd that fee come from?
You know those GREAT deals that promise you a house full of carpet for a few pennies on the dollar? Yeah … they don't exist. It may seem like a great deal in the commercial, but when you finally sign on the dotted line and pay the final bill, you'll be overwhelmed by the hidden fees. 
Before you say yes to a deal, be clear about what services and fees will be tacked on to your final bill. For example, will you be in charge of moving furniture out of the room? Will they charge to discard old carpet and padding? 
What about the baseboards and molding around your room? They have to be removed. Will the installer take care of this, including patchwork to get everything back in place? 
And if you install a different level of carpet than was installed before, the door might not clear. That means you'll be left with another problem of having to find a way to adjust your door to open and close.
Pay attention to how much overage you'll have. Measure twice and cut once. You should never leave this process to chance; a reputable dealer will ensure the proper measurements are taken before ordering, and before the carpet installation process. They'll take into account the dimensions of your room, the closet floor, and the pattern that needs to be matched at the seam. 
The time and the place
A lot of homeowners choose to upgrade their carpet with an event in mind. They want new carpet for a party they're planning. They want their homes to appear fresh and updated before relatives roll into town. 
In order for that plan to work worry-free, you should give yourself enough time for installation, and a little extra for the "unexpected" problems that may arise. Ideally, you should install new carpet after other work has been done. Paint, wallpaper, and other remodeling work should all be completed. 
To avoid even more problems, be sure the subfloor is clean. While a lot of contractors handle this part of the job, it's a good idea to ask. 
You should also determine how long the project will last. Small rooms can easily be completed in one day. Larger projects may take longer. And what happens if the installer runs into a snag? The more questions you ask, the better prepared you'll be for the day. 
It often takes up to 72 hours for odors to dissipate. It's also normal for new carpet to shed. But if you see wrinkles or ripples, that's when you need to call the retailer back immediately. 
Of course, you should never install new carpet and plan your party for that evening. Give yourself some time to adjust and live with it first. Vacuum the carpet a few times. Walk on it barefoot to adjust the fibers into place. Enjoy your carpet before your guests arrive. Ultimately, this is about how well you'll enjoy the space you've created. 
Are you ready to redo your home? Wanting for a new look? The perfect way to have worry-free carpet installation is to plan for everything before you take your first step. Stop by today, and we can get you started on a worry-free process.