Want an eco-friendly flooring choice? Want something durable that's easy to care for and easy to clean? Linoleum flooring is quickly gaining popularity because of its benefits for residential, commercial, and industrial facilities.
Is linoleum the right choice for you?
What is linoleum?
Linoleum is a durable flooring made from natural materials such as linseed oil, wood flour, cork dust, and pigments. It is often used in commercial and residential buildings as an alternative to vinyl flooring.
Linoleum is made through a process that involves combining natural ingredients to create a durable, flexible material that can be used for flooring and other applications.
It starts with mixing linseed oil, wood flour, cork dust, and various pigments to create a homogenous mixture. The mixture is then heated in a large kettle, which causes the ingredients to bond and form a thick paste.
This paste is spread onto a canvas backing using a roller or similar tool. It's typically performed in multiple layers to create a sturdy, multi-layered material.
Once completed, the linoleum is allowed to dry for several days to several weeks, depending on the thickness of the layers and the environmental conditions. When fully dry, it can be cut into sheets or tiles of various sizes and shapes, ready to be installed.
Linoleum may be treated with various finishing agents to enhance its durability and appearance, such as surface coatings or additional pigments.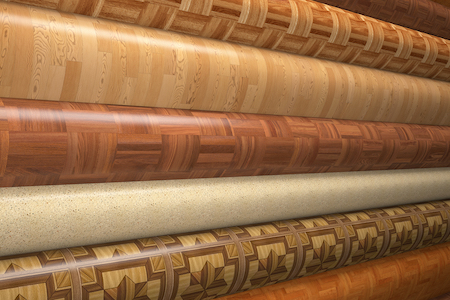 Homeowners are turning to linoleum because it's known for its durability, longevity, and eco-friendliness, as it is made from natural, renewable materials. It is also resistant to water, fire, and scratches, making it ideal for high-traffic areas.
What makes flooring eco-friendly? 
It shouldn't be surprising that the last few years have made us more eco-friendly consumers. We shop differently, look at home items differently, and aren't afraid to let manufacturers know what we think.
A June 2021 Global Consumer Insights Pulse Survey found that half of all consumers say they have become more eco-friendly in their shopping methods, demanding more from the products they buy.
Maybe that's why there's been a steady rise in the demand for eco-friendly flooring. What does that mean? People today dig deep into their flooring choices. They look for:
Flooring is made from sustainable materials where the resources can be quickly replenished. They have a lower impact on the environment than other materials unavailable in nature.
Volatile organic compounds (VOCs) are chemicals that can be released from certain types of flooring, contributing to indoor air pollution. Eco-friendly flooring typically has low VOC emissions, meaning it doesn't release harmful chemicals into the air.
Flooring that can be recycled or is biodegradable at the end of its useful life is considered eco-friendly because it reduces waste and the need for landfill space.
Eco-friendly flooring is often produced using energy-efficient methods and technologies, such as renewable energy sources or recycling waste materials.
Durable and long-lasting flooring reduces the need for frequent replacements and repairs, which can have a positive environmental impact by reducing waste and conserving resources.
Guess what? Linoleum fits all of these and more!
Advantages of linoleum
Think linoleum may be the right choice for you? We agree. There are many advantages of installing linoleum in your home, including:
Durability – Linoleum is a highly durable material that can withstand heavy foot traffic and last many years. It is resistant to scratches, scuffs, and other types of damage, making it ideal for high-traffic areas.
Eco-friendly – Linoleum is made from natural, renewable materials such as linseed oil, wood flour, and cork dust, making it an eco-friendly flooring option. It is also biodegradable and can be recycled at the end of its useful life.
Low maintenance – Linoleum is easy to clean and maintain, requiring only periodic sweeping and mopping to keep it looking its best.
Variety of colors and patterns – Linoleum is available in a wide range of colors and patterns, allowing you to choose a flooring option that matches your décor and style preferences.
Water-resistant – Linoleum is naturally water-resistant, making it an ideal choice for kitchens, bathrooms, and other areas where moisture is a concern.
Antibacterial properties – Linoleum contains natural antibacterial properties that can help to inhibit the growth of bacteria and other microorganisms, making it a hygienic choice for hospitals, clinics, and other healthcare settings.
Disadvantages of linoleum
There is never a perfect flooring choice that will suit everyone's needs. If linoleum has moved up on your possibilities list, it's also a good idea to understand the disadvantages. They include:
Initial cost – Compared to other types of flooring, linoleum can be relatively expensive to install, especially if you opt for custom colors or patterns.
Susceptibility to moisture damage – While linoleum is water-resistant, it is not entirely waterproof, and prolonged exposure to moisture can cause damage or warping. It pays to know your area well and select the right flooring to suit your needs.
Susceptibility to scratches – While linoleum is durable, it can still be scratched or scuffed, especially if sharp objects are dragged across its surface.
Fading in sunlight – Over time, exposure to sunlight can cause linoleum to fade, especially if installed in areas that receive a lot of direct sunlight.
Can be slippery – Linoleum can be slippery when wet, making it a potential safety hazard in areas where spills or moisture are common. If you have any concerns, talk with one of our flooring specialists to ensure you're making the wisest choice for your situation.
Requires regular maintenance – While linoleum is easy to clean, it does require periodic maintenance to maintain its appearance and durability. Some manufacturers require linoleum to be waxed regularly or have special sealants be applied throughout its lifetime. Check with the manufacturer you're considering before finalizing your choice.
Is linoleum right for you? 
While linoleum can be a practical and eco-friendly flooring option, it may only be ideal for some settings or budgets. It is essential to carefully consider the potential advantages and drawbacks before deciding.
Have even more questions? We're here to help. Stop by today and see our complete line of linoleum.
We can help you make the best choice to suit your needs.