Looking back, you can see how flooring trends have changed over the years.
Remember the shag carpet of the 1970s, in every color of the rainbow, from orange and gold to pink and blue.
While you might be glad those crazy colors have disappeared from modern-day options, one thing that has taken on a modern-day twist is the shag carpet. Today it's known as frieze carpeting, a popular style characterized by long fibers and a high twist.
That creates a dense texture perfect for heavy traffic. (And no more raking your carpet!)
What is frieze carpet?
Frieze carpet is characterized by its tightly twisted fibers. The fibers are twisted so tightly that they curl over, giving the carpet a slightly shaggy appearance. This type of carpet is also known as "twist" carpet because of the way the fibers are twisted.
Frieze carpet is a popular choice for high-traffic areas in homes and commercial spaces because its tightly twisted fibers help resist wear and tear, and its shaggy appearance helps hide footprints and other marks. It is also known for its durability and stain resistance.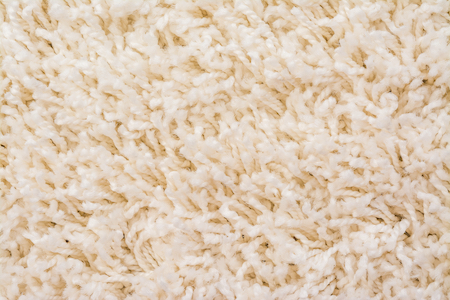 Frieze carpet comes in a variety of colors and patterns, making it easy to find a style that fits your decor. It is also available in different materials, including wool, nylon, and polyester.
What makes frieze carpet different from other carpet?
Frieze carpet is made using a process called tufting. The carpet fibers are first woven into a backing material typically made of polypropylene or jute. The backing material is then coated with latex adhesive to hold the fibers in place.
Frieze carpet fibers are typically made from nylon, polyester, or wool. They are cut to a specific length, and then twisted together tightly to create a yarn. The yarn is fed into the tufting machine, which inserts it into the backing material and makes the tufts of carpet.
The fibers are twisted so tightly that they curl over, creating a textured, shaggy appearance. This is achieved using a high-twist yarn, with more twists per inch than a typical carpet yarn. The tighter the twist, the more the fibers curl over, creating the signature look of frieze carpet.
After the tufting process, the carpet is sheared to create an even pile height. This removes any loose fibers and creates a smooth, uniform surface.
Finally, the carpet is treated with stain-resistant chemicals and may be backed with additional padding for added comfort and durability.
Pros of installing frieze carpet
Frieze carpet, or twist carpet, has several advantages as a flooring option. Some of the pros of installing frieze carpet include:
Durability – Frieze carpet is highly durable and can withstand heavy foot traffic. It has tightly twisted fibers that help to resist wear and tear.
Softness – Frieze carpet is made from soft materials like nylon, polyester, or wool, which make it comfortable to walk on and a great option for bedrooms, living rooms, and other areas where you might sit or lie down on the floor.
Stain-resistant – Frieze carpet is often treated with stain-resistant chemicals, making cleaning up spills and stains easier. The tightly twisted fibers also make it difficult for stains to penetrate the carpet's surface.
Hide footprints and dirt – The twisted fibers of frieze carpet help to hide footprints and dirt, making it a great option for high-traffic areas and homes with kids and pets.
Aesthetic appeal – Frieze carpet has a unique look that can add visual interest to a room. The twisted fibers create a texture that can add depth and dimension to a space.
Cons of installing frieze carpet
While frieze carpet has several advantages, there are also some potential drawbacks when deciding whether to install it in your home. Some of the cons of installing frieze carpet include:
Difficulty cleaning – While frieze carpet is generally stain-resistant, it can be more challenging to clean than other types of carpet because of the tightly twisted fibers. Dirt and debris can become trapped in the fibers over time, making it harder to vacuum or remove stains. Stick to a regular cleaning schedule for best results.
Shows vacuum marks – Frieze's twisted fibers can make vacuum marks more visible, which may be a bit annoying for some homeowners.
Cost – Frieze carpet can be more expensive than other carpets because of its construction and durability.
Not ideal for high humidity areas – Frieze carpet may not be the best option for high humidity areas or homes with moisture issues, as the fibers can trap moisture and lead to mold or mildew growth. This includes basements.
Not suitable for certain decor styles – Frieze carpet has a unique texture and appearance that may not suit all interior decor styles. The best way to see if this style works for you is to stop by and look at our samples. For some homeowners, it's a definite yes; for others, it might not be their first choice.
Is frieze carpet right for you?
Choosing a new carpet for your home can be a significant investment, and it's important to consider several factors before settling on a choice.
Is frieze carpet right for you? Ask yourself a handful of questions before you start to shop.
What is my budget for carpet installation, and how much am I willing to spend?
What is the best type of carpet for my lifestyle and needs? (e.g., durability, stain resistance, softness, etc.)
What carpet fiber will work well where I plan to install it? (e.g., bedrooms, living room, basement, etc.)
What is the best carpet style for my interior decor and personal taste? (e.g., frieze, plush, Berber, etc.)
How do I want the carpet to feel underfoot, and what carpet pile height would be best for me?
What is the expected lifespan of the carpet I'm considering, and what maintenance or cleaning will it require over time?
What are the installation requirements for the carpet I'm considering, and what additional costs should I budget?
Does the carpet come with any warranties, and what do they cover?
How does the carpet I'm considering compare to other options regarding environmental impact, such as its material source and potential for off-gassing?
Have I had the opportunity to see and touch samples of the carpet I'm considering in person, and do I feel confident in my choice after doing so?
There isn't a "right" choice that will suit every homeowner. That's why there are plenty of options for everyone!
The best way to find what's right for you is to stop by our showroom today.
We'll help you find the right flooring choice to suit your needs.