If you're looking for more ways to live a sustainable lifestyle, you might be invested in finding eco-friendly ways to do just about everything. As you remodel, what are the best green flooring options? Which is the right one to suit your needs?
With so many choices, it can be difficult to choose.
But as you finalize your decision, you may worry about experiencing sticker shock. Are green flooring materials more expensive? Should you really expect to pay more for doing the right thing?
What does going green mean?
Going green means doing things for the better of Mother Nature. It means changing your daily methods to become environmentally conscious with every choice you make.
You're a more aware consumer.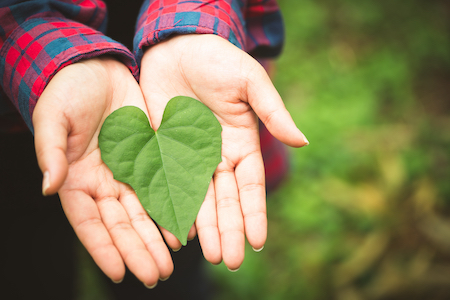 For everything you buy, you consider what it does to the environment. From gathering materials, to production of the product, to disposal methods once the item has run its useful life, you consider it all before finalizing your decision.
If you choose to reduce your carbon footprint, there are many things you can do. You can choose to shop at local farmer's markets. Food accounts for up to 30 percent of a household's carbon footprint.
You can buy energy-efficient appliances. You can change your mode of transportation.
Once you get started looking for ways to save, it can become a bit of a challenge, looking for all the ways you can save.
But that doesn't mean you have to give up on performance or aesthetics. There are ways to have both. And it doesn't have to be at a higher cost.
What influences the cost of new flooring?
For any product on the market today, price is influenced by:
Production costs
Demand
Labor costs
Packaging costs
Certification costs
The more accessibility to materials, the easier it is for installation, the more competitive pricing will be.
For many green flooring materials, the expense comes from both production and availability. Because we're just starting to become more aware of overall impact, we're waiting for manufacturing of green products to become more popular.
If you really want to find a sustainable flooring product, you have to consider a full array of factors when finalizing your decision.
Can it be renewed?
Can it be recycled?
Is it produced with responsible manufacturing processes?
How does transport impact the final price?
How long will the product last?
What type of maintenance is needed?
What happens at end of life?
A green flooring choice may cost more upfront. But if it gives you a decade more to its lifespan, does that make it a better option? It's up to you to decide.
Today's green flooring priorities
There was a time when homeowners paid attention to aesthetics without regard to impact.
No more.
Today's homeowners want a careful blend of old and new priorities, ensuring they get a product they love while having it be safe and eco-friendly at the same time.
What homeowners want today is:
Durable flooring – flooring should be able to withstand all your family can dish out. That means it takes a careful blend of high-quality materials for strength as well as ease of use for everyday maintenance.
Non-toxic flooring – a lot of talk in the industry today is about reducing VOCs (volatile organic compounds) inside the home. The EPA shows that inside air quality can be as much as ten times worse than outdoor air pollution. And given we spend the majority of our time indoors, that can be a big deal. Green flooring helps you find low or zero VOC flooring options suitable for your lifestyle.
Natural – natural is a buzzword that is growing in popularity. Why? Because not only is it good for the environment, but it looks great in your home too. Natural is getting as close to the source as possible. It's about using wood close to home, stone quarried nearby, or other natural products that have sustainable features.
Do you see yourself in any of these descriptions? You're not alone. It's what today's homeowners want.
And many green flooring options aren't as expensive as you might fear. In fact, they can be some of the most affordable flooring options available to you.
Green flooring options you might consider
With so many green flooring options available to you, there's sure to be one perfect for your lifestyle. The best green flooring materials include:
Cork – a naturally renewable material that is harvested from the bark of a cork oak tree. It grows back multiple times, making it a truly sustainable material. It's softer than other materials, making it more comfortable if you stand for long periods of time. It adds warmth to thwart heat and cold, and is naturally repellent to bugs, dust mites, and mold.
Linoleum – linoleum is made from linseed oil, which is produced naturally from flax plants. It's widely available, and highly renewable. The harvesting process is becoming even more sustainable, with disposal being one of the most eco-friendly options. At the end of a long lifespan, it can be composted with other materials.
Bamboo – bamboo is one of the fastest-growing plants and can be harvested in three to five years. Pay attention to where you source your bamboo flooring, as transportation costs can cause the final price to rise. Be aware of production, ensuring it's truly a sustainable resource.
Carpet – yes, carpet can be a great green flooring material. Look for natural fibers such as wool, jute, and seagrass. Pay particular attention to production, ensuring backing is also made from eco-friendly materials.
Hardwood – hardwood is a resource that can be easily renewed. Be sure to choose hardwood from forests certified and well managed by the Forest Stewardship Council. Also pay attention to stains, finishes, and adhesives to ensure they remain green too.
Stone – stone is a natural product that is continuously being produced and harvested from the earth. It doesn't harm the environment and can be recycled for other uses. Pay attention to import practices depending on where the stone is harvested from.
What green flooring choice is right for you?
With so many options available, which flooring is right for you?
Green flooring isn't expensive – green flooring is a sustainable way of life.
If you're ready to change your home environment and reduce your carbon footprint too, stop by and find the perfect solution for you.