Homeowners usually make a flooring purchase for one of two reasons:
1. They remodel their homes and need new flooring out of necessity.
2. They notice their current flooring is worn out or out of date.
That's when the process begins, and homeowners start noticing flooring around them.
This is when your flooring research should begin. And how you should go about it may surprise you.
Start with dream boarding flooring choices
When most homeowners are ready for new flooring, they start with definite ideas in mind. They want hardwood. They love carpet. Only dark colors will do.
But your initial ideas might not be your best choices. Because you haven't looked at flooring in a while, it benefits you to start noticing what's currently on the market. What's trending.
We suggest homeowners do this in two ways.
Start by pulling decorating magazines and find what draws in your attention. Rip out pages, start a "vision board," and see where your ideas lead you.
You can also watch home shows and see the latest trends. What do you fall in love with based on what you're seeing installed in other homes?
This will lead you online, where you can further your research. Why not create a pinboard on Pinterest, where you can save all of your research? This will help you go back through your ideas, as well as share it with our sales team so we can learn more about your goals and desires.
Go deeper with your research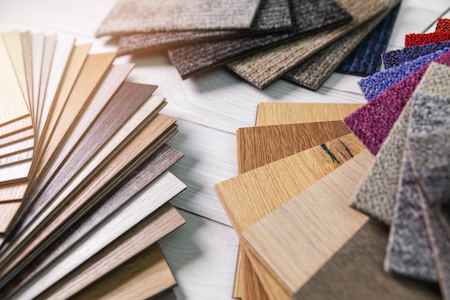 You want hardwood. You want carpet. You want resilient flooring.
You've seen the looks, colors, and styles. Now it's time to go deeper with your research.
Not all flooring materials are the same.
It's easy to get sucked in with price when you find a "good deal" at your local big box store. They have one brand, one style, one color. But the price …
There's a reason it's such a good deal.
Manufacturers will never sell a high-quality product line at a bargain price. They make exclusive offers they're willing to sell at lower prices. It's an entry-product they do to reach a new market.
Is that what you want in your home? In some circumstances, the answer may be: yes. But if this is your "dream home," settling is never the right answer.
Dig deeper into manufacturing processes
What's important to you?
Sustainability
Eco-friendly
Resilient
Carefree maintenance
Durability
Water-resistance
What's available today may surprise you.
As you start your research, you'll find many organizations that help create strong manufacturing processes, better products for consumers, more ethical products for our environment.
National Wood Flooring Association (NWFA) is an international not-for-profit trade association representing all segments of the hardwood flooring industry, including manufacturers, distributors, retailers, installers, importers/exporters, inspectors, and consultants. Their goal is to strengthen the wood flooring community through technical standards, education, networking, and advocacy.
Choosing manufacturers and dealers who subscribe to NWFA helps strengthen the industry, as well as give you some assurances as to the ethical integrity of the company you're doing business with.
The Forest Stewardship Council (FSC) has provided 25 years of experience in sustainable forest management. They use our expertise to promote the responsible management of the world's forests, bringing together experts from the environmental, economic and social spheres.
They help ensure companies are in compliance with all laws and regulations, maintain satisfactory workers' rights and employment conditions. They manage forest resources for both environmental and social concerns. They manage all processes from production through disposal.
Of course, these are just two of the many resources available to ensure ethical guidelines within the industry, and educational resources for a better understanding of the products.
Whatever direction you're heading with your own flooring choices, there is sure to be a wealth of information online about finding the best resources. Just do simple Google searches to find out all you can about the flooring you're thinking of installing.
What's the difference between flooring retailers and hardwood stores?
As a consumer, you might find your local hardware store appealing. After all, it's a one-stop shop based on all of your needs.
When you're dreaming, it's easy to head in and get all of your ideas in one place. Visit the paint section, look at lights, find appliances, and settle on flooring.
But as you walk around the aisles, notice the choices presented to you. Want carpet? There's a handful of options, probably from just a few select manufacturers.
Or maybe tile is more your style. There are several sizes and colors to choose from. Who needs more? More just adds to the confusion.
While that line of thinking may seem right, one big thing these big box stores are missing: customized professional help.
If you ask a sales associate at a local big box store for help, they may be able to offer limited guidance. They have knowledge of the product in the store. They are there just putting in their eight hours. They don't have a thorough understanding of the flooring industry. They can't provide a wealth of information that will help you make an informed decision.
That comes from a true professional in the industry. That's what you get when you enter a professional flooring retailer.
They thoroughly understand how to help you find the flooring best suited for your needs. They have expertise in all types of flooring, and have the experience necessary to help you pick the right flooring for your lifestyle.
They also have a special relationship with the most popular manufacturers in the world. They purchase superior products that give you increased lifespan. They provide more colors to give you even more options.
But don't think this adds to the confusion. The sales associate knows how difficult this choice can be, and is ready with questions to make the process seamless.
And let's talk cost. Think you're saving money at the big box store? You'll be surprised at the comparison. Big box stores often have inferior products, meaning you'll need flooring replacement a lot sooner than you would with a higher-quality product.
Still convinced a quick choice is the best choice?
Before you make your decision, how about stopping by and looking at our wide selection? No pressure. Just good advice. You'll be able to see the difference.
And we'll help you make an informed decision. Find flooring perfect for your situation.