Have a small bathroom and looking for ways to make it appear bigger than it really is?
Consider mosaic tile.
Mosaic tiles are mostly made from pieces of stone, colored glass or other materials, and are small, flat, roughly square pieces. They are frequently used in design in many rooms in your home, including kitchens, bathrooms, laundry rooms, and home bars or wine cellars.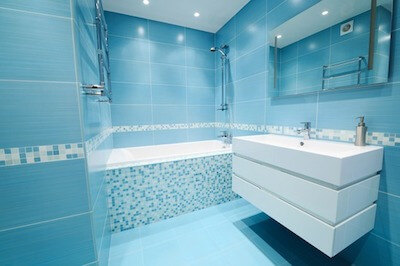 While they are versatile and stylish in many applications, one of our favorite areas is in the bathroom. If you use mosaic tiles the right way, they will make your small bath look bigger and liven it up with a fresh, modern look.
Use Them To Accent
Choosing paint isn't the only way to put focus on a wall; use mosaic tile to brighten up a wall too. In a small bathroom, there usually isn't a lot of space to work. Getting fancy and building in vivid colors or intricate patterns won't be as costly as it could be in other rooms of your home. If you start with a white foundation under the tiles, it will help keep your final design lighter and brighter. Also, consider amplifying natural light and mirrors to complete the look.
Build In A Border
A border is another effective way to make a room look bigger. It also adds style and class anywhere you choose to incorporate it into the design. To keep the project budget friendly, cover large areas of the bath with less expensive, larger tiles. Then use mosaic tiles to add a border to make your eye flow from one area to the next. You'll see this a lot in showers, where a small border is used about eye level, to add a pop of color and accents to a neutral color.
Build A Backsplash
A backsplash can take as much or as little space around your sink and vanity as you desire. Choose horizontal glass tiles to bring out the color of your room. Or go more neutral and expand the design up the wall. The tile will catch your eye, and you'll have less time processing and analyzing the size of the bath.
Turn Tiles Vertical
Instead of planning your layout with thin, rectangular glass tiles running horizontally, why not run them vertically instead? Orienting a tile pattern vertically emphasizes the height of the space instead of the width. It can help lift the size of a compact bathroom by drawing the eyes upward. Start with a dark floor leading to a light ceiling. Then use the glass tiles to continue the trend upwards, using more dark tiles closer to the floor. It doesn't always take color to turn things from boring to Wow either. Even hues of black, white and gray come together to form elegance and sophistication.
Mosaic tiles are one of the most popular, eye catching materials you can incorporate into your interior design. If you've always wanted to experiment and were nervous about covering a large area of your home, start small instead. A small bathroom is the perfect place to refocus your attention on the beauty of the room.