Resilient flooring has seen tremendous growth over the past two years for two reasons: the pandemic and the current housing market. As more people stayed at home, they looked around and discovered they needed different space. Whether they chose to move or remodel, one of the first places they started renewing was the flooring, and resilient floors just make sense in many situations. With an increase of more than 21 percent over the past year, that makes resilient flooring the industry leader.
Flooring is a multi-purpose product with many requirements, depending on what room it's installed in. It should be durable to stand up to anything your family can dish out. It should be long-lasting – who wants flooring that needs replacing soon after it's installed? It should also be attractive, matching your decor, and giving the room a sense of your personality.
More and more, people are finding that in resilient flooring.
What is resilient flooring?
Resilient flooring is an umbrella term that describes a variety of different flooring products, including rigid core, flexible luxury vinyl, vinyl tile, vinyl sheet, linoleum, rubber, and cork. It gets its name because it's built to endure daily life, with the ability to spring back into shape under most situations. Depending on the quality, it makes a perfect addition to residential and commercial applications.
The Resilient Flooring Covering Institute (RFCI) originated in 1976 to bring the highest quality manufacturers of resilient flooring together and set standards for the industry. If you select a manufacturer that abides by RFCI guidelines, you can ensure the resilient flooring you choose is good for other reasons too. RFCI:
Seeks out recycled or upcycled materials – manufacturers look for replenished natural resources, and can repurpose it at end of life too.
Uses low emissions – they certify that their flooring produces as little off-gassing as possible.
Prioritizes a low carbon footprint – reducing global impact is everyone's business.
Assesses durability – natural resources like wood have a global impact beyond production. RFCI manufacturers look for ways to impact the environment in a good way.
Types of resilient flooring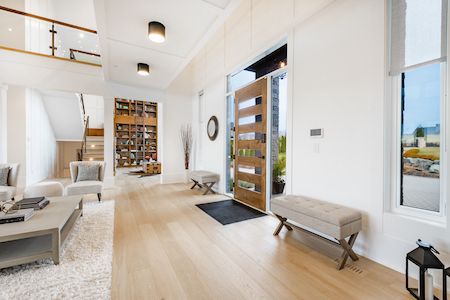 When many of today's homeowners think about new flooring, the term "vinyl" might not be the picture of durability. It brings back soft, dated material used on your mom's or grandmother's floors. It yellowed, scratched, dented, ripped, and in general, doesn't bring back fond memories.
But times are changing thanks to the introduction of luxury vinyl flooring. One of the leading resilient flooring options on the market falls into the vinyl category. This includes luxury vinyl tile (LVT), luxury vinyl planks (LVP), solid vinyl tile (SVT), and vinyl composition tile (VCT). You don't have to go very far to find these products, as they seem to be popping up everywhere.
It's not your only option. Linoleum has also made a comeback for homeowners looking for a natural product. Linoleum is a natural product created from linseed oil, wood, limestone, cork, and resins. You can find it in large sheets, glue-down tiles, or click-and-lock planks.
Cork is another option for homeowners looking for organic flooring. It's made from thinly sliced cork from a cork oak tree. It's considered an eco-friendly product because the cork is sheared from the trunk without killing the tree. The tree reproduces cork over and over again.
For gym, studio, or even garage settings, rubber is often a good option to create a soft, padded surface area. While rubber was once made from rubber trees, it is now mainly constructed from synthetic rubber.
Why homeowners rave about resilient flooring
Homeowners turn to resilient flooring for a variety of reasons. They often come in with specific problems they are trying to overcome:
Cracked tiles
Warped wood planks
Ruined hardwood from flood damage
Smelly carpet with mold and mildew embedded in the fibers
Resilient flooring offers style and personality combined with features homeowners love.
Durability – resilient flooring can be installed just about anywhere and will stand up to all a homeowner can dish out. It's created with a combination of wear layers that are designed to minimize scratching, stains, and scuffs, as well as prevent wear and tear.
Maintenance – resilient flooring is easy to maintain. Its protective coating means you can wipe up spills with ease. Daily sweeping with periodic mopping is all you'll need to maintain its good looks. Plus, its moisture-resistance and waterproof core means it can stand up in places where other flooring materials can't. If you have moisture issues in the kitchen, bathroom, laundry room, or basement, resilient flooring will be your flooring of choice.
Flexibility – with some flooring choices, paying attention to the subfloor can create headaches. Resilient flooring is capable of being installed over other products, and doesn't need a perfectly level floor to create lasting beauty. You won't find this cracking or pulling away with minor imperfections underneath.
Comfortable – while tile may be beautiful, it can be hard and uncomfortable if you're standing on it all day. Resilient flooring is soft enough to take pressure off and provide comfort if you're standing on it for longer periods of time.
Cost – you'll find resilient flooring to be one of the most economical options for your home remodeling needs. If you have a budget in mind, you'll find options well within your budget.
Looks – all you have to do is stroll down an aisle, and you'll fall in love with the way resilient flooring looks. If you have a design in mind, you'll find options with resilient flooring. Manufacturers understand the benefits of this product, so they've put more resources into creating options homeowners will love. Whether you have a specific style, look, color, or pattern in mind, you'll find it with resilient flooring.
Is resilient flooring the right choice for your needs? 
The best place to start is by coming in and seeing your options. Start with a specific product, a color choice, or a design style. We'll point you in the right direction to help you narrow down your choices. Take a few samples home and see them in your home's ambiance. When you finalize your choice, you'll be sure it's the perfect one for you.