Every year brings about all new changes.
We make resolutions to try and move towards new habits and patterns. We clean up our diets, our homes, and sometimes our lives.
When you shop, you'll find colors that are fresh and new. Pantone selects new colors each year, and for 2021, it's Ultimate Gray and Illuminating, a bright and cheerful yellow. You'll see these colors popping up everywhere you shop.
But maybe you're looking beyond new paint for the walls and a new pillow for the sofa. Maybe you're thinking of a more significant change – new flooring for 2021. New flooring sets the stage for new aesthetics throughout your home. Whether you make a small change by replacing carpet with something similar, or going wild and selecting an exotic hardwood, it can have a big impact on your lifestyle.
What do we see as the growing trend in flooring for 2021 and beyond? Natural flooring. Experts agree it's what homeowners want as they freshen up their homes.
What is natural flooring?
When most people refer to natural flooring, what they really mean is flooring that comes from a renewable resource. This includes materials such as cork, bamboo, linoleum, wood, resin, stone, porcelain, glass, concrete, and some fibers.
Natural flooring has many benefits.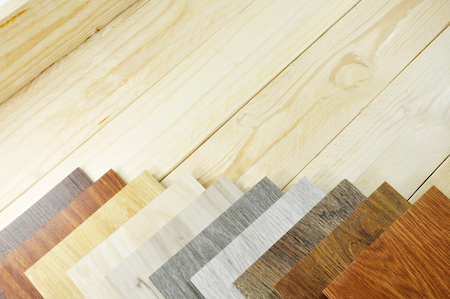 Sustainable – this is one of the top reasons people are moving towards natural flooring: it's sustainable and not as taxing on the environment. The materials can be extracted from nature without harming the world we live in. Not only is the material from a renewable resource, but it's also readily biodegradable and can be recycled or returned to nature without harming the earth.
Durable – if well maintained, natural flooring can last for many years and look good in the process.
Resilience – natural floors exist within your home without damaging indoor air quality. They have hypoallergenic attributes, can be insect and pest repellant, and can adapt to their surroundings. Natural flooring isn't made in a lab, nor does it require harmful chemicals to install it or keep it looking its best. It naturally shines, which makes it a choice that can work well in your home for years to come.
Beauty – it's hard to deny the classic good looks of natural flooring products. Because they've been around for years – centuries – people never tire of their looks.
With all of that in mind, what are our top choices for natural flooring this year?
Grained hardwood
Hardwood is a flooring choice many homeowners want. Studies continually show that hardwood flooring stays at the top of homeowners' wishlists.
Yet because hardwood has been around for decades, installing the "same old wood" can be a little boring for some homeowners. They want something fresh, new, exciting. For all these reasons and more, grained hardwood is growing in popularity.
Instead of smooth, clean lines associated with some hardwood choices, grained hardwood is installed with bold textures that can't be ignored.
Smooth – over half of all hardwood is smooth. It gives classic elegance, and has been the most in-demand product for generations. It highlights the grain by providing an overall appearance that is soft and delicate. But if you want other options, try:
Open grain – instead of sanding it smooth, wood is cut to add texture to the floor. Open grain species such as elm, oak, or hickory are considered "ring-porous" and have large pores and distinctive grain patterns visible to the eye. They create rifts and valleys that are apparent when the floor is laid into place.
Wire brushed – this finish is created by running a wire brush over the planks to create a soft grain textured surface. It showcases the natural beauty of the wood.
Handscraped – each plank is handscraped and handcrafted to create an aged, worn look. It gives old-world charm that makes a perfect addition to some homes.
Distressed – distressed hardwood is manufactured with both a wire brush and handscraping to give a rustic appeal with a dimensional texture.
No matter which you choose, adding grained hardwood to your home will give your home personality and charm that lasts for years.
Natural carpet
While most carpets are created using some type of synthetic material, there are a few carpet choices prized for their natural fibers and eco-friendly renewable resources.
Wool is the most common fiber choice because it's strong and resists pilling, stains, and fire damage. It also has natural lanolin that causes spills and moisture to bead up rather than soaking in. Wool can make an excellent addition to any home because the fibers trap air, creating an environment that's both soundproof and insulated against extreme temperatures.
Jute is another carpet choice that is made from fibers from plants in the Corchorus genus, which are grown in abundance in Asia. The plant is soaked in water and stripped of its fibers. It is an especially soft fiber that can make a good choice in low traffic areas such as bedrooms.
Sisal is made from fibers from Agave sisalana plants. These fibers are easy to dye, and can make a versatile addition to any home. It stands up in high traffic situations, but it can be slippery in certain situations. It's not a good choice for stairs. It can break down with too much moisture, so place it in rooms accordingly.  
Eco-friendly flooring lifespan
While we often consider specific types of flooring material when making our final selections, it's also important to note that to truly be concerned about the overall carbon footprint of a flooring product, look at the entire life cycle when making a selection.
Selecting a natural carpet like wool can be a good choice for your home, but if you rip it out every few years and it winds up in the landfill, it's defeating the purpose of being a carbon neutral selection.
Homeowners rarely think about vinyl when it comes to making a natural selection, but some products on the market today are made from recycled materials. And when it reaches the end of life, it can also be recycled and used in other ways.
How about cork or bamboo? Both products grow rapidly in nature, and when sourced ethically, can be a welcome addition to any home.
If you're looking for natural flooring to install in your home here in 2021, the possibilities may astound you. Stop by today and take a look at all the different materials and products we have available, and find the right flooring choice for your home.