If you've been paying attention to home decorating shows or magazines, you'll notice that glass tiles are as hot as ever. They come in every color and pattern imaginable. And they're so versatile, you can use them anywhere in your home. 
Still, it's difficult "seeing" something that looks great on a showroom floor and reimagining on your floors or walls. Will you love it? Or will you hate it? The last thing you want to do is have something you don't like installed and in your home for years to come.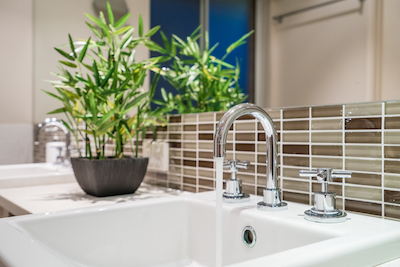 We think glass tiles are the perfect addition to these spaces:
Kitchen
The kitchen is by far the most popular place to install glass tiles because you can do so in many ways. See that space between your counters and your cabinets? It's the perfect canvas for any type of creativity. Have fun with it. You can use a solid color throughout. Or you can mix and match and create patterns that flow throughout the space. Why not play it up over your range?
Bathroom
The bathroom is also a great place to play with glass tiles. You can use them as backsplashes above the vanity, and have fun with the patterns around your mirrors. You can add rows of color in your shower or around your tub. We've even seen glass tiles used effectively to highlight windows and add to the open space. Use your imagination and create a space that's uniquely your own. 
Laundry
Glass tiles make the perfect accent for any room in your home. They are also a great way to create ambiance and lead the eye to a focal point in your room. Play with tiles above your washer and dryer. Or use it as a backsplash over your counter space and sink. You can carry a color theme throughout your living space, or add something new that blends well with the rest. 
Imagination is the only thing you'll need when deciding how to incorporate glass tiles into your living space. Stop by and see your possibilities today.