Have you ever noticed how some design trends just don't work in your home? You find the "perfect" look in a magazine, try to recreate it only to hate it in your own home?
It might not be the flooring you're installing; it might be the size of the space.
Light typically creates an airy, open feeling. Dark anchors and helps define your space.
Light colored floors are timeless. Because they work well in all kinds of spaces, they tend to be the easiest to decorate around.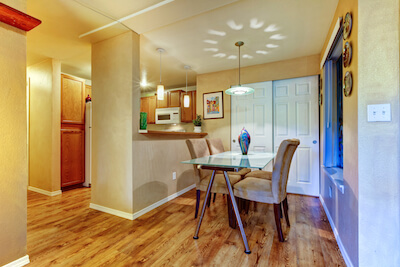 Light colored floors are versatile with any floor space, ceiling height, or lighting choices. You'll never have to use lights to brighten up a room.
Light colored floors are also a good choice for homes with pets as they won't show scratch marks as easily as dark floors.
Because light colored floors are always in style, they can tend to seem a bit boring and blend in with the background. If you want to make a statement with light color floors, look for a wood with strong texture and color variations in the planks.
Dark colored floors make a bold statement and bring out the look of your design. It's the perfect way to make your furniture and color choices pop.
Dark colored floors work in any area: open concept, well lit rooms, offices, kitchens, studios – wherever you want to create a unique look. Dark colored floors make a room darker. Be aware of that before you place them in a small bathroom.
Dark floors also have higher maintenance. Dust and scratches show more easily. They require more cleaning and care.
No matter what you decide to go with, samples can be your best friend. Be sure to ask for samples of your favorite choices and bring them home and live with them in your room for a few days. Be sure to view the same in all conditions, day and night, sunny days and dark overcast skies. See the end result with the lighting in place to determine where you'll need to adjust.
Still have questions about selecting light or dark flooring? Stop by. We're here to help.