When trying to find the perfect flooring choice for your home, it's about weighing aesthetics and durability with cost effectiveness and longevity.
Do you have your heart set on a specific design, no matter how long it will last? Or is longevity your top concern, wanting flooring that will last for decades?
No matter what you're looking for, you'll run across a flooring product called luxury vinyl planks. This flooring product is designed to give you what you love about classic materials like hardwood, and combine it with other features you desire, such as being waterproof. It's growing in popularity because of all the features it has to offer.
But what good is a product if it won't last? Hardwood promises decades of use with proper maintenance and care. Tile can offer similar promises with proper care.
What about vinyl? What is the lifespan of luxury vinyl planks? Should you consider it in your next flooring upgrade?
Look at brand names for the highest longevity 
This is where brand name manufacturers win every time. If you go with one of the most popular flooring manufacturers, you'll likely get the best results. That's because they set the standards within the industry, and build a product that will stand the test of time.
Looking for terms like "high quality" won't always speak the truth. Instead, pay attention to the details, ensuring it's installed correctly and properly maintained. Most manufacturers will require it to keep warranties valid.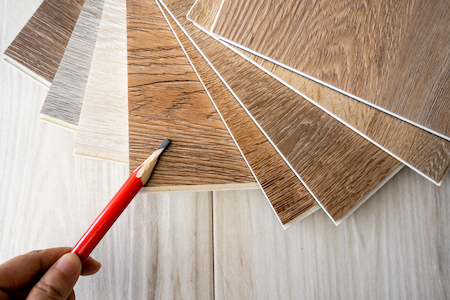 If you follow guidelines with proper maintenance and care, many of the top manufacturers will tell you to expect a lifespan of 25 to 30 years.
What should you consider?
Look at construction
Luxury vinyl planks are a multi-layered product. Two of the areas you should focus on include the vinyl thickness and the wear layer.
Luxury vinyl planks are created with four separate layers:
Backing layer – the first or bottom layer, used as a stabilizing backing layer specifically formulated for durability and stability.
Core layers – this inner core provides thickness and durability. It builds the strength of the product and ensures longevity.
Print layer – this is the visual layer that provides realistic visuals. No matter what style you're looking for, the print layer controls how good it looks. Pay attention to the process, as it determines how deep the construction of the visuals goes into the core.
Wear layer – this is the clear protective coat applied to the top, giving it color stability, depth of design, and overall wearability.
When you see a product list a thickness value, it's usually measured in millimeters, and refers to the vinyl core. Luxury vinyl planks are typically between 2mm to 9mm for a higher quality product line. If you're looking for a long lifespan, focus on getting a thicker product. The thinner the product, the more often they require specific underlayment in place before the installation. Thicker planks will often include the subfloor built in, and provide a more authentic look and feel.
The wear layer is measured in mil, and typically ranges between 8mil and 12 mil for residential products, and 20mil to 40mil for commercial applications. The thicker the wear layer, the more protection you'll have from impacting the visual layer. This is when scuffs, scratches, and dents really start to show.
Consider your wear before settling on a product lifespan of luxury vinyl planks is contingent on how well it handles over time. High traffic areas like kitchens and entryways should err on the side of being as durable as possible. In lower traffic areas – possibly a guest bathroom – can do well with a lower quality product.
Focus on care
When homeowners select flooring material such as hardwood, they also look at ways to extend the life of the product, to ensure the best results.
Luxury vinyl planks are no different.
If you want to extend the lifespan, start by selecting a product that can withstand all your family will dish out. In higher traffic areas, select a higher quality product. In lower traffic areas, it may make sense to go with a different product, focusing on looks and aesthetics rather than durability as your top choice.
With the planks in place, provide proper care. Luxury vinyl planks are surprisingly easy to care for. Since they are water-resistant, or in some cases waterproof, they can withstand all your family dishes out. Simply wipe away messes as soon as they occur.
Stick with manufacturer's suggested cleaning products. Some cleaners on the market today have harsh chemicals that can strip and damage the wear layer. Skip using these, and focus on mild cleaners instead. They will give you lasting results over time.
To provide further protection, consider using area rugs in the heaviest used areas. Rugs made from jute, cotton, or woven backings are better than with plastic latex in place. Plastic can easily scratch the surface as it moves.
You can also make a rule of no shoes in the house. When you remove shoes first, you're less likely to bring in damaging particles that can scratch and dent floors. It also stops germs at the door instead of tracking them deep inside your home.
Think about your floors as you take everything in stride. If shoes can scratch and dent the floor, imagine what's happening when an office chair slides across the floor. Consider using a chair mat to prevent damage.
You can also reduce the chances of sharp objects hitting the planks. Be cautious of where you place damaging items. Can you keep them in spaces where they are better contained? Use area rugs underneath dining room tables, or in a home office underneath the desk. Place soft pads underneath furniture legs. Awareness is the first step in prevention.
Are you ready for luxury vinyl planks?
It's growing in popularity. It makes a dynamic flooring choice. Is luxury vinyl planks suitable for your needs? They may be the perfect choice.
While the lifespan of luxury vinyl planks may differ from other flooring choices, with care and maintenance, it will give you years of enjoyment.
Are you considering luxury vinyl planks for your next remodeling project?