One of the most popular remodeling projects homeowners take on is the kitchen. It's one with the biggest payback when it comes time to sell. It's also one of the costliest.
If you're planning on living in your home for several more years, select a flooring that suits your needs and tastes. If you want to add resale value, examine your community and take notice of flooring choices others in your neighborhood have made. This will drive expectations when it's time to sell.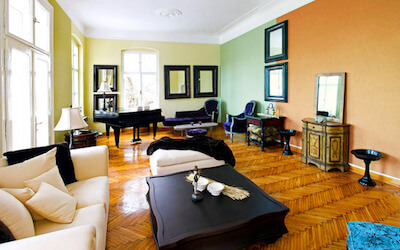 Vinyl 
Vinyl or linoleum flooring is a basic option for kitchen flooring. It's inexpensive and comes in a variety of colors and designs. It's easy to install, and it provides a comfortable choice for standing. If you're touching up a kitchen and improving its looks for sale, this inexpensive choice can be the perfect addition to show your home was well taken care of throughout the years.
Laminate
Laminate wood floors are a great alternative to hardwood. The look and styles have improved over the years, and at first glance gives the appearance of wood. Laminate can warp under high moisture or water leaks, but is comfortable when standing on for long periods of time.
Hardwood
You can never go wrong with hardwood; it's always in demand throughout the Rocky Mountain region. Wood flooring can create a dynamic look in your kitchen, especially when it spills over into the other living areas in your home.
Stone
Natural stone like marble, granite, soapstone, slate or limestone can add dimension to your home. They are also an excellent choice for underfloor heating options. Stone can last for decades, with can increase your home price when trying to sell.
What flooring choice is right for your kitchen remodel?