Renovating your home? One of the most difficult choices you'll make isn't the cabinets in the kitchen or the color of paint you select for the walls. Your flooring will impact how well your new room performs for years to come. 
Flooring impacts everything from the way it feels on your feet to the way it performs with everyday use. It's a balancing act to ensure you get everything you need, from a floor that's easy to maintain to one that performs well with all the wear and tear your family can dish out.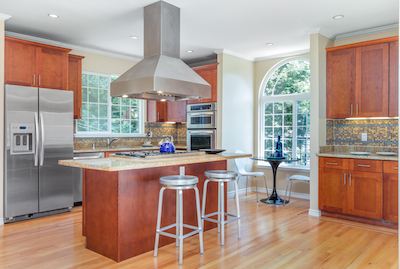 Hardwood continues to be a popular choice. People are using it in every room in the home. 
But hardwood does have its drawbacks. It can be easily scratched by rough play from the kids or your pets' nails as they play a game of catch. You can move to engineered hardwood for the same look, but they can't be refinished as often as hardwood. 
Carpet is a popular choice, especially in family rooms and bedrooms. It has the comfort factor if you spend a lot of time on the floor. And if you've ever stepped out of bed on a cold winter morning onto a cool tile or wood floor, you can appreciate the warmth of carpeting underneath your bed. 
A lot of flooring choices is dependent upon the climate. Here in the Rocky Mountains, we have cold winters and warm summers. We often prefer the rustic appeal of hardwood because it reminds us of our roots from the forests of the mountainside. You're more likely to see a home full of hardwood than tile because of the look and feel. 
But that's also changing. A popular design trend is tile with the look and feel of hardwood. It comes in planks and can be equally as beautiful as the hardwood you're used to. It has the advantage of being more durable and easier to maintain. It can also be warmed with radiant heating, making it the perfect choice for every season of the year. 
Not sure what flooring choice to include in each room? Designers say that using the same flooring throughout the entire house, or at least in the public areas, will make your rooms appear bigger. It gives you a unified look from the front to the back, upstairs and down. 
But you wouldn't want to use carpet in the bathroom. That's where today's luxury vinyl come into play. For bathrooms, basements, and laundry rooms, it's a great choice to continue your look while upping your performance factor as well. 
Whatever your choice for flooring, it's important to keep an open mind as you're making your final decision. If you haven't considered all of your options, now's the time to stop by and see what would make the perfect choice for your home renovation.