For some homeowners, the staircase sold them on the home. You enter to a dramatic, sweeping staircase that carries you up to the second floor. It's the centerpiece for the entryway, which adds to the aesthetics of your space.
Yet no matter how much you love your stairs, sometimes the idea of selecting the best flooring product can be a bit intimidating. What's the right flooring for your stairs? Should it match the lower level, or feed into the upper level?
The material you use for your stairs is incredibly important to your home's overall functionality and durability. It's more than looks alone. Here are a few points to keep in mind while finalizing your decision.
Foot traffic
Families need and require different things to ensure a well-functioning home. Selecting flooring should be determined by how many people use the stairs each day, and how they will stand up to that traffic over time.
Kids race up and down as they play between floors
Adults move up and down between home offices and common areas
Elderly may need more safety features
Pets need soft spaces, especially as they age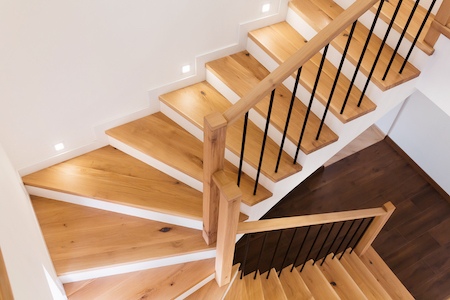 Some homeowners install flooring based on what was on the stairs before. We feel you should base your decision on what best suits the functionality of your home. Softly moving up and down each step is entirely different than the constant pounding of teenagers flying up and down multiple times per day.
Noise
Typically, main levels have living space, kitchens, and entryways to the outside. Second levels have bedrooms, home offices, and reading nooks.
Do you have light or heavy sleepers? Do you have early risers or people that stay up all night? A mixture inside a home requires flooring that best suits those who live there. If a teenager is thumping up and down the stairs all night, it might be difficult for a light sleeper.
Keep in mind that there are many different ways to get the look you want and combine it with noise level reduction too. Want hardwood? Consider stair runners for a sophisticated look. That's where working with one of our flooring experts can help you find the right solution.
Safety
How many stairs are included in your staircase, five, ten, fifteen? While stairs can create a sweeping, dramatic look, they can also create a hazard. Take steepness into mind when finalizing your flooring options for the stairs. Slipping can be shocking and dangerous.
A lot of flooring materials are designed specifically to help with safety. Look at these materials, and find a way to incorporate them into your final design. Carpet is always one of the safest materials for stairs, as they provide traction as well as soften falls. Even if you're looking for a way to carry your flooring throughout your home – you have hardwood everywhere you can – there are still ways to make your stairs safer with additional features. Again, a carpet runner may be ideal in this situation, as it adds safety and a pop of color.
Durability
High-traffic areas are always some of the most difficult areas to finalize flooring decisions for. You want classic good looks, but for longevity, you have to select the best materials.
Hardwood, by nature, is hard; it will be more durable than soft fibers of carpet. Even in the best conditions, carpet will last 7 to 10 years, whereas hardwood can last for decades. Hardwood may cost more, but may be a better solution when you factor in longevity. It all depends on your needs.
If you choose carpet, and there are great reasons to use it, spend time selecting one that will handle well in high traffic areas. This will increase durability and help it look better over time.
Comfort
If you've ever stood on a hard surface all day, you know how it can impact your overall comfort. Hard surfaces like concrete or stone are notorious for longevity and durability, but if you've stood on them with your socks on for any length of time, you know just how uncomfortable they can be.
Now add that uncomfortable feeling when you're traveling up and down the stairs all day, even pounding up and down as you forget things. It can add a lot of pressure to your well-being.
Softer materials may be a more comfortable choice in busy households. It can also add color and patterns to the aesthetics of the surrounding environment. Of course, this should blend in with the overall ambiance of your home.
Cleaning and maintenance
Stairs are usually one of the most high-traffic areas in your home. Because there's usually only one way up and down, the center part of the stairs will receive a lot of foot traffic. That means you'll be cleaning the stairs regularly. Hardwood is easier to wipe clean. You can vacuum dust and debris, and wipe down messes easily. Carpet will accumulate debris in its fibers over time. Lower quality carpet may mat easier, and require updating before the rest of your carpet shows wear.
No matter what you choose, be sure you have the appropriate cleaning tools available to make the job easy. A brush attachment can help pick up debris in the corners, further protecting the flooring material over time.
Budget
If you've ever priced installing new flooring to stairs, you know there are additional material and labor costs to consider. That may be enough to sway you one way or another when finalizing your decision.
The good news is almost any type of flooring material will work on stairs.
Whether you have an idea in mind, or have avoided upgrading your flooring out of uncertainty as to how to handle the stairs, we can help you finalize your decision and pick a material you'll love for years to come.
Conclusion
If you have any additional questions about selecting the best flooring material for your stairs, stop by our showroom or give us a call today. We've helped families all over the Rocky Mountain region select the right flooring material to suit their needs. We're happy to help you finalize your choice.