Do you love watching those home improvement shows as much as we do? In a matter of days, experts can take a home with some serious problems and turn it into a showstopper. They make it seem so easy!
Maybe that's turned you into a "fix and flip" wannabe. First stop, your own home. You have some serious plans, starting with your current remodel. It's easy … right? Why not take on the chores that seem the easiest?
Like flooring. What can be so difficult about installing flooring?
Turns out, there's quite a lot to getting it right the first time.
There are many benefits of professional flooring installation. Before you invest in flooring material and assume you can do it yourself, spend some time investigating which flooring materials you're considering, and the pros and cons of doing it yourself.
You might decide to leave the dirty work to the professionals. That means you can spend more time enjoying the end result!
The benefits of using a professional for installing new flooring
Flooring installation plays a crucial role in transforming the overall aesthetics and functionality of your space. While the allure of do-it-yourself projects may be strong, opting for professional flooring installation can offer a range of benefits that outweigh the appeal of tackling the task on your own.
Efficiency and Speed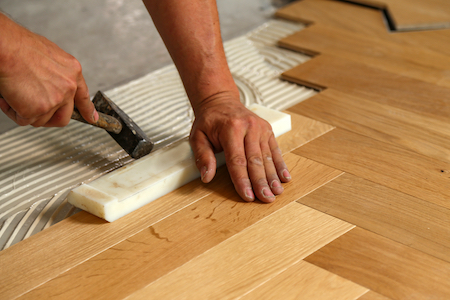 Flooring professionals have years of experience and expertise, allowing them to streamline the installation process. They possess the necessary skills to assess the layout of your space, accurately measure the materials needed, and efficiently install the flooring. By entrusting the task to professionals, you can avoid the trial-and-error approach often accompanying DIY projects, saving you valuable time and effort.
Guarantees and Warranties
When you hire professionals for flooring installation, you can rest assured that you will receive guarantees and warranties for the work done. Reputable flooring companies stand behind their craftsmanship, offering guarantees that protect your investment. In the event of any issues or concerns post-installation, professionals will be readily available to address them and ensure your satisfaction.
Experience and Expertise
Professional flooring installers bring a wealth of experience and expertise to the table. They have undergone extensive training and possess in-depth knowledge of various flooring types, installation techniques, and industry best practices. This knowledge allows them to assess your specific requirements, recommend suitable flooring options, and execute flawless installations. Their expertise also enables them to overcome challenges that may arise during the process, ensuring a smooth and successful project outcome.
Convenience and Peace of Mind
Want convenience and peace of mind? It comes with entrusting the job to experts. Flooring professionals will handle every aspect of the project, from removing the existing flooring to preparing the subfloor, installing the new flooring, and ensuring a clean and tidy finish. This relieves you of the burden of coordinating the project, procuring the necessary tools and materials, and managing the installation yourself. Instead, you can focus on other important tasks or simply relax and let the professionals handle the job.
Quality Results and Enhanced Durability
Professional flooring installers have the necessary tools, equipment, and materials to deliver high-quality results. They have specialized tools that ensure precise cuts, seamless transitions, and secure installations. Professionals are knowledgeable about the latest industry trends and techniques, allowing them to implement installation methods that enhance the durability and longevity of your flooring. With professionals in charge, you can expect a finished product that looks beautiful and withstands the test of time.
Protection of Your Investment
Professional flooring installation helps safeguard your investment by ensuring that the installation is done correctly and without any damage to the materials. Professionals understand the intricacies of each flooring type and take precautions to prevent issues such as buckling, warping, or premature wear. This attention to detail and commitment to excellence minimize the risk of costly repairs or replacements down the line.
Proper Tools and Techniques
Flooring installation requires specialized tools and techniques that professionals are well-versed in. From power tools for cutting and shaping materials to adhesive application methods, professionals have access to and knowledge of the right tools and techniques for each specific flooring type.
Disposal of Old Flooring
What will happen to your old flooring? Removing and disposing of old flooring can be a labor-intensive and time-consuming process, particularly if you lack the necessary tools and resources. Professionals not only have the expertise to safely remove old flooring but also have disposal systems in place, ensuring that the process is handled efficiently and responsibly.
The pros and cons of doing it yourself
Still wanting to tackle the project yourself? Many do. There are advantages to installing flooring yourself. Be prepared, and you'll have an easier time ensuring everything goes correctly from beginning to end.
Cost
One of the primary advantages of opting for a DIY flooring installation is the potential cost savings. By eliminating labor costs associated with hiring professionals, you can significantly reduce the overall expenses of the project. Additionally, you have the freedom to shop around for materials and choose cost-effective options that fit within your budget.
Work done on your schedule
Undertaking a DIY flooring installation allows you to work at your own pace and on your preferred schedule. You have the flexibility to plan the project around your commitments and tackle it in stages, if necessary. This level of control can be advantageous, especially for individuals with busy lifestyles or limited availability.
Satisfaction of doing it yourself
The sense of accomplishment and satisfaction that comes from completing a DIY flooring installation can be gratifying. Seeing the finished result and knowing that you were responsible for every step of the process can bring a sense of pride and personal achievement. This hands-on experience can also serve as a valuable learning opportunity, allowing you to gain new skills and knowledge that can be applied to future projects.
Can end up being more expensive
While DIY projects may initially seem cost-effective, they can potentially become more expensive in the long run. Mistakes or improper installations can lead to damage or premature wear of the flooring materials, necessitating costly repairs or replacements. If you lack the necessary tools or expertise, you may need to invest in additional equipment or seek professional help, increasing overall expenses.
May not look as you hoped
Achieving the desired aesthetic outcome with a DIY flooring installation can be challenging. Without professional expertise and experience, it's easy to overlook important details or encounter difficulties in achieving a seamless and visually pleasing result. Issues such as uneven cuts, misaligned seams, or improper transitions between flooring types can detract from the overall appearance of the space. If visual appeal is a priority, it may be wise to consider professional installation to ensure a polished and well-executed finish.
You're responsible for every step of the process
When you choose the DIY route for flooring installation, you are responsible for every aspect of the project. From purchasing the materials and preparing the subfloor to measuring, cutting, and installing the flooring, each step falls under your care. While this level of control can be empowering, it also means that mistakes or errors are solely on your shoulders. You must be prepared to invest time, effort, and research to ensure you have the necessary skills and knowledge to carry out each task successfully.
What's best for you? Maybe it's time for professional flooring installation 
While the appeal of DIY projects may be enticing, professional flooring installation offers a range of benefits that make it a superior choice for many homeowners.
So, why not choose the path that guarantees a beautiful, durable, and hassle-free result?
Maybe it's time to hire a professional for your flooring project. It's the best way to get guaranteed beautiful results.