Coloradoans love their basements. It adds welcome space to the floor plan. When done right, it can add valuable, usable living space you use just as much as the other rooms.
Yet basements have a distinct problem: they're below grade, which means they're susceptible to moisture problems you might not see in the rest of your home.
Wouldn't it be great if you could revamp your basement by adding waterproof flooring? No more worries.
Guess what? You can!
Basements might be more prone to moisture and water damage, but with waterproof flooring, you'll never worry during the record-breaking rain storms we tend to get in the summer.
What's more, these are the most in-demand flooring choices homeowners buy every day. This is flooring you'll be proud to have on display. It's that beautiful.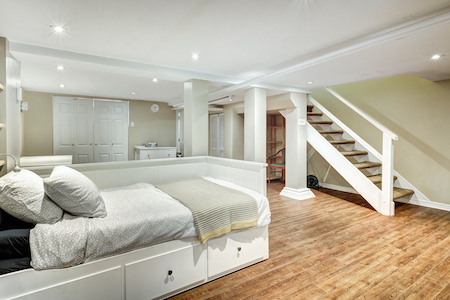 Are you sold on waterproof flooring? Let's dive into a few details you'll need to learn before you move to the fun part … selecting and installing your new floors.
Why Basement Flooring Needs to be Water-Resistant
Basements are naturally prone to moisture and humidity due to their location below ground level. Concrete, which is commonly used as a subfloor, can absorb moisture and lead to mold, mildew, and other issues. Water can also seep through the walls and foundation, increasing moisture levels.
Water-resistant flooring is specifically designed to repel water and resist damage caused by moisture. By installing water-resistant flooring in your basement, you can protect your investment and create a durable, long-lasting space.
Waterproof floors also ensure moisture doesn't reach the subfloor and cause damage. It helps prevent mold and mildew growth, which can pose a health hazard.
The Difference Between Water-Resistant and Waterproof Flooring
While the terms "water-resistant" and "waterproof" are often used interchangeably, there is a slight difference between the two.
Water-resistant flooring can withstand minor spills and splashes without warping or damage. It can withstand exposure to water for a short period without sustaining significant damage. It's a great option for areas prone to moisture, but it may not hold up against standing water or flooding.
Waterproof flooring provides a higher level of protection against water. It can withstand spills, splashes, and even standing water without damage. It's ideal for areas with high moisture levels, such as basements, bathrooms, and laundry rooms.
The Best Flooring Options for Basements
Are you already seeing the possibilities?
Many homeowners come in a bit skeptical, but are quickly sold on the concept. Technological advances have created many different flooring types to be both beautiful and durable. No more worrying about moisture – your flooring will continue to give no matter what your family dishes out.
Luxury Vinyl Planks (LVP)
At the top of our "best" list is luxury vinyl planks. Homeowners love them, and they are one of the most durable waterproof flooring choices on the market.
LVP is a popular choice for basements due to its durability and water resistance. The planks have a waterproof core that prevents water from seeping through and damaging the material. This feature helps protect the structural integrity of the flooring and prevents issues such as warping, swelling, or mold growth.
LVP is known for its exceptional durability, making it suitable for high-traffic areas like basements. The flooring is engineered to withstand the rigors of daily use, including foot traffic, impacts, scratches, and the occasional spill (even if that includes a lot of water!) It is resistant to stains, dents, and fading, ensuring that your basement floor maintains its attractive appearance for a long time.
But what seals the deal for most homeowners is luxury vinyl's looks. LVP mimics the look of natural materials, such as hardwood or stone. Advanced printing technology allows for highly detailed and realistic patterns, textures, and colors. Whether you prefer the warmth of wood or the elegance of stone, LVP offers a wide range of options to suit your aesthetic preferences.
Ceramic or Porcelain Tiles
Ceramic and porcelain tiles have been around for centuries. There's a reason for that.
Ceramic and porcelain tiles are inherently water-resistant materials. They have a dense and non-porous surface that does not absorb water. This property makes them highly resistant to water damage, making them an ideal choice for areas with high moisture levels, like basements. Tiles act as a barrier against water penetration, preventing warping, swelling, or mold growth.
Tiles are known for their exceptional durability and longevity. Ceramic and porcelain tiles are made from dense materials that withstand heavy foot traffic, impacts, and wear and tear. They are resistant to scratches, stains, and fading, ensuring that your basement flooring maintains its original beauty and functionality for years.
Ceramic and porcelain tiles also offer an extensive range of styles, colors, patterns, and textures. Whether you prefer a sleek modern look or a more traditional aesthetic, tiles are available to suit every taste and design preference. This versatility allows you to create a basement space that reflects your personal style and complements the overall decor of your home.
Laminate
Laminate flooring is designed with a water-resistant or waterproof core layer, typically made of high-density fiberboard (HDF) or medium-density fiberboard (MDF). This core layer is treated with special coatings that prevent water from seeping into the material, making it highly resistant to water damage. Most laminate flooring can withstand occasional spills or moisture without warping, swelling, or compromising structural integrity. Some are now created with waterproof features. Be sure to do your research to ensure you're getting what you desire.
Laminate flooring has come a long way in terms of design and aesthetics. Advanced printing technologies enable laminate to replicate the look of various natural materials, including hardwood, stone, or tile. The printed design layer is covered by a clear protective layer, giving the laminate a realistic appearance. With a wide range of colors, patterns, and textures available, laminate allows you to achieve the desired aesthetic for your basement.
Laminate flooring is known for its durability and resistance to scratches, stains, and fading. The top wear layer is highly resistant to wear and tear, making it suitable for high-traffic areas like basements. Laminate flooring is also less susceptible to dents or gouges compared to hardwood or other flooring materials. This durability ensures that your basement floor maintains its attractive appearance over time.
Sheet Vinyl
Sheet vinyl is inherently waterproof, as it is made from a single, continuous piece of vinyl. The seamless installation and lack of joints or seams make it highly resistant to water penetration. This feature ensures that water cannot seep through the flooring and cause damage to the subfloor or create an environment conducive to mold and mildew growth.
Sheet vinyl is known for its easy installation process. It comes in large rolls that can be cut to fit the dimensions of your basement. With fewer seams to worry about, installation is faster and more straightforward compared to other flooring options. Professional installation may still be recommended to ensure a proper fit and a watertight installation.
Sheet vinyl offers a vast array of designs, patterns, and colors, allowing you to achieve the desired look for your basement. It can mimic the appearance of natural materials such as wood, stone, or tile, giving you the flexibility to choose a style that complements your aesthetic preferences. Whether you prefer a contemporary, traditional, or rustic look, sheet vinyl provides numerous options to suit your design vision.
If you select this affordable solution, sheet vinyl is also highly durable and resistant to scratches, stains, and wear. It is designed to withstand heavy foot traffic and the demands of everyday use. The protective wear layer on the surface of the vinyl provides excellent resistance to stains and makes cleaning and maintenance a breeze. Regular sweeping or vacuuming, along with occasional damp mopping, is typically sufficient to keep sheet vinyl looking its best.
How to Care for Waterproof Flooring
Proper care and maintenance of your waterproof flooring can help to extend its lifespan. Avoid using abrasive tools and cleaners that can damage the surface. Instead, opt for a gentle cleaner and a damp mop to clean up spills and dirt.
If you notice any damage or signs of wear and tear, repair or replace the affected areas immediately. Regularly inspecting and maintaining your flooring can prevent costly repairs and ensure your basement remains in good condition.
Is waterproof flooring the right solution for you?