You're ready for a bit of renovation in your kitchen or bathroom. You want a fresh new look.
Ultimately, that starts at the bottom – you'll need new flooring to enhance the look.
But kitchens and bathrooms are different from other rooms in the house. You'd never install carpet; that would set you up for disaster.
Part of you knows you want durability mixed with low maintenance. But what could that be? What's the perfect choice for a flooring solution? Why not go with waterproof flooring – it's the ideal choice for your kitchen or bathroom.
What Makes a Floor Water-Resistant?
There's a lot of confusion around the concept of waterproofing. Do a little research and you might discover flooring with the term "water-resistant" as a part of their marketing materials.
What does it mean for a floor to be water-resistant?
Essentially, a water-resistant floor is designed to withstand moisture … to some degree. This means that it can handle small spills and splashes without immediate damage. However, water resistance doesn't necessarily mean it can hold up against more significant amounts of water or prolonged exposure. That's where waterproof flooring comes into play.
Water-Resistant vs. Waterproof: Unraveling the Mystery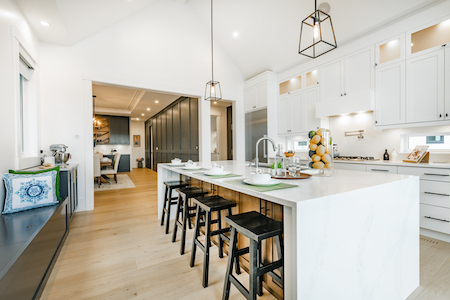 While water-resistant flooring can handle minor moisture, waterproof flooring takes it a step further. It's engineered to prevent water penetration even when faced with substantial spills, making it an ideal choice for areas prone to more significant water exposure, like kitchens and bathrooms.
Water-resistant is like having an umbrella during a drizzle, while waterproof is like having a sturdy raincoat during a downpour.
And if you're remodeling your kitchen or bathroom, wouldn't it be nice to have a flooring in place you won't have to think much about in the coming years?
The 6 Waterproof Flooring Solutions You Should Consider
Right now, you're dreaming of a waterproof solution. It sounds too good to be true,  but it isn't. Technology has advanced to the point we now have many flooring materials available that are perfect for the kitchen or bath.
Let's dive into the real star of the show – the top 6 waterproof flooring solutions that will transform your kitchen and bathroom spaces into havens of style and durability.
Engineered Hardwood
Love the elegance of hardwood but are worried about water damage? Engineered hardwood is your answer. It's crafted by layering natural wood over a composite core, making it more resistant to moisture than traditional hardwood. You get the warmth and beauty of wood without the fear of warping or buckling due to spills.
Luxury Vinyl Planks
Luxury Vinyl Planks (LVP) are all the rage, and for good reason. They offer the look of hardwood or stone with unbeatable waterproof qualities. LVP is crafted to withstand wet environments and is a breeze to clean, making it a fantastic choice for busy kitchens and bathrooms.
Laminate
Don't want to break the bank but still crave the look of hardwood or stone? Laminate flooring has got your back. This flooring product is the perfect blend of everything you want. Its core provides strength and durability. And with the proper wear layer, it can give you protection from minor mishaps and spills.
Porcelain Tile
If you're aiming for the ultimate waterproof solution, porcelain tile is your best friend. It's practically impervious to water, making it a superstar in bathrooms and kitchens. With a myriad of designs, you can have a floor that's both water-resistant and stunningly stylish.
Stone
Natural stone flooring is not only breathtakingly beautiful but also naturally resistant to water. Options like slate, granite, and limestone can add an earthy, rustic feel to your spaces while standing up to moisture like a champ.
Sheet Vinyl
Looking for a wallet-friendly option that doesn't skimp on style or functionality? Sheet vinyl is here to save the day. With its continuous, impervious surface, it's a fantastic choice for preventing water seepage.
Find a flooring material you're leaning towards? Just be aware that not all flooring materials are waterproof. Each of the above categories has many different manufacturers and options. Look closely at the small print; not all offer the same results. That's where you'll benefit from our advice as we showcase top manufacturers that have created waterproof materials to meet your goals. We have our favorites, and we can't wait to show them to you.
How to Choose the Right Waterproof Flooring Material
Now that you're armed with knowledge about the top waterproof flooring options, let's chat about how to choose the perfect one for your kitchen or bathroom.
Lifestyle
Consider your lifestyle and the amount of foot traffic your space receives. If you're a busy household with kids and pets, you might lean toward a more durable option like luxury vinyl planks or porcelain tile.
Aesthetic Appeal
Your flooring should reflect your personal style. If you're a fan of the classic hardwood look, engineered hardwood or luxury vinyl planks can mimic that beautifully. If you're all about modern aesthetics, porcelain tiles might be your jam.
Budget
While waterproof flooring is an investment, there are options available at various price points. Determine your budget and explore the flooring materials that align with it.
Maintenance
Consider how much maintenance you're willing to put in. While all the mentioned options are relatively easy to clean, some might require more attention than others.
Installation
Some flooring materials might require professional installation, while others are more DIY-friendly. Make sure to factor in installation costs and requirements.
In the end, the right waterproof flooring solution for your kitchen or bathroom will depend on your unique needs and preferences. The good news is we're here to guide you every step of the way, from choosing the perfect flooring material to installation.
We're not just about floors – we're about transforming your living spaces into functional and beautiful areas you'll adore for years to come. Say goodbye to the stress of water damage and hello to floors that can handle whatever life throws at them. Visit our showroom or give us a call today to embark on your journey to stunning, waterproof flooring!