Here in Colorado, basements aren't optional, they're mandatory. Most homeowners across the Front Range add valuable space to their homes by fixing up the basement.
But that doesn't mean it has to be dark and dreary, a dreaded place very few people wish to visit. Today's basements can be as beautiful as the rest of the home. It can add space you can't wait to use.
Yet you can't add flooring you've selected for other areas of your home. Basements have special needs.
Why basement flooring needs to resist moisture
Basements are notorious for being damp and moisture-prone, which can wreak havoc on traditional flooring materials. Whether it's due to high humidity levels, occasional flooding, or water seepage, the last thing you want is to invest in flooring that will get damaged or harbor mold and mildew.
Waterproof flooring is designed to withstand these conditions and provide a durable and long-lasting solution for your basement. It creates a moisture barrier that prevents water from seeping through, protecting both the flooring itself and the structural integrity of your basement.
How will you use your basement?
Whether you're upgrading current space, or are adding much-needed rooms for the first time, it's essential to consider how you plan to use the space before finalizing your decision.
Will it be a play area for children, a home gym, a guest suite, or a multi-purpose entertainment space?
Play areas need durability and easy maintenance. The kids may spend hours on the floor, which makes comfort a top consideration. They might bring their friends over and have snack time regularly. Can you imagine not being able to wipe the floors clean?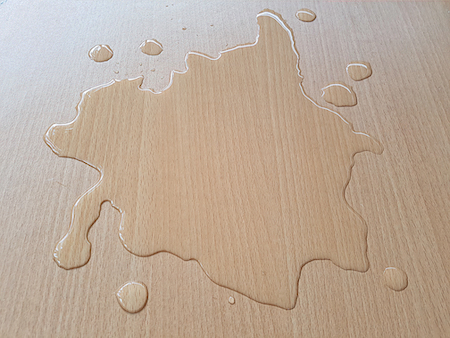 Home gyms may function better with sound-absorbing qualities and softness for every exercise routine to be a bit more comfortable.
Of course, many create basement space that can morph and change depending on the day of the year. Need extra office space? Not a problem. Want to host a large get-together? You can maneuver in extra tables and chairs. Make sure your flooring can handle any situation.
That's what makes waterproof flooring so great.
What about subfloor?
A proper subfloor is essential when installing waterproof flooring in your basement. It provides an additional layer of protection against moisture, helps level out any imperfections in the concrete slab, and enhances the overall insulation of the space.
There are different types of subfloor systems available, including raised subfloors that create an air gap between the concrete and the flooring material. This gap helps mitigate moisture-related issues by allowing air circulation and preventing condensation.
Not sure which subfloor to choose? That's what a professional is for. They will help you determine the most suitable subfloor option for your specific basement conditions.
The best waterproof flooring choices for your basement
How do you see your basement remodel? What does the final picture look like? Whatever your dreams, there's a flooring choice to suit what you're looking for.
Luxury vinyl planks
Luxury vinyl planks are a popular choice for basement flooring due to their exceptional water resistance and durability. They mimic the appearance of real hardwood or stone but are more affordable and easier to maintain. Luxury vinyl planks come in various styles and finishes, allowing you to achieve the desired aesthetic for your basement.
Ceramic or porcelain tiles
Tiles are another excellent waterproof flooring option for basements. Ceramic and porcelain tiles resist moisture, stains, and scratches. They come in a wide range of colors, patterns, and sizes, allowing you to create a customized look for your basement. Additionally, tiles have the added benefit of being naturally cool, which can help keep your basement comfortable during hot summer months.
Laminate flooring
Although traditional laminate flooring is unsuitable for basements due to its susceptibility to water damage, waterproof laminate options are now available. These laminates have a moisture-resistant core that prevents water from penetrating the flooring. Waterproof laminate flooring offers the look of hardwood with the added benefit of being more affordable and easy to install. Rely on a professional flooring expert to help you navigate this market, and select the suitable laminate to suit your needs.
Peel and stick vinyl
Peel and stick vinyl tiles are a cost-effective and DIY-friendly option for basement flooring. They are resistant to water and can be easily installed without the need for adhesives or professional help. Peel and stick vinyl comes in a variety of designs and textures, allowing you to create a stylish and durable basement floor. Buy an extra case or two, and you're ready for any situation. Just pull up damaged tiles and replace … it'll look new!
Flooring to avoid in a basement 
If you've had other flooring options in mind, realize they might not be the perfect choice for your basement. We often recommend clients to steer away from these options:
Solid hardwood
Solid hardwood flooring is susceptible to warping, cupping, and swelling when exposed to moisture. Basements, with their high humidity levels, are not ideal environments for solid hardwood flooring.
Carpet
Carpeting can be a breeding ground for mold and mildew in a damp basement. Even with regular cleaning, moisture can get trapped in the carpet fibers, leading to unpleasant odors and potential health issues. That said, some homeowners have navigated toward carpet tiles for similar reasons as peel-and-stick vinyl tiles. They are often commercial quality and can handle anything your family dishes out. And if one is damaged, simply peel it up and stick a new one down.
Cork flooring
While cork flooring is known for its eco-friendliness and comfort, it is not recommended for basements due to its susceptibility to water damage. Cork can absorb moisture, which can cause it to warp and deteriorate over time.
Engineered wood
Engineered wood flooring with a plywood base is unsuitable for basements because plywood is prone to swelling and damage when exposed to moisture. Choosing engineered wood flooring designed explicitly for basements with a waterproof or moisture-resistant core is crucial if you decide to go this route.
What's your choice for waterproof flooring? 
When remodeling your basement, choosing flooring that can withstand moisture and provide long-lasting durability is important. Waterproof flooring options offer a range of styles, designs, and price points to suit your preferences and budget. It's the best way to create a beautiful and functional basement space that will stand the test of time.
How can we help you finalize your selection?