Think you understand vacuuming? Think you know how vacuuming impacts your flooring? Think again.
For most of us, we plug it in and run it over the carpet from time to time, assuming that's all it takes.
Would it surprise you to learn there's much more to it than that?
The importance of vacuuming
Why do you vacuum? Most would say it's to pick up dirt and keep the floors clean. That's only partially right.
Vacuuming is also one of the best ways to take care of the carpet and protect your overall investment. Think of it in the same manner as changing the oil in your car. You do it to provide a strong base for your overall investment. Vacuuming does a similar thing.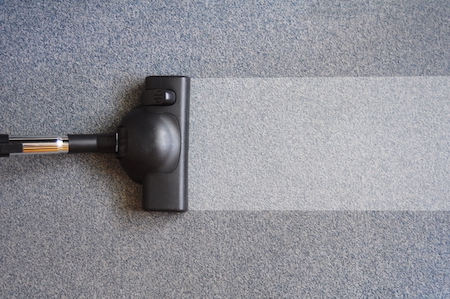 Regular vacuuming removes the dirt and debris that can settle into the fiber and damage the structure and integrity. If the fiber wears down before its time, it decreases longevity.
Ultimately, longevity also impacts sustainability. Imagine carpeting with a lifespan of ten years that is suddenly reduced to five because of poor care. That equates to double the amount of carpet that would become waste products. In 2019, just 5 percent of carpet was collected and recycled before it hit the landfill. That's thousands of tons of post-consumer carpet wasting away in landfills.
Realize that not all vacuums are the same. Nor are all vacuums used correctly, which can impact the care of your carpet. Some carpets need more vacuuming than others. Daily vacuuming will keep your carpet well-maintained for carpet in high-traffic areas or busy households with pets. In lighter traffic areas or places seldom used, once or twice a week for maintenance can keep it in top condition. The correct settings on your vacuum will ensure you're picking up what you should.
How to vacuum properly
It seems almost too simplistic – can you really vacuum incorrectly? In short, the answer is: yes.
Let's start with the type of vacuum you're using. First, consider your home or area you'll be vacuuming. Consider the type of carpet and how dirty they can get in a week. Canisters are better for vacuuming up messes from hard surface areas. They're also used in difficult places such as moving up and down stairs. For rugs and carpeting in main living spaces, uprights are a better choice. Ensure the beater bar is functioning for loosening dirt and moving it to the surface for easier pick-up.
You should also pay attention to settings. Basic vacuums may have one or two options, but more sophisticated vacuums can offer you different cleaning solutions. If you use the wrong setting repeatedly, you can overwork your carpet, which can cause your carpet to wear out sooner. Pay attention to what settings you have and what you use for each floor in each room. Consult the owner's manual if you're unsure. Using the bare floor setting on carpet, for instance, can put too much pressure on the fibers without pulling up embedded dirt.
Check the height settings before each vacuum. This affects how it cleans and wears down the fibers. If it's set too low, it could damage your carpet, especially with repeated use. It can also damage the vacuum, meaning it loses cleaning functionality over time. If you aren't sure about height, there's an easy way to tell. Start with the highest setting, gradually lowering it until you feel it pulling as you vacuum. That's the sign it's picking up dirt and doing its job.
As you vacuum, remember to go slowly. This isn't a race. Push the vacuum several feet ahead of you, then pull back slowly to pick up loosened dirt and debris. Repeat the process several times to overlap areas and ensure every part of the carpet is covered. When you're done working in one direction, repeat at a 90-degree angle for maximum cleaning efficiency.
You should also check the beater bar regularly. Engage and disengage it depending on if you're working with hard or carpeted surfaces. This tool works hard to push debris up to the surface of your carpet. It can also become clogged or matted with hair and other debris. Clean it regularly to ensure it's always in good working condition.
Other things to consider when vacuuming
Think you're a vacuum expert yet? There are a few more things to consider.
When vacuuming an area rug, take a peek underneath the rug too. While it may sit securely on the floor, never moving, always in place, fine dirt and debris can slip underneath. Depending on where it sits, occasionally pull the area rug back and vacuum underneath. You should also flip the area rug over and use the upholstery attachment to deep clean the back of the area rug.
If your vacuum uses changeable filters, be sure to buy a HEPA filter. HEPA stands for High-Efficiency Particulate Air. It traps as much dirt, dust, dander, pollutants, and bacteria as possible. With a HEPA filter in play, you'll know particulates actually make it into the filter trap, and not back onto your carpet.
You should also give your vacuum a little TLC from time to time. If you don't pay attention while vacuuming, you can slam it into walls, knock parts loose, and damage various components. Don't try to pick up large particles, as they can rattle around inside and cause damage. Avoid water at all costs. You should also empty the canister or replace the bag frequently.
How often do you vacuum your carpet?
Carpet is an expensive investment. With care and maintenance, you can expect it to last for years, and look good in the process.
It starts with having a good vacuum and using it regularly.
If you haven't thought much about the way you vacuum before, spend a few minutes today getting to know it a little better. It's one of the easiest ways to make the most of your investment.
How can we help you select high-quality carpet you'll enjoy for years to come?