When you're ready for new carpet, trends tend to dictate the style and pattern you select. Remember when shag carpet was the rage? Can't imagine having that in your home any longer? Luckily, you don't have to.
But that doesn't change the fact that trends matter.
If you aren't sure what type of flooring to install, you may be wondering what flooring will last the longest, or what flooring holds its resale value well. But if you're sold on carpet, even before you step into a store, you understand a lot of options await you. Possibly an overwhelming number of choices. Where do you start?
Carpet is able to do what very few flooring choices can. It adds softness to any area. It can add a pop of color, or stay neutral and subdued. Bold, bright, and stylish? Traditional and minimalistic? You get to decide.
Carpet also opens up opportunities that you can't get from other flooring choices. With hardwood, you can select from different shades of grays and browns. Not so with carpet. Every color of the rainbow is ready and waiting for you. Want even more? Mix it into a pattern, and your carpet becomes more than floor coloring; it becomes a statement.
What should you know about carpet trends before you start to shop? Some are timeless and elegant. Some will give you the personality you crave. Here's what we're seeing this year.
Carpet doesn't have to be plain – select a pattern instead
Many of us are stuck in the thought that carpet must be plain, subdued, neutral. Not so.
Several thousand years ago, the first carpet was made from sheep wool or goat hair. It was woven together to create a comfortable space for sitting and gathering on the floor. Colors were subdued, typically made by using dyes from plants and materials that changed the color of the fibers.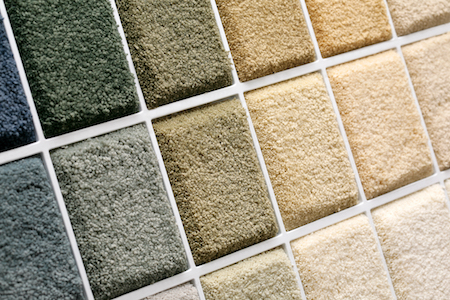 These designs are what powers through today to give us patterns that can wow. But technology gives us an advantage to be even more creative. When combined, prints can take on either curves or straight lines and create infinite designs. Maybe you prefer the timeless beauty of Oriental rug patterns, with floral motifs and weaving depicting nature. Maybe you prefer highly scientific designs with their bold geometric patterns.
Come in with an idea, and we can help you find what you're looking for.
Aren't sure what you want? We can show you a world of possibility, and help you narrow down what will work well inside your home.
Carpet gives you the opportunity to play
Can't imagine a bright color in your main floor living space? With carpet, you don't have to choose. Hardwood may be easier when it flows from one room to another. But with carpet, you can select different patterns and styles based on the individual room itself.
Have a music room where color matters? Or a media room where you choose to mimic a theater? Want a specific color in the master bedroom, a color you wouldn't dare place in a kid's bedroom?
Color and creativity are a central theme in 2022. Why not make your small home office pop with a color that matches your branding? Color works even in the smallest of spaces. This is all about letting your personality shine.
Who says you have to stick with wall-to-wall carpet? 
The good news with today's carpet industry is you have so many choices available to you. Many homeowners move straight to wall-to-wall carpet, planning on covering the flooring from corner to corner. With carpet tiles, you have another choice.
Patterned carpet choices were once only prevalent in commercial applications, with carpet tiles giving free rein for playing with color and patterns. Why limit that to commercial applications? With carpet tiles, you can be even more creative with the designs you create, mix and match as you go along.
Why not add edgy strips or abstract graphics to your room? If you spill and cause a stain, it's easier to correct. Just pull up the square and replace it with one you've set aside in reserve. It's a way to give your carpet an even longer life while still looking good.
Color, color, everywhere 
A lot of designers will tell you to stay neutral with flooring, and move your color to the walls. It's easier to paint than it is to exchange your flooring.
We ask: Why not have color in both places?
Many of us fear color, worrying will tire of it long before it wears out. But if you stick with a pleasing color that suits your taste, you'll love the looks for years to come.
How often do you change out a sofa or a chair? Look back ten, twenty, thirty years – have your tastes changed that much in color preferences?
Chances are you enjoy certain colors for a reason. That's not going to change. If you like, stick with green. Green carpet can be a great accent for your furnishings.
But if minimalism is still your thing, don't fret. Neutral carpet will never go out of style. A classic white, beige, or tan carpet can easily set the tone for whatever design options you're looking for.
Is carpet coming back? 
We'd argue that carpet never really went away.
Carpet is a great choice for the rooms you want warmth, comfort, and style in. It gives you a feeling of luxury, a pop of color, and a chance to let your personality shine.
If you're trying to decide what trend would be best for you, we'll tell you to follow your heart. How will the room be used? What level of traffic comes through it? Are you looking for a calming space? Or would you prefer something bold and bright?
Carpet doesn't have to be what other people think. Carpet gives you a chance to let your imagination run wild. Use it as a palette to set the stage for your overall design.
Whatever carpet trends you prefer, you'll find them here when you stop by.