Before 2020, people made travel plans every year to see the sights and sounds of the world.
Then stay-in-place happened, and we suddenly have taken a second look at our homes.
How can we create even more usable living space; space we can share with our families and the ones we love?
Just a few years ago, the American Institute of Architects stated that outdoor living spaces had become the most popular special function room among homeowners. A Better Homes and Gardens study found homeowners considered outdoor living spaces a vital family-time venue.
Think that's changed in the past few months? We're betting outdoor living spaces are going to grow even more as the top remodeling project homeowners desire.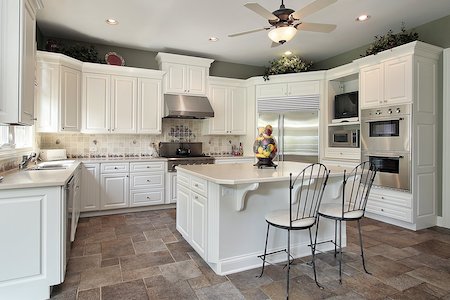 This isn't throwing up an awning and adding a barbecue grill. This entails careful planning to make this space as livable as possible all throughout the year. It gives you options spring, summer, and fall, and maybe even a few opportunities in the dead of winter.
Of course, that means you'll have to plan carefully to ensure every aspect of your outdoor living space stands up to all Colorado can dish out. Can it withstand the heat of the summer, while maintaining its good looks even on the coldest day of the year?
It starts from the bottom up. You have to choose the right flooring to ensure your outdoor living space looks as good as it wears, no matter what the outside conditions. We feel it also means selecting tile for the kitchen and outdoor patio to ensure one cohesive look.
What is the best flooring for an outdoor patio?
Traditional outdoor patios were usually made of one of two things: wood or concrete. You might have had one or the other growing up.
If a home existed on relatively flat space, there was a good chance a patio was made simply by pouring a concrete slab off the kitchen or dining space.
For more sophisticated tastes, or if elevation challenges demanded it, decks made from wood were installed to add more space just off the home.
As time went on, pavers and other stepping stones were used to improve the looks while giving flexibility in installation.
But these are no longer the top of everyone's wish lists when they upgrade their space.
Tiles are an excellent choice for outdoor areas because they're durable, easy to maintain, and more stable and permanent than pavers or stepping stones. Some of the best choices include:
Natural stone – this is a blanket term for tiles made from quarried materials such as slate, granite, limestone, and travertine. These materials have been popular for centuries because they're as beautiful as they are functional. While many homeowners love the look they create inside the home, more are finding out just how gorgeous they can be when you carry the look outside too. Just be sure to avoid polished stone, and choose tumbled or honed natural stone tiles with built in slip resistance.
Granite – is the hardest of natural stone, so you'll find them to be very durable no matter what the elements throw your way. Granite is often recommended here in Colorado because it can withstand our hot summers and cold winters beautifully. They are available in an array of colors, which gives you the ability to create any look you desire.
Slate – is softer than granite, but still is suitable for wear in an outside living space. What we love most about slate is that no two tiles are ever the same. You'll find varying colors and textures, which gives every space a unique look. The earthy hues can create a warm and inviting look inside, then provide a vibrant backdrop as you carry the look outside your home.
Limestone – is softer yet, and is porous by nature. You'll have to seal these tiles to avoid problems due to everyday living and the Colorado weather. They show wear easily, so they aren't recommended for high traffic areas. Because they are more prone to cracking during extreme cold, they generally aren't looked to as an option if they will be exposed to the elements.
Travertine – like limestone, travertine needs proper sealing to add protection against spills and stains. It also can be easily damaged in extreme weather, and isn't the best choice if not protected against the elements.
Porcelain tiles – while many think of these as bathroom tiles, manufacturers are now giving them many different looks, patterns, and textures. Think of how well they stand up to moisture in the bathroom environment; that's what makes them equally as durable in settings outside your home. They not only stand up to moisture, but they also handle well in the cold. Since they are non-porous, they take little effort for maintenance. And because they come in so many varieties, they are moving up in popularity as a way to continue your inside look outside.
What do I have to think about if selecting tiles for inside and outside living?
Today's houses are spectacular at combining functionality with beautiful design. Throw back the windows and doors and increase the living space for all of your family and friends.
We have some additional tips for you if you are trying to match tile in the kitchen and outdoor living space as a part of your remodel.
Consider outside space first – that may seem counterintuitive, as your kitchen space will be used twelve months of the year. But there are more demands on durability when it comes to tiles being placed outside.
You don't have to match – complementary colors always work well. If you select darker tiles inside, you can lighten up your outside space by selecting a shade or two brighter. Blending is what's most important in creating a continuous canvas from inside to out.
Tile isn't just for the floors – but then you knew that, right? Create excitement with backsplashes, and continue the drama as you move along windows or even on workstations and islands.
Play with colors and finishes – blending is more important than matching. Using several different sizes, shapes, or patterns can create visual intrigue as you move from place to place.
Play with grout too – your color palette doesn't end with the tile. You can change your look and feel by lightening or darkening the grout.
We have one final recommendation for you.
Before you come in and shop tile for your kitchen and outdoor living space, spend some time online gathering ideas. We recommend Pinterest to all of our customers, because creating a pinboard helps you settle in on a look. Pin your different ideas.
Then give us a call. We can help you select the perfect tile for your home.