As a homeowner, if you're looking at home improvement projects, installing new flooring can be a worthy project. It gives you a unique design palette to live with, and can add value to your home for years to come.
If you walk into a home improvement floor, it's easy to feel the pull of hardwood flooring. It remains one of the most loved flooring choices, one homeowners have moved to the top of their wish lists.
But what many don't realize when they first start out is just how many choices there are. Selecting a hardwood flooring species can be difficult when you see all the color and pattern choices available to you. How do you make a choice?
Domestic versus exotic – what's the difference? 
When you start shopping for hardwood, you'll quickly learn it comes in a variety of formats. Different species provide you with different results. Hardness, appearance, and price point will all be determined by your final selection.
Domestic species of hardwood flooring include:
Birch
Cherry
Hickory
Oak
Maple
Walnut
Domestic hardwood flooring provides you with a traditional appearance you'll most likely see in both commercial and residential settings. It's the most affordable option, one you'll likely have the most availability for no matter where you are shopping.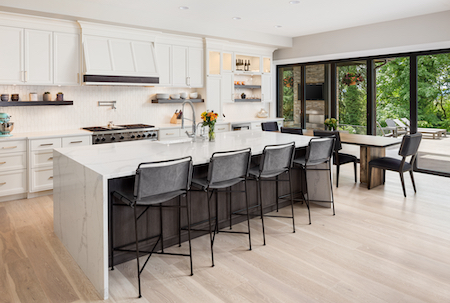 Homeowners often select domestic species because it's readily available. They offer decent durability, and will acclimate well to your home's environment. Because the tree is often from your area, it is less susceptible to change with the daily living environment.
Domestic species tend to have fewer patterns and variances, but can feature a wide range of stains and textured effects. If you have something specific in mind, you can achieve it with these classic good looks.
Exotic species of hardwood flooring include:
Brazilian cherry
Brazilian walnut
Jatoba
Kempas
Sapele mahogany
Tigerwood
Homeowners are often drawn to exotic species because of their dramatic color appearance and striking grain patterns. If you want a one-of-a-kind look, you'll love what you find with exotic hardwood.
Most exotic hardwoods have higher Janka hardness scores, making them some of the most durable flooring choices on the market today. That makes them great for the most popular areas of your home, even hallways and entryways. They scratch and dent less, and will remain good-looking for years to come.
Because they are harder to find and source, you'll most likely find them in limited widths and profiles. This may not be a problem, but if you're planning on wider planks, or have a larger room, you may not have the options available in domestic species. 
Have a particular hardwood species in mind? Don't make these mistakes. 
As you start to navigate your options, and find hardwood species you love, it's easy to focus on its looks and forget to ask the most important questions that will determine the longevity of your floors.
Mistake #1 – Buy from unscrupulous retailers
We all love good deals. The power of the internet has given us easy access to find the best deals in the marketplace.
If you've ever received an order only to find it didn't meet your expectations, you know one of the biggest drawbacks from ordering online.
While a shirt or a bowl is easily replaced, your flooring is something you'll have to live with for years to come. Not all retailers select the highest quality products. Even your local discount or home improvement store buys in bulk, from a lower grade than what you'll find with a flooring specialist.
Lower quality hardwood means the entire production process might not have been top-notch. Cutting, sanding, finishing – every step may have cut corners, meaning it won't stand up as well under normal circumstances.
When you buy from a supplier who investigates where the product line comes from, you can anticipate the highest quality artistry on the market.
Mistake #2 – Durability can wane
When you install domestic hardwood, the wood may be harvested right from your own community. The final product adjusts easily to your home environment.
Exotics have more trouble. They can be extremely reactive to changes in the environment, which can cause expansion and contraction as it adjusts to your home.
Higher quality manufacturers understand this, and take the necessary precautions. They know how to work with the product throughout production, and understand what it takes to install it inside your home.
Many exotic hardwood species retailers will recommend acclimating the planks for a much longer time period than with a domestic floor. Build that into your time schedule so you don't have problems down the road.
Mistake #3 – Chemicals and toxic reactions
Do you have allergies? Do you react to certain reactors out in nature? While you might understand your reactions to common hardwood species, you may not have an understanding of how you'll react to an exotic species. Some people can find certain species highly reactive and cause mild or even severe reactions to the chemicals and makeup of different materials.
Why? Certain species have different chemical makeup that can trigger different responses. Brazilian walnut and teak, for example, are known to occasionally cause a reaction. If you aren't sure, it's a good idea to apply a small amount of wood dust to your skin with a bandage for a day and see if you have a reaction.
Not all processing is the same. As you make your final selection, you can work with a sales associate to understand the entire production cycle, to ensure you or a family member won't suffer a reaction.
Mistake #4 – Hardness
Many homeowners move to exotic species to install a harder floor. While a harder floor can be more durable, it also has the potential for installation problems.
Be sure you hire an installer who works with exotic hardwood regularly. Nailing can be more challenging to ensure the planks are set into place. With the hardest species, pre-drilling is often necessary to ensure a clean look and a tight fit.
It's also something to remember when you refinish your flooring down the road. Exotics may need a finer grit when sanding it down. They may need a different finishing process to ensure a high quality look.
Do your due diligence throughout its life, and you'll love your hardwood flooring for as long as they are in place.