2020 will be remembered for a lot of things, but if you had to bring it down to one word, it would be: change.
No matter what industry you look at, what market you study, one thing becomes apparent very quickly – this has been a year where we questioned everything and changed accordingly.
Housing is no exception. According to the Colorado Association of Realtors:
This has been the greatest 12 month period of price appreciation – 21.3 percent – ever tracked by the Colorado Association of Realtors
There were 42 percent more single family homes sold during 2020 than at the same time the previous year
People are choosing to move for a variety of reasons.
Move closer to family
Relocate for better jobs
Changes in family dynamics
Build a better setup for working at home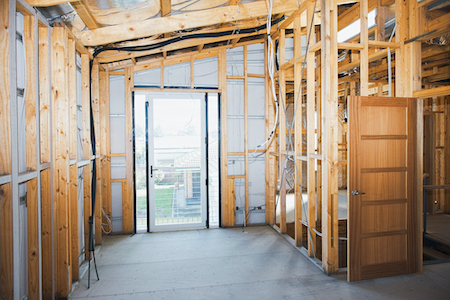 Ultimately, we're all spending a lot more time at home. And with that comes the desire to make "home" a perfect place. One that meets all the goals you have to make it through your busy day.
For some homeowners, their current space won't do. The perfect solution may come in the form of new construction, the opportunity to build from the ground up and create the ideal home for your family.
But that isn't without its own stress.
Some decisions are more critical than others. You can change the paint on the walls, but core decisions are things you'll live with for years without easy fixes.
Like flooring.
Flooring is one of the most dominant visual factors you'll install into your new home. Get it right, and it will stand the test of time. Get it wrong, and you'll have buyer's remorse from the moment you move in. It must match the dynamics of your living space, and withstand the foot traffic that takes place each day.
What are the most popular flooring choices for new construction on the market today?
Hardwood
When you're thinking about adding flooring to every room in your home, it's hard not to look at hardwood. Hardwood has a modern look and feel that compliments any home. It's durable, easy to clean, and stands up well to the test of time. What's not to love?
Thanks to modern technology, hardwood comes in many formats.
If you want the timeless classic, nothing can beat traditional hardwood. You'll find a wide variety of woods, patterns, and stains that can take your decor from country to modern, minimalist to sophisticated. With so many hardwood varieties to choose from, you'll find one that blends perfectly with your decor in mind.
If you want something even more durable, engineered hardwood may be the perfect choice. It's made up of multiple layers to add strength and durability to your flooring. The top and bottom layers are real hardwood. In between are sandwiched additional layers that give you even more added benefits. Engineered hardwood is typically less expensive than traditional hardwood, but it increases scratch resistance, and can add durability against spills and messes that might otherwise warp traditional wood.
LVT – Luxury Vinyl Tile
What do you think of when you hear the word "vinyl?" For most people, they revisit their youth, imagining the patterned vinyl installed in their parents' or grandparents' kitchens and baths. But today's luxury vinyl tile – LVT – is so much more than that.
Thanks to today's technology, LVT is one of the most durable flooring choices on the market. What's more, it can be designed to take on any look, including replicating hardwood, stone, and tile. What makes it so attractive is it's waterproof – yes, waterproof. If you spill on an LVT floor, you don't have to worry about the product warping or fading. Simply wipe it up and walk away.
Hardwood is hard – that's a big drawback in some cases. If you have elderly at risk of falling, or young kids that love to play on the floor, hardwood can be painful, even dangerous. LVT has a soft cushion that makes it easier to stand on for long periods, and produces a "bounce" factor if you drop something to the ground. That doesn't mean your fine china will survive a fall. But it does have a little spring in it that makes it more comfortable.
Its waterproof feature also makes it feasible to install in places where hardwood shouldn't be used. That makes it an ideal choice for bathrooms, laundry rooms, and even downstairs in your basement. You won't have to worry about damage from a cold, moist sublevel anymore.
Carpet
With so many styles, patterns, and colors to choose from, carpet remains one of the most versatile flooring choices for a new home. While you may not want it in every room, it's perfect for the places you spend a lot of time lounging or playing. It's one of the most comfortable flooring surfaces, giving you added cushion when you walk, stand, or sit on the floor.
Carpet also has the ability to insulate a room with the carpet fibers. It holds heat at floor level better. And it adds noise reduction. That makes it perfect for bedrooms, game rooms, or family rooms where you spend a lot of time engaging in your favorite activities.
Carpet can be made from either natural or manufactured fibers. If you want an eco-friendly option, try wool carpet. Want stain-resistance? The most popular manufactured fibers are nylon, polyester, and polypropylene, or olefin. These fibers offer durability, stain resistance, and ease of maintenance. Vacuum regularly and deep clean occasionally to keep it looking its best.
Where carpet really excels is in its design. If you want a particular color, pattern, or texture, you'll find it. Be sure to upgrade the padding underneath to further add softness and texture that makes it perfect for your home.
What flooring choices are right for your new construction project? 
Flooring is the base for your overall design. Get it right, and you'll love your flooring for years to come.
No matter what designs you have in mind, we have the perfect solutions for your new construction home. We can help you make your selections and have it professionally installed, ready for the day you move in and setting into your new home.
You'll love your new flooring.