Think about what you considered to be the coolest home in the neighborhood when you were a kid. It was the house where they had all the toys. Where you could play continually and never run out of things to do.
Maybe that's why homeowners today are installing game rooms – it's where all the action is. It can also make you the most popular home on the street.
Game rooms are typically away from other areas in your home. You'll find them in the basement. Or in a bonus room on the second floor. Or maybe even in its own separate wing.
You want it away from bedrooms, so your fun can continue long after the kids go to sleep.
Yet putting it in its own area might create design questions. How should you decorate? Should it blend in with the rest of your home? Can it stand out?
Before you start making choices, start at the bottom – your flooring. What's the perfect flooring for your new game room?
Start with a few questions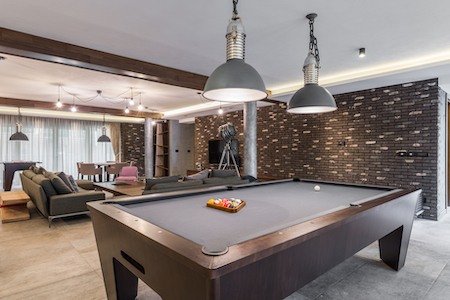 With so many options available to you, where do you begin? Start with a few questions.
What aesthetics am I trying to create?
What flooring options will I consider? Are some off the table?
Do I prefer a solid floor like hardwood or laminate?
Is carpet an option?
What activities will take place? Are certain types of flooring more advantageous in those situations?
For some families, game night is a quieter activity. It might involve video games and the television. It might be board games at a table.
For others, it possibly might turn into a wild party. There might be a bar in the corner, and there definitely will be wine and beer. Not only do you care about durability, but you want something to stand up to moisture and stains.
Classic good looks of your flooring is one thing, but if it doesn't stand up to what your family and friends can dish out, you'll be unhappy with your choice almost from the beginning.
More than a game room
The concept of a game room can change from family to family. One might prefer action games such as billiards and ping pong, while another will never get off the sofa – it's video games all the way.
Gaming additions are often additional space in the home. And that may mean something different to the family members who live in the home. Maybe one prefers video games, while another wants to watch classic movies. Maybe one prefers classic arcade games, while another prefers to store wine bottles for future use.
That's the beauty of adding a game room to your home. It can be interpreted in any way you desire. But before you throw in a few chairs and a television, think and plan for the future. What have you dreamed about inside your home? What rooms would get the most use over time?
If you can't envision it now, work with a designer who can. They may be able to come up with suggestions that can tie all of your needs and desires together.
Pick a theme
When it comes to the kitchen, living space, or bedrooms, people love to incorporate their own personality into the final design. You can do that even more with a new game room.
Take cues from the games you most enjoy. Do you love classic arcade games? Incorporate your favorites throughout. How about using faux bricks, stone, or other material to carry the theme from a video or board game into your home?
Of course, elegant lighting should also enhance the ambiance. Light up the areas you'll use most, and you'll find people gravitate to the area.
Then set it all up by laying the perfect flooring into place.
Hardwood can be a great choice for classic good looks.
Carpet is always a good choice, as it adds softness, warmth, and helps quiet the noise.
Luxury vinyl planks bring a waterproof feature to your room. If the parties get a little crazy, give this option a second look.
Tile – it's an easy way to keep the good looks
There are many different types of tile flooring, everything from ceramic and porcelain, to carpet and more. What makes tile so popular in action-packed rooms is their ability to look good from the start, and stay looking good for years to come. If you need to replace one, it's a matter of taking out the section and replacing – no need to install a new floor.
Beyond functionality, it's also one of the easiest ways to create any design you choose.
How about a checkered floor design using square tiles in two of your favorite colors? With today's technology, you can even customize tiles to personalize it further – how about your name, brand, or logo? You can even use a few tiles to showcase a personal work of art.
Keep in mind that tile doesn't just mean cold, hard surface areas. Try vinyl, carpet, or cork tiling to soften the place up and give it a warmer look and feel. How about rubber? Or resilient tiling?
Like any other flooring you're considering, it's important to pay attention to your needs first. What flooring will work best with your lifestyle overall? With clear goals in mind, it's time to let your imagination run wild.
Where to begin
We often recommend creating a pinboard on Pinterest to see where your interests and desires meet. By pinning a variety of ideas, you'll start to see different concepts coming together.
Then when you're ready, when you've pinpointed exactly what you want from your game room, you can bring in your ideas and start putting them into action.
When we see what you're trying to create, we can show you your options, and help you select the right flooring to suit your needs.