If you've ever picked up a tile and had thoughts of visiting your local pottery shop, there's a reason for that. Most tiles you lay in your home are made from ceramic clay.
Visit a history museum and you're likely to find tiles from bygone eras. The Chinese created tiles with stunning images painted on each individual tile. This art moved around the globe as trade developed and moved throughout the world.
Tile goes back in time at least 25,000 years. Romans made using clay tiles popular as a roofing option, while the Egyptians loved a white glass tile to adorn their homes.
https://www.thevictorianemporium.com/publications/history/article/history_of_tiles
Of course, there are very good reasons why tile flooring remains ever-popular for many uses inside the home. If you guessed "longevity" to be one of them, you're correct. If people have been using them for centuries, there's a good reason for that. It may be the deciding factor for you to install tile flooring in your own home.
Tile works well in many places in your home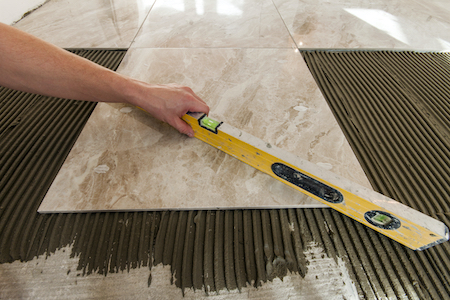 One of the best reasons to consider tile is because it's functional everywhere. Install it in the kitchen, bathroom, laundry room, even the family room, and you're going to love the results. That's because it's one of the easiest flooring materials to maintain. When installed correctly, it can last for decades. And cleaning it means nothing more than an occasional mopping.
What's more, you can make your home unique – tile comes in unlimited design potentials, including different colors, patterns, and styles. If you don't like what you see, create it yourself. By combining different tiles together, you can weave a pattern that is uniquely your own.
Tile also works well starting on the floor, and moving up to the walls, countertops, backsplashes, and more. Some of the most gorgeous bathrooms and laundry rooms we've seen incorporate tile in a variety of ways.
Need inspiration? What better way to find it than with a search online. Create a pinboard on Pinterest, and let your imagination go wild. Pin all the sites and photographs you find that motivate you into action. Then when you visit with one of our design consultants, we'll have a better understanding of what you're looking for.
Tile is easy to maintain
In today's world, we have a lot going on in our daily lives. Especially here in the Rocky Mountains, we love being able to come and go throughout the day, enjoying everything the great outdoors has to offer. Of course, that can mean tracking in mud, snow, slush, and other contaminants on any given day. And not all flooring choices are cut out for that amount of abuse.
Tile flooring makes cleanup easy. What's more, it won't stain and leave telltale signs of your outside life once you're inside and ready to relax.
Because it's a hard surface area, it needs an occasional sweeping to wipe away the dust bunnies and other loose debris. Spot clean as you spill, with an occasional mopping to ensure the entire surface stays clean. Depending on the color of your grout, you might need deeper cleaning with a brush between the tiles to ensure a uniform look.
If you spend a little bit of time keeping the surface clean throughout the year, it'll mean less wear and tear over time. Clean grout holds its integrity, meaning you'll have less chance of stains. It'll also mean you notice when the grout is compromised, which can potentially allow water to seep underneath. Hairline cracks can allow moisture to penetrate down underneath the tile, and start to destroy the integrity of your flooring. Jump quickly, fix problem areas, and you'll have a floor that'll last for years.
Tile is great for the DIYer
Want to install the flooring yourself? Tile is one of the most forgiving flooring choices you can make. With small tiles, you can lay them into place, and learn as you go.
Of course, having tile in your home means you can have different levels of DIY projects. Allow a professional to install it the first time. Then keep a handful of tiles on hand for fixing as you encounter problems with individual tiles. Drop a pan and crack a tile? With a little elbow grease, you can lay the new tile into place – and keep your floors looking fresh longer.
Tile is great for keeping your home cool … and warm
When most people think of installing tile, they consider it to be a way to keep the home cool. That's why you find tile flooring in homes across the southern US. But when temperatures dip well below freezing, many Coloradoans want warmer flooring – something you won't get from tiles.
Or will you?
Tile is one of the best flooring choices to lay in place over radiant heating. That means your home will feel warm from the bottom up. Imagine walking on floors that are warm to the touch. How would that feel jumping out of bed in the morning?
Of course, you'll also love the feel in the heat of the summer, when the temperatures climb over one-hundred degrees. We think that's what makes tile flooring so versatile – and a great choice here in Colorado. What better way to cut down on your air conditioning use than to create an environment conducive to staying cool?
Tile can be a cost effective way to create a great living environment
Using tile for your flooring can save you money. It's one of the few flooring choices that can last for decades, meaning you'll have fewer replacement costs over time.
And considering its cost fluctuates from low to high, you can find a great look at a price that fits your budget. If you have an idea, one of our associates can help you find something to suit your needs and desires.
We also like the fact that with tile flooring, one mistake won't cost you your entire floor. With a few extra tiles on hand, you can easily replace cracked, broken, or stained tiles easily and without a lot of fuss. This can add years to the life of your flooring.
So what's your desire with your tile flooring? What look do you have in mind? We can help you achieve it, and have it installed in no time.