As a homeowner, maintaining your home is part of homeownership. When it comes time to upgrade your floors, you have two choices: natural or synthetic.
Natural flooring choices are created from things occurring in nature. It includes materials like slate, granite, wood, and marble. Synthetic flooring is human-made, created and engineered from products found in a lab. It includes laminate, vinyl, ceramic, quartz, and some fibers.
All you have to do is look at a design magazine to tell what's trending in current home design. While synthetic materials grew in popularity after WWII, natural flooring has made a comeback in recent years.
A lot of that comes from wanting to increase sustainability. Selecting materials that don't harm the earth is only part of the equation. We care about our health, and pay attention to indoor air quality. We want flooring materials that will stand the test of time. We want products that are good for our homes, and look great doing so.
That's why natural stone flooring continues to top design lists.
According to a report "Natural Stone Market by Type (Marble, Granite, Limestone, and Others) and Application (Flooring, Memorial Arts, Wall Cladding, and Others): Global Opportunity Analysis and Industry Forecast, 2019–2026," the global natural stone market is expected to hit $48.06 billion by 2026, an increase of almost 4 percent growth per year.
With more people remodeling, creating space at home where they can work and play, natural stone flooring is being included for a variety of reasons. Natural stone refers to various mined substances pulled from the earth to be used in home decor. Common natural stone flooring products include granite, limestone, marble, sandstone, slate, and travertine. While each of these substances makes for great flooring, they all have slightly different properties that react to daily usage in different ways. Before you make your final decision, it's important to understand the different properties and select the one that suits your needs best.
As you shop for flooring, it's easy to focus on what you can see – color, patterns, style. Yet there are other things you should consider before honing in on a particular product, to ensure it works well with your family's lifestyle.
Water testing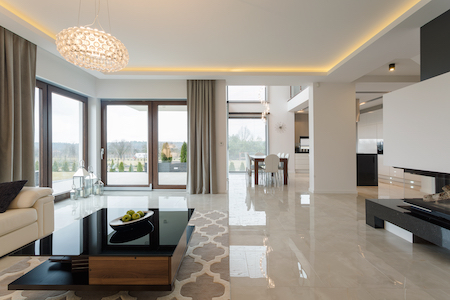 If you're thinking of installing natural stone, chances are it's because of its durability. Whether you place it in the kitchen, bathroom, or laundry room, the idea of not having to worry about moisture problems is appealing.
Yet different types of stone have different qualities that make some better where moisture is a concern. An absorption rating is given to natural stone flooring products to let consumers know how porous a material is. It's a measure that can tell you the susceptibility to damage during freezing conditions, as well as the absorption rate in the case of liquid spills. It's expressed as a percentage of weight change due to absorbed water. You'll find natural stone classified as:
Non-vitreous – this is the highest absorption level. They shouldn't be used if dampness is an issue.
Semi-vitreous – while they can handle some moisture, the more they are subjected to, the more maintenance they will need.
Vitreous – this provides standard absorption and is considered appropriate for installing both indoors and out.
Impervious – these products are resistant to absorption of liquids and are considered easier to maintain. You'll find these products in commercial applications because of how well they stand up to wear and tear.
From the materials listed above, you'll find sandstone is the most porous material, while granite will stand the test of time in high moisture situations.
Grading systems
While natural stone is known for its classic beauty, its long-term durability, and its lasting value, it's important to select the right type of stone to suit your needs. When you start looking at flooring products, be sure to pay attention to their grading system. Grading systems will help you determine the quality of the product and how well it will stand up over time. Quality is usually referred to as:
Grade 1 – high quality stone with uniformity throughout the product
Grade 2 – may have minor defects and slightly irregular surface areas
Grade 3 – highly irregular surface areas, making them appropriate for smaller applications, such as accent pieces or decorative applications
It's equally important to pay attention to the indoor/outdoor rating. Some natural stones are better suited for handling outside surface areas than others. This is especially important if you'll be carrying the look of a kitchen to an outdoor living space, for example. Here in Colorado, the natural stone must be rated to handle extreme temperature changes, as well as handle well in moisture where slipping can be a problem. Non-vitreous materials will absorb rain and snow, crack under pressure, as well as expand and contract from season to season. They aren't suitable for outdoor use.
Types of natural stone
While you might have a specific stone in mind, it's wise to learn all you can about the various materials before you make your final selection.
Granite – granite continues to be on top of flooring lists because of its durability. It won't scratch or scorch, and stains are rarely a problem as long as it's properly sealed. It's easy to maintain as it hides dust and grime well. Granite also works well for bringing the indoors outside as you carry your decor from one location to the next. Its wide variety of colors and patterns gives you even more reasons to say yes to this flooring product.
Limestone – while not one of the more popular choices for home use, limestone is known for its durability. Its unique markings can create a beautiful living space. It handles similarly to marble and travertine,
Marble – marble says "luxury" in a way other stones can't. Its smooth texture, high gloss finish, and dramatic veining can take center stage in any room in your home. You'll find a variety of colors, although white marble remains one of the most popular. While marble is often chosen in kitchen and bathroom applications, keep in mind that it is a softer calcium-based stone that can dull and scratch from acidic foods and drinks.
Sandstone – sandstone provides a warm, earthy look and feel. If you're focused on natural decor with a beachy feel, sandstone maybe your flooring choice. It's sleek and uniform without a lot of variation. It's relatively porous, so it can scratch and stain easily.
Slate – you'll recognize slate by its fine grain texture. It comes in a variety of colors, with greens, reds, purples, blacks, and browns running through from tile to tile. Slate can be finicky depending on the product you install. Some can be easy to maintain and highly resistant to damage, while other products can be the opposite. It's a good idea to test your product before finalizing your decision.
Travertine – travertine is formed by hot spring water moving through limestone and giving it its unique characteristics. It's an ideal flooring for high moisture areas such as bathrooms and laundry rooms. While it handles well in wet situations, it's also softer, much like marble. It can be scratched and etched from harsh cleaners and acids. If you use it in the kitchen, it may take additional maintenance.
What's the right natural stone flooring for your home? Bring your questions into our showroom, and we'll help you find your perfect choice.