What's the busiest room in your home? We're betting you said the kitchen. It's where you gather at the end of the day to cook a home-cooked meal. It's where the kids do their homework. It's where you share a glass of wine with friends and family.
One of the hardest working fixtures is your kitchen floor.
Remember that jar of pickles you dropped? Yep, there's still a trace of sticky residue.
Remember the pan you dropped from the stove? The dent is still there; you feel it when you step on it.
If you want to make a dramatic change to your kitchen, but don't have the budget for a complete remodel, one of your best choices would be to focus on your kitchen floor.
What any kitchen floor choice should have
As a homeowner, your primary request might be to have an aesthetically-pleasing environment. You have your heart set on a particular flooring choice. In the kitchen, looks are important. But there are several other things you should consider.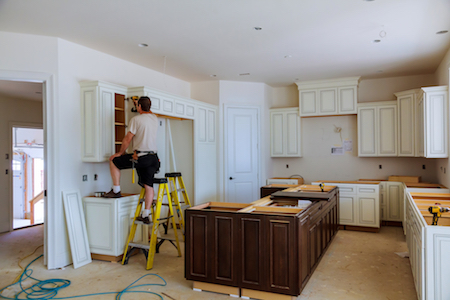 Durability – Let's go back to that jar of pickles. Think it won't happen again? Because the kitchen is the busiest room in your home, it's also the room where accidents frequently happen too. Focus on a flooring that can withstand all you can dish out. And realize a family with small children will need to focus on lifestyle changes as your kids move into their tweens and teens, bringing home friends, working through science experiments, and increasing the amount of traffic in your home all the time. Your future lifestyle should dictate your choices as much as the present.
Maintenance – How often do you currently clean your flooring? Think that'll change? The busier your kitchen is, the more you'll pull out the broom or mop to keep it clean. It extends beyond general cleaning too. If you make the wrong flooring choice, you might be dealing with dents, cracks, tears, yellowing, stains, or other unsightly messes. What's your plan for damage control? In some cases, the only way to fix the problem might be to rip out the flooring and start all over.
Moisture – From an overflowing sink to a dropped pot of water, spills will happen from time to time. How will your flooring stand up to each of them? While no flooring can withstand a flood or standing water, some flooring choices are considered resilient and can stand up to moisture problems more than others. The right selection will ensure your kitchen floor stands up to whatever you dish out.
The good news is today's flooring manufacturers offer a wide selection of materials that offer each of these characteristics and more. Keep an open mind when shopping for a new kitchen floor. Your final selection might just surprise you.
Here are just a few of our favorite choices.
Porcelain Tile
Why we like it: It's beautiful, durable, waterproof, stain-resistant, and lasts for years.
If you want durability, porcelain tile has to be one of your top considerations. Though it looks a lot like ceramic tile, porcelain tile is fired at higher temperatures, which means it's stronger and will hold up better to all your family can dish out. Plus, the options you'll find today give you almost unlimited possibilities when it comes to creating a polished look.
Porcelain tile comes in six inch squares, all the way up to eighteen inch planks that resemble hardwood. Depending on your final selection, it can add substantial weight, so it's a good idea to consider your layout and determine if your subfloor can take the extra weight before finalizing on this selection. It also makes a great choice if you're considering adding radiant heating underneath. That can make the holiday baking season extra nice when your feet stay nice and warm.
Engineered Vinyl Plank
Why we like it: It's waterproof, it's easy enough to install for a DIYer, and it can resemble even the most popular flooring choices including hardwood plank.
One of the up and coming flooring choices include engineered vinyl plank. These resemble hardwood planks, only they offer an upside – they are completely waterproof. You'll find the top layers include a luxury vinyl that can mimic just about any surface area. It can even stretch beyond, offering even more exotic color choices.
You snap it into place using a click and lock system. That makes it easier to install, and is more forgiving depending on the flooring you already have in place. And because it has a cushion backing, it's softer underneath than you would get with traditional hardwood or tile. That can be a big bonus if you spend a lot of time in the kitchen.
Stone tile
Why we like it: It's a natural kitchen flooring choice, one that adds one of a kind beauty to any design.
If you're looking for luxury, you have to give stone tile a second look. It's a natural material that gives you flexibility in your decor while giving you durability and easy maintenance at the same time.
This isn't a DIY task unless you're familiar with laying floors. Stone tile takes a special underlayment, and it's important to be exact with the process as any unevenness in the subfloor can make the stone tiles pop off.
What makes these so beautiful is they are one of a kind. Quarried from natural stone, you'll never find two stones looking exactly alike. This gives any kitchen an aesthetically pleasing feel, while making it stand up to all your family can dish out.
The good news is there are so many different stone varieties to choose from.
Travertine – its smooth, non-slip qualities make it the perfect choice for a kitchen
Marble – it's one of the hardest materials, and can be polished to a high sheen
Slate – it's a great choice because it's slip-resistant and very durable
Granite – it's hardness makes it a great choice for high traffic areas
So many options …
These are just a few of the options available to you when selecting a new kitchen floor.
What's the right choice for your home? The best way to find out is to give us a call.
Stop by our retail location and consider your options. You'll be surprised at all the kitchen flooring choices available to you.
Your perfect kitchen floor is waiting for you. What are you waiting for?